Last week, there was a ton of concern when Apple (NASDAQ:AAPL) reported its quarterly results. While the company beat on the top and bottom line, iPhone unit sales fell way short of estimates. Additionally, Q2 guidance was well below estimates, leading some to wonder how much impact the China Mobile (NYSE:CHL) deal will really have. Unfortunately, many positive aspects of the report were missed, because with Apple, the company has to be perfect. Anything that is not perfect is a failure in the minds of these doubters, even if there is a reasonable explanation for it. Unfortunately, Apple's biggest problem may not have anything to do with what Apple does day in and day out. Today, I'll explain the problem Apple cannot solve and take a look at where Apple stands a week after earnings, now that things have settled down.
The analyst conundrum:
I want to take a look at Apple's estimates. The following image was taken from Yahoo! Finance's analyst estimates page for Apple last Tuesday. That's the day after Apple reported, the first day in which the current, March-ending quarter estimates are the lead. This is also the first day in which we see estimates for Apple's fiscal Q3, which ends in June. I've put a red box around the June quarter to make my first point.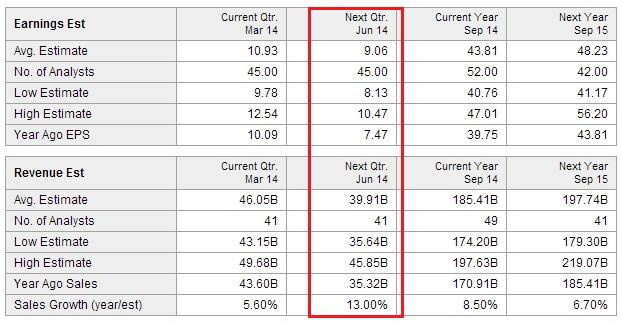 Do you see a major red flag? If you don't, first look at the high estimate in the revenue section. One analyst sees Apple increasing fiscal Q3 revenues by more than $10.5 billion? That's 29.8% year-over-year growth. Does this analyst have Apple launching a ton of new products in the quarter? Even worse, the high EPS estimate has Apple increasing EPS by more than 40% year-over-year! I know that the buyback has helped, but let's not get ahead of ourselves.
This is how Apple ends up issuing guidance that can trail analyst expectations. As you can see from the fiscal Q2 image, one analyst was looking for more than $6 billion in revenue growth during Q2. That's nearly 14% revenue growth. Yes, the China Mobile deal will help, but as I cautioned investors in my Apple earnings preview article, China's other carriers got the phone in late September. That was weeks and months ahead of Apple's usual launch in China, so a lot of sales were pulled forward.
While I admit that Apple's guidance was a bit light, I had stated I expected guidance to be conservative in the eyes of analysts. My expectation was for a $2 billion to $3 billion range somewhere around $43 billion to $47 billion. Apple came in at $42 billion to $44 billion. Analysts set the bar way too high, with quite a number of estimate raises going into Apple's report, and so the company was unable to meet expectations.
But it is not just the high value I'm looking at. The range of analyst estimates is ridiculously wide, especially for a company like Apple that gives guidance each quarter. In the following table, I'm presenting the high and low estimates for revenues in the March ending quarter for Apple against Google (NASDAQ:GOOG), Microsoft (NASDAQ:MSFT), and Amazon (NASDAQ:AMZN). This table was as of last Thursday. That's a week after Microsoft's report, a few days after Apple's report, and going into Google's and Amazon's reports.

*Difference calculated as spread divided by low.
In dollar terms, you expect Apple should have the widest range, as it has the most revenues. But look at the difference, even a few days after Apple reported and before Google and Amazon reported. Why is there such a large range for Apple? I would argue that Google is just as unpredictable because Google doesn't even give guidance. When it comes to Google, analysts look at one quarter and almost have to guess on the next. Google recently announced its 8th miss of analyst estimates in its last 9 quarters, and yet the stock continues to new all-time highs. There was no outrage for Google, but Apple was crucified. At least with Apple, you have guidance to work with. Again, there is nothing Apple can do about this problem. Analysts are going to do what they do, even if what they do is just ridiculous. Expecting Apple's fiscal Q3 revenues to rise nearly 30% year-over-year is a good example of that. This situation really reminds me of Amazon. Analysts put the bar way too high, Amazon misses, and the numbers come down. Maybe these numbers shouldn't be that high in the first place.
What did we miss?
Before I get into the specifics of Q1's issue and the guidance, let's not forget that going into Apple's fiscal Q4 report, analysts were expecting $55.65 billion in revenues and $13.86 in EPS. Not only did Apple beat handily for Q4, but Apple ended up beating the "old" Q1 forecast by about $2 billion in revenues and $0.65 in EPS. Going into the Q4 report, Apple traded at $529.88. Two beats since then, and look where the stock is now.
There are two items I think the street largely missed, and I'll include myself in that category since I was wrong too. First, the iPhone unit sales number. I was predicting 56.4 million units to be sold at an average price of $580. I thought older models and the 5C would sell, but selling prices would be low. In hindsight, I probably should have expected a new phone (the 5S) to lead to a much higher ASP for the quarter, and maybe something like 54 million phones at $610 each would have been more reasonable. In the end, however, my total revenue number for the iPhone, $32.712 billion, wasn't that far off of Apple's actual, $32.498 billion. What was the key miss? Well, as with most new Apple products lately, Apple was supply-constrained. Although he is an Apple bear, Michael Blair did a great math exercise in mid-January to show how sales would likely be in the low 50-million range due to supply issues. He was right about the production issues, and Apple can't sell what it can't make. At least i didn't call for 58 or 61 million iPhones to be sold, like some others.
Perhaps a more interesting storyline, albeit on a much smaller scale in terms of importance, is the death of the iPod. I was looking for iPod sales to fall off by 25.9% to 9.4 million, and the analyst average was 8.4 million. Apple came in at 6.05 million. That miss doesn't seem like much for a category that only produced 1.69% of Apple's revenues for the quarter, and it isn't on the face of it. However, had Apple come in at the analyst average, you'd be talking about another $375 million in revenues (at the actual Q1 ASP) just from device sales. That doesn't even include any device accessories that would have been sold, or those 2.35 million iPods spending anything at the iTunes store. By the way, there were a number of analysts looking for 10 million or more unit sales of the iPod.
So maybe we all need to just take a step back and think logically. We know the iPod isn't what it used to be, and if you can use other devices like the iPhone for similar purposes, you don't need both. But couldn't a few more analysts have seen the production issues? Look at the table of estimates, barely any were below 52 million unit sales. I'm not ashamed to admit I was wrong, but I'm also not getting paid big bucks like some of these guys, and I'm not taking trips to Apple suppliers to see how things are going. Overall, my total revenue estimate for Apple's quarter was off by just $36 million, and that's the second time in the last few years where I've been practically dead on. The problem here is that nobody thought logically, and yet afterwards Apple gets all the blame.
An update on current estimates:
With Apple's fiscal Q2 guidance coming in a bit weaker than expected, as you might imagine, analyst estimates have come down. The following table shows a history of these estimates. The "then" half is where estimates stood going into Apple's fiscal Q1 report, and the "now" half is as of Monday. These estimates are for fiscal Q2 and Q3, as well as the full fiscal year 2014 (ending September 2014) and full fiscal year 2015 (ending September 2015).

Revenue estimates for the current quarter are down by about $2.5 billion dollars, and EPS numbers are down by 75 cents. The current $43.56 billion estimate represents a 0.1% decline from last year's $43.60 billion number. On the flip side, the current EPS number represents growth of 9 cents, and you can thank the buyback for that. I do think there is a little more room to the downside for estimates, but I think we've seen the majority of the fall so far. The following table shows the last 6 quarters of Apple's revenue guidance compared with its actual results for the quarter.

Apple has gone to more realistic guidance in the past year or two, and the company has come in at the high end or above the midpoint since it started giving range guidance. Apple guided to $42 to $44 billion for fiscal Q2, and the current analyst estimate is $43.56 billion. I do think the average will probably come down into the $43.25 to $43.50 billion area over the next couple of weeks, at which point the average will stabilize. I think the EPS average will certainly dip a little closer to last year's value of $10.09. A few more estimate cuts could be combined with some downgrades, which could leave Apple shares pressured in the short term.
New products coming, hopefully soon:
Those that are bullish on Apple are hoping for some new products in 2014, and I'm not just talking about the next version of the Mac, iPad, and iPhone. Perhaps some different iterations of those products, like a larger screen iPhone and iPad, may help the product categories going forward. But everyone seems to want something really new, like a television or a smart watch, something more than just a new phone or tablet.
SA contributor Kyle Spencer had a great article out on Monday talking about new products coming thanks to Apple's R&D spending. Apple has certainly increased its R&D expenses, something I'll detail in this section. One of his larger points was that Apple is being significantly outspent by Google in terms of R&D. I decided to look into this fact, and the numbers were a little more staggering than I thought they would be. The following table shows Apple versus Google and Microsoft in terms of R&D expenses on the income statement. These are calendar year numbers, so they are all equal time periods. All three of these names use different fiscal years. I'm looking at calendar year expenses and growth in recent years.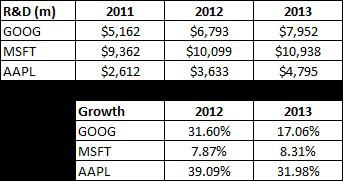 In 2011, Google spent basically twice what Apple did on R&D, and Microsoft spent nearly 3.6 times. Apple has certainly started to spend more, with the expense growth rate rising very fast in the past two years. In 2013, Google spent 1.66 times what Apple did, and Microsoft spent 2.28 times. It does not look like Apple will pass either Google or Microsoft in 2014 or even 2015 perhaps, but if the trend continues, Apple may outspend one or both a few years down the line. This will be an interesting race to watch.
Another way of looking at this is to analyze Apple's R&D spending per quarter. In the following chart, I've looked basically at the last three years, throwing in the most recent quarter as an extra. The chart below shows Apple's R&D expense on the income statement as a percentage of revenues for that quarter.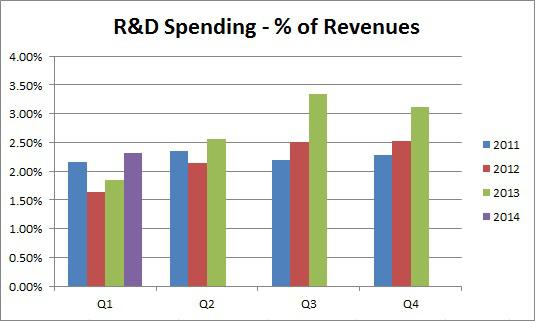 After a dip in the first half of fiscal 2012, Apple's R&D spending has increased in every quarter since, looking at the year-over-year numbers. In the most recently reported quarter, Apple spent $1.33 billion on R&D, or 2.31% of revenues. Two years ago, that number stood at just $758 million, or 1.64% of revenues.
In the end, Apple investors are hoping that increased R&D means new products are coming. I do think Apple will launch something new this year, but I don't think it will come this month or even next. Apple has certainly increased its R&D expenses, which makes the company look a lot better when compared against Microsoft or Google. Perhaps Apple was under-spending in the past, and the company is now starting to pick up the pace. I'd look for something new to come either late this summer or for the 2014 holiday season.
Technical and dividend support:
Apple's 52-week high was just over $575, at which point the $12.20 current annual dividend rate represented a 2.12% annual yield. Going into earnings, Apple was just over $550, or a 2.22% yield. The fall in Apple shares has obviously boosted the annual dividend yield. In the table below, I've compiled annual dividend yields and their corresponding prices, based on the current dividend rate.

Apple cracked the 2.45% level at its low last week, meaning the next 5-basis point mark is a big one, and that's 2.50% at $488. I think this could be the next level of support for Apple shares, and it relates nicely to a moving average that I'll cover in a minute. The last time Apple traded at a 2.50%-plus yield was in early to mid-October, almost four months ago.
On the technical side, Apple broke below its 50-day moving average when it fell after earnings. That moving average is around $545 right now, and Apple isn't likely to see it again for at least a couple of weeks. The closer moving average is now the 200-day, which sits at about $485 right now. The 200-day moving average is creeping up, and it should be the next critical level for Apple, right around the 2.50% dividend yield. The chart below shows Apple and its 50-day and 200-day moving averages over the past six months.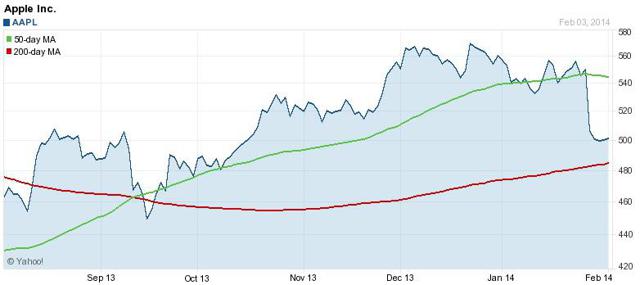 Click to enlarge
(Source: Yahoo! Finance)
It is possible that another analyst downgrade or price target cut will be the catalyst to get us to these levels, so I wouldn't be surprised if Apple shares find them at some point. I wouldn't go out and short Apple with all of my money right now, but there are those that might for $15 or $20 worth of potential downside. I think Apple goes a little lower here before finding support around the 200-day moving average and 2.50% dividend yield.
February has always been a mixed month for Apple. In the last 10 years, February has been an up and down month 5 times each. In the past 14 years, it is 7 times each, and in the past 16 years, 8 times each. 5 of the last 8 years have been down, including 2013.
I have to lower my Apple price target:
Those that have read my past Apple articles know I use a price target based on analyst estimates for EPS. I apply a P/E multiple for a given level of earnings (growth/decline). My price target will continue to shift as estimates move. The last time I issued a price target, it was at $605 for Apple. With estimates coming down for Apple, my price target is obviously going to go lower. Here's how my multiple table shakes out today.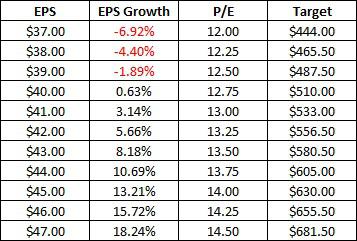 Based on the current estimate of $42.83 for the fiscal year, my price target table would give me a target of $576.42. I stated above that I thought Apple's estimates would come down a little more. So for now, I'm going to put my price target at $575, which would be down $30 from my last update. That still represents decent upside from current levels, but with Apple's guidance, I think it would be irresponsible to leave my target at $605.
Final thoughts:
Unfortunately for Apple, the company's biggest problem is not something the company can solve, and that is analyst expectations. The bar has been set too high, and Apple just can't get to what is usually an unrealistic level. When analysts are looking for 15% or 30% quarterly revenue growth, comparable to or above that of Google, it probably won't be a surprise when guidance is light. In that light, Apple is a good short at times, and for short sellers, the last earnings report was absolutely beautiful.
I do think Apple could trade a little lower until at least the 2.50% dividend yield or 200-day moving average, and those levels should represent support. I still believe in the long-term future of Apple, and that's represented by my price target of $575. I think Apple will launch some new products later this year, and R&D spending may be hinting at that. But I don't think investors should look for anything new in the next few weeks. I said in my earnings review that investors should not panic and this is an opportunity, as I believe shares will head higher later this year.
Disclosure: I have no positions in any stocks mentioned, and no plans to initiate any positions within the next 72 hours. I wrote this article myself, and it expresses my own opinions. I am not receiving compensation for it (other than from Seeking Alpha). I have no business relationship with any company whose stock is mentioned in this article.
Additional disclosure: Investors are always reminded that before making any investment, you should do your own proper due diligence on any name directly or indirectly mentioned in this article. Investors should also consider seeking advice from a broker or financial adviser before making any investment decisions. Any material in this article should be considered general information, and not relied on as a formal investment recommendation.