Last week, I detailed how shares of cigarette giant Philip Morris (NYSE:PM) dipped below $80 for the first time in nearly two years. With markets falling and everyone on edge, investors are looking for safer places to put their money. High yielding dividend stocks like Philip Morris are generally seen as a safe haven. Today, I'm shifting gears to a cigarette industry peer, one with a higher dividend and even more safety. I'm talking about Altria (NYSE:MO). As you can see in the chart below, Altria shares have fallen recently with the markets. This has pushed the dividend yield higher. Investors that take advantage of the fall may get a yield close to 6% over the next year. For those looking for safety, I'll detail why Altria may be a name to enter.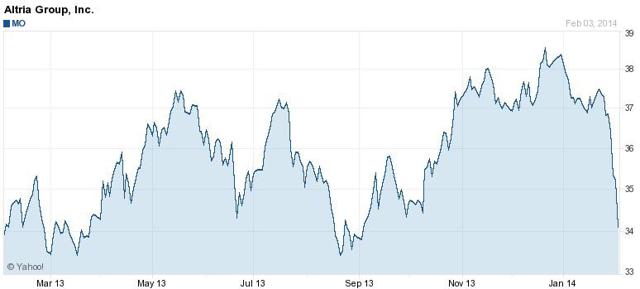 (Source: Yahoo! Finance)
Recent dividend history:
Like most cigarette names, Altria has been a great dividend payer to shareholders. The company has had a strong dividend for many years, and the dividend is increasing nicely year after year. In the following chart, I've shown the dividend in recent years. The year represents where the dividend started the year. So for instance, the 2014 year represents the $0.48 current quarterly payment. Altria usually raises its dividend for the third payment of the year. You can view all of Altria's dividend information here.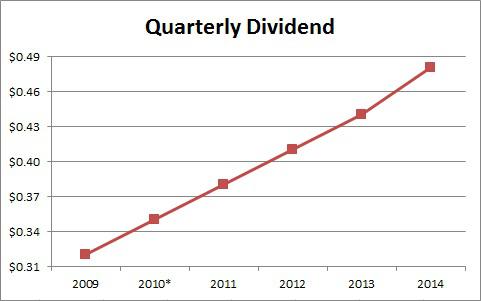 *Altria initially raised the dividend to $0.34 a quarter in late 2009, but raised it again to $0.35 for the first two payments of 2010. I've put the $0.35 payment in the chart.
The last two payments of 2008 and first two payments of 2009 were $0.32 a quarter. Currently, the dividend is $0.48, so the last five raises (counting '09-'10 above as one raise) have increased the dividend by 50%. In Altria's recent earnings report, the company reaffirmed its payout ratio of 80% of adjusted diluted EPS. Altria is targeting adjusted diluted EPS of $2.52 to $2.59 this year. That means that the dividend should be about $2.04 per year. Altria is currently paying $1.92 at the current rate. Between the first two 2014 dividends at $0.48 and probably a higher rate for the last two payments of the year, investors could be looking at a potential yield close to 6% over the next year, or maybe even over that if the raise is large enough.
On December 20th, Altria hit a 52-week high of $38.58. At that price, the dividend yielded 4.98% on an annual basis. Altria shares have come down recently, closing Monday at $34.11. That has pushed the dividend yield up to 5.63%. That's an increase of 65 basis points, and a tremendous yield currently. Investors that buy at the current price will get more than that over the next year, if you assume a dividend raise later this year.
Those that follow my coverage of this sector know that I cover four names. In addition to Altria, I follow Philip Morris, Lorillard (NYSE:LO), and Reynolds American (NYSE:RAI). The following chart shows a comparison of the dividend yields in these four names as of Monday's close.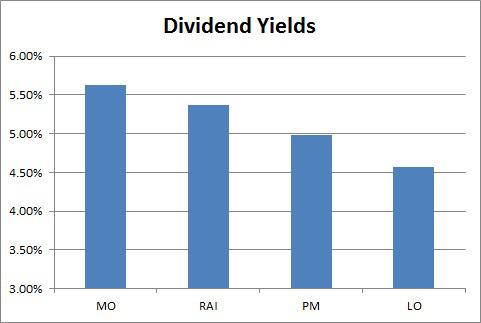 Altria has the highest yield, and by a decent margin for now. Lorillard and Reynolds are expected to raise their dividends in the next few months, which could give us a new leader. With markets falling a bit recently, these names have all seen their yields rise in recent weeks. The following table shows how yields have risen since my early January update on Philip Morris.

Philip Morris has seen a 47 basis point rise in its yield, which is more than a 10% rise thanks to the fall in that stock. Altria has seen an increase of 46 basis points since January 8th, and I detailed above how the rise is even greater if you go back to late December. Reynolds and Lorillard have seen yield increases, but not as much as Altria and Philip Morris.
Lower risk than peers:
When markets are uneasy like they are presently, investors might want to shift to lower risk names. Altria seems to be the least risky of these four cigarette names, and I'm not just saying that because Altria has the highest dividend yield. In the table below, I've compared the four names in terms of 52-week highs and lows, and the size of the range.

*Spread calculated as range divided by 52-week low.
Altria has the smallest range, and by a sizable margin. While this means that Altria may not be the fastest riser when things are going good, it means that Altria probably won't be the biggest loser when things are going bad. While Altria did drop 3.15% on Monday, that was only the second worst decline of the four.
This is not a name you are in for growth:
As I've detailed in many articles for the sector, Altria is not a growth company, and that's probably fairly obvious. If you are looking for growth, Lorillard is the best name to be in right now. Philip Morris will probably be a good growth name after 2014 as Philip Morris is using this year as an investment year to launch new products. Altria is only expected to increase revenues by about one percent this year and one percent next year. Earnings per share are expected to rise about 7-8% a year, but remember that cigarette earnings can be volatile and there are many adjustments.
One item investors probably will ask about is the buyback. Altria bought back about $600 million worth of shares in 2013. The company has $457 million left on its current $1 billion buyback, which is expected to be completed by the end of the third quarter of this year. With shares falling a couple of bucks lately, management may decide to speed things up while shares are lower.
Final thoughts:
Investors looking for safety may want to look towards cigarette giant Altria, whose yield is increasing towards 6%. The company has increased its dividend by 50% since 2009, and investors will be looking for another solid raise later this year. Altria is probably the safest of the cigarette names, as it has the smallest trading range, and you probably can't go wrong with any of these names. Investors looking to pick up some extra yield might want to look at this name, as Altria's yield has risen 65 basis points since the stock's late December 52-week high.
Disclosure: I have no positions in any stocks mentioned, and no plans to initiate any positions within the next 72 hours. I wrote this article myself, and it expresses my own opinions. I am not receiving compensation for it (other than from Seeking Alpha). I have no business relationship with any company whose stock is mentioned in this article.
Additional disclosure: Investors are always reminded that before making any investment, you should do your own proper due diligence on any name directly or indirectly mentioned in this article. Investors should also consider seeking advice from a broker or financial adviser before making any investment decisions. Any material in this article should be considered general information, and not relied on as a formal investment recommendation.