Commodity prices have remained relatively strong in the face of the market turmoil, however the commodity equities have not fared so well. We know that readers' patience is being tested and many are becoming anxious with this volatility, so we once again wanted to address some of the recent emails and messages we have received in relation to commodity names and the markets.
We were recently asked if we thought going short natural gas and long oil was a good play at this point. The reader wanted to use the US Oil Fund (NYSEARCA:USO) and United States Natural Gas Fund (NYSEARCA:UNG) to do the proposed trade, however we had to advise against it. As it pertains to natural gas prices, we are bearish at current prices however in the short-term we think that the volatility could make any short-term trade quite unbearable. The spread between WTI Crude and Brent Crude has also narrowed and oil prices have already run higher, thus leaving very little meat on the bone so to speak. At another time we might like this trade, but right now it just does not fit the market as oil might have further to fall than natural gas with these storms hitting the US this week.
Chart of the Day:
To go along with our comments above, looking at the oil chart, it seems we are hitting up against what could be resistance. Very little upside is left after the most recent move, so currently we are cautious.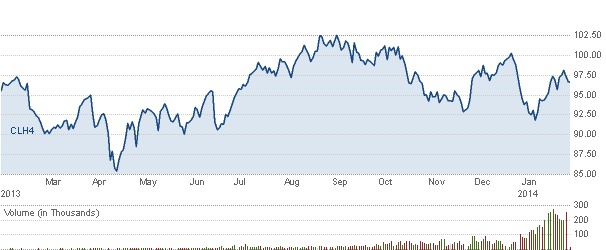 Source: CNBC
Commodity prices this morning are as follows:
Gold: $1,253.60/ounce, down by $6.30/ounce
Silver: $19.36/ounce, down by $0.049/ounce
Oil: $96.55/barrel, up by $0.12/barrel
RBOB Gas: $2.6013/gallon, down by $0.0056/gallon
Natural Gas: $5.041/MMbtu, up by $0.136/MMbtu
Copper: $3.20/pound, up by $0.0165/pound
Platinum: $1,381.50/ounce, down by $5.10/ounce
Commentary
Markets never stop on a dime and reverse course without having given prior notice. More importantly, rarely does economic data simply go sour. Keeping this in mind, we have to believe that we are simply experiencing a hiccup in the world's economic data caused by weather, holidays and some other events. Thus far we have only had one month of bad numbers and that does not make a trend. This is why we still think that Freeport-McMoRan (NYSE:FCX) is a must buy around these levels as copper prices should rebound on the back of a reversal of various economic data points. Copper has been week the past two weeks after topping out, but the good news is that oil has recovered from its recent fall.
You cannot really have one without the other rising long-term as the economics behind both tend to confirm the moves for the other commodity. If oil prices are rising long-term, so too shall copper prices and if copper prices are rising long-term, so too shall oil prices. They are driven by the same fundamentals in the long-term, so as both a speculation and a possible long-term play Freeport-McMoRan looks attractive.
Being bullish of oil and the domestic shale plays has us eyeing some of our readers' favorite junior E&P names. With some names either having hit support or come quite close to it, we have turned bullish on them when looking at names long-term. This is why we wrote about Rosetta Resources (NASDAQ:ROSE) yesterday, highlighting the name during its fall. With the close just around $40/share this name is a screaming buy in our opinion for those looking for exposure to the Eagle Ford Shale and Delaware/Permian Basin.
Not quite ready to pull the trigger on Kodiak at this point, but if support is confirmed again on a major down day, then it would be tough not to look at the name as a speculative play.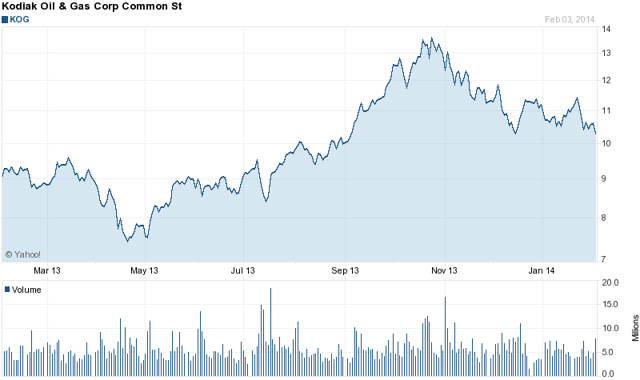 Source: Yahoo Finance
We are not yet ready to say that Kodiak Oil & Gas (NYSE:KOG) has reached that level on the most recent pullback. It does appear we have reached support, but our thinking is that Kodiak's shares will test $10/share once again and so long as that level is not breached then we might be interested in entering a speculative trade. This name is tricky to play with the recent pullback because most of its recent gains have been the result of takeover speculation and trying to figure out how much of the takeover premium is deflated is always tough to do in these types of corrections.
Disclosure: I have no positions in any stocks mentioned, but may initiate a long position in ROSE over the next 72 hours. I wrote this article myself, and it expresses my own opinions. I am not receiving compensation for it (other than from Seeking Alpha). I have no business relationship with any company whose stock is mentioned in this article.