By David Russell
The option action was bullish in Sunoco (NYSE:SUN) yesterday as traders bet on a rally into the summer driving season.
Our Heat Seeker tracking system detected call buying in the oil refiner, with August contracts accounting for 72 percent of the total option volume. Typically, closer months such as May and June would account for most trades.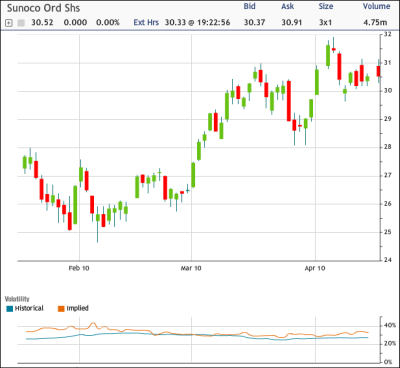 The August 35 calls were the most active strike, trading 11,817 times against open interest of only 493 contracts, with purchases for $0.80 to $0.85 dominating the tape. Traders also snapped up about 5,000 August 32 calls for $1.90.
SUN was unchanged at $30.52 yesterday and is up 17 percent this year. The shares have been fighting their way higher as investors price in a better economy and weigh the benefits of capacity reductions in the refining industry.
The company has also received some attention after Jim Cramer of CNBC and TheStreet.com said Sunoco could be a takeover candidate. SUN is showing a potentially bullish chart pattern after bottoming at $25 and then finding support last month at the same $29 level that had presented resistance in January.
The stock must rally at least 17 percent by expiration for the August 35 calls to turn a profit.
SUN's earnings came in below analysts forecasts the last time it reported results on Feb. 4. It hasn't yet scheduled its next release.
Overall options volume in the name was seven times greater than average in the session, and calls accounted for 86 percent of the activity.
Disclosure: No positions