With its large monthly dividends, few high-yield stocks are as steady and consistent as Prospect Capital (NASDAQ:PSEC). The company is a business development company, or BDC, which typically invests in private company debt, equity, and other high return investments. Prospect Capital's current dividend yield of over 12.30% offers both a meaningfully high current income as well as a potential for outsized total returns.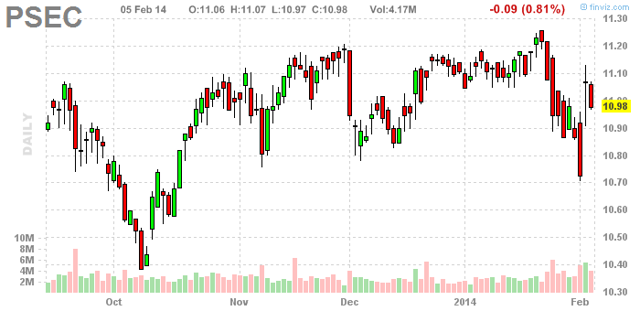 Q4 2013 Overview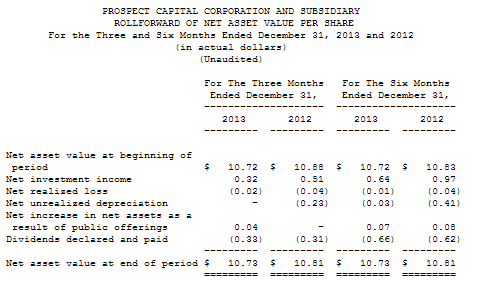 On February 3, Prospect Capital reported its Q4 2013 results. For the quarter, the company posted net investment income, or NII, of $92.2M, or $0.32 per share. This compares to NII of $99.2M, or $0.51 per share, last year. Do note that comparisons to last year are impacted by a large 60% year-over-year increase in Prospect Capital's share count.
Prospect Capital saw a 7% increase to its total investment income to around $178.1M, compared to $166.0M last year. However, this was more than outpaced by a 28% increase in total operating expenses to $85.9M, compared to $66.8M last year. The majority of this increase was due to higher interest expenses, up 78% to $29.2M, and higher advisory fees, up 17% to $48.1M.
Another weak spot for the quarter was Prospect Capital's NAV. As of year end, Prospect Capital's NAV was around $10.73 per share, down less than 1% from $10.81 reported last year, but up a penny from last quarter. At current prices, Prospect Capital trades right at its current NAV.
As I noted last quarter, Prospect Capital typically aims to payout nearly all of its interest income via dividends. Oftentimes, such as for most of 2013, a portion of the dividend may be a return of capital or from gains from investments, which may have a negative impact on NAV.
However, it appears as if neither of these cases occurred this quarter. Based on NII, Prospect Capital's dividend coverage ratio for Q4 was very slightly below 1.00X, while the book value actually increased from Q3. This may be a result of accretion related to the issuing of shares above NAV.
Monthly dividends declared through September 2014
A day before its earnings report, Prospect Capital announced monthly dividends for the months of July, August, and September 2014. This continues a trend for the company of declaring dividends well in advance as well locking in income for the short to medium term.
Below is a summary of the details:
11.0475 cents per share for July 2014 (record date of July 31, 2014 and payment date of August 21, 2014);

11.0500 cents per share for August 2014 (record date of August 29, 2014 and payment date of September 18, 2014); and

11.0525 cents per share for September 2014 (record date of September 30, 2014 and payment date of October 22, 2014).

These distributions mark Prospect's 72nd, 73rd, and 74th consecutive cash distributions to shareholders.
Do note that these announced monthly dividends are all very small fractional increases from prior year levels.
Loan Originations were strong in Q4
During Q4, Prospect Capital completed 34 new and follow-on investments for $607.7M. However, the company also sold six other investments and received repayment on five other investments in the quarter for proceeds of $255.2M, which resulted in net total investments of about $352.4M. This would mark a 11% decline from $392.7M last quarter. Do note that this figure does not include the $199M acquisition of Nicholas Financial, Inc. (NASDAQ:NICK).
The pace of loan originations is a key metric for Prospect Capital. As I noted in a prior article, Prospect Capital's loan originations in Q4 were quite strong considering that the company got off to a very poor start in October. As of year-end, Prospect Capital still had over $800M in new investment capacity, down 8% from $869M last quarter.
Prospect Capital does seem to be shifting away from its traditional senior debt investments and towards other areas including rental properties. However, these new investments have so far provided adequate IRR and remain a small chunk of the overall portfolio.
Loan defaults continue to be a non-issue for Prospect Capital, with no loans originated in the past six years entering into non-accrual status. As of year-end, loan assets on non-accrual as a percentage of total assets stood at 0.3%, unchanged from last quarter, and down from 1.9% as of June 30, 2012.
Conclusion
Overall, Prospect Capital reported a mixed quarter. While NII per share and NAV came in line with expectations, loan originations were likely inflated due to the investments into rental properties. In addition, the large increases seen in both the share count and expenses remain worrying.
In 2014, I would like to see more organic portfolio growth and less of these large investments into non-core areas. In addition, Prospect Capital may want to slow down on the shareholder dilution, especially given that its share price is now at par with NAV.
That being said, a 12% yield trading at multi-month low is an attractive value proposition. This is especially the case since Prospect Capital has locked-in its monthly dividends through most of 2014. The recent 5% decline is very likely to be a buying opportunity.
Disclaimer: The opinions in this article are for informational purposes only and should not be construed as a recommendation to buy or sell the stocks mentioned. Please do your own due diligence before making any investment decision.
Disclosure: I am long PSEC. I wrote this article myself, and it expresses my own opinions. I am not receiving compensation for it (other than from Seeking Alpha). I have no business relationship with any company whose stock is mentioned in this article.