I have to ask if anyone is really surprised by the recent stock market sell-off?! While I don't believe I can accurately predict movements in any given stock market, or stock for that matter, I spent much of last year thinking the US market was behaving strangely. The chart below is of the daily stock price for SPY (an ETF that mimics the S&P 500). What's odd to me isn't the osculation in the price ... it's the scale of the return. The S&P 500 returned around 30% last year. That's huge! Returns like that make me take notice. Did we pull returns from 2014, into 2013? Is there euphoria in the market place? Stocks just marched higher. Always higher ... in an unending line. Only a few bumps along the way to interrupt the pattern. Well we're having a few bumps again now, aren't we. What's funny to me, though, is that the S&P 500 is only like 7% off its high price ... but people are acting like we're down 50%.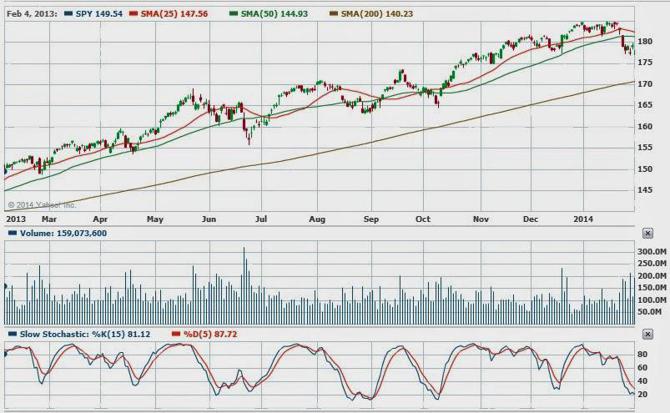 Click to enlarge
Courtesy of Yahoo Finance
The thing that I find so irritating about the financial news media, which I try my best to avoid them, is that 10% (or even more) corrections are normal. There are far more years that have corrections in the S&P 500, than there are that don't. Furthermore, if you are happy with a particular investment, and are happy with the price you're paying for that investment ... then it's GOOD news if the price goes down. That means you should buy more because that particular company went on sale. Today, just about everything became a little cheaper.
"Price is what you pay, value is what you get" ~ Warren Buffett
I continued averaging into my positions in Vanguard's Emerging Market Index (NYSEARCA:VWO) and General Mills (NYSE:GIS), with small buys in each today. I think there is a fair chance that stock prices will continue to lower in the coming days, but I'm not certain of that. If I was certain, I would wait in cash until just the right time, and buy at the absolute lowest price. Unfortunately though, my crystal ball is broken.
I am however certain that I have cash I need to put to work, and I am very happy with my recent investments in Coca-Cola (NYSE:KO), McDonalds (NYSE:MCD), General Mills, Unilever (NYSE:UL), and VWO. Those purchases were sized such that I'm not yet to my target allocation, and I will continue buying as the stock prices go lower.
"If past history was all there was to making money, the richest people would be librarians" ~Warren Buffett
My apologies for all the Buffett quotes this afternoon, but I thought his dry and witty humor would be helpful. So, going forward I'm continuing to watch and wait for additional good opportunities. Unilever, Chevron (NYSE:CVX), Conoco Phillips (NYSE:COP), and Target (NYSE:TGT) all look like good candidates going forward. A fair bit lower Johnson & Johnson (NYSE:JNJ), Procter & Gamble (NYSE:PG), and PepsiCo (NYSE:PEP), also look promising.
Market corrections, assuming we sell off to the correction point, also make me glad that I maintain a cash position in my investing accounts. Cash serves two functions in my accounts: 1) It provides ballast in my portfolio; and 2) It allows me to invest when I see other opportunities. This is why I let the cash build in my account for much of last year, and this is why I hope the sell off continues.
What did you buy recently? Which companies are you looking to invest in?
Disclosure: I am long VWO, GIS, KO, MCD, CVX, COP, JNJ, PG, and PEP. This discussion is for informational purposes only and should not be considered a recommendation to buy, sell, or hold any securities. I am not a financial professional.