The sales figures for Arena Pharmaceuticals (NASDAQ:ARNA) anti-obesity drug Belviq have been a topic of discussion for well over a year now. Upon FDA approval, analysts had projected very robust sales for the drug in anticipation that consumer demand would be substantial. Upon launch sales projections remained very robust with discussion of $200 million in annual sales and $150 million in calendar year 2013. After the launch it became quite clear that analysts, Arena, and marketing partner Eisai all got ahead of themselves as sales figures were not even in the same ballpark as what the actual numbers were delivering.
As an investor in the sector, I tracked not only what expectations were, but tried to assess what the eventual reality would be. Some readers were highly critical of my tracking the Eisai expectations, but my stance is that these expectations were what the market was anticipating in setting a valuation to Arena. As it became very clear that $150 million would not transpire by the end of 2013, people shifted the focus to March 31st of 2014. When it became clear that March would not deliver the number, reality finally began to set in. The market de-valued Arena substantially, and finally, some more realistic expectations could be formulated for the equity.
Several months ago, I outlined that a realistic number was $60 million in overall gross sales from launch through March 31st of 2014. To my surprise, some readers felt that such a projection was setting the proverbial bar too high. To this day, there are some readers that feel that $30 million in gross sales in Q1 is too lofty a goal. Well, we now have the latest Eisai quarterly call as a reference.
Net sales of Belviq were about $16.7 million from launch through December 31st. If we can assume that net sales represent about half of gross sales, we would arrive at a gross number of $33.4 million through December 31st of 2013. That number aligns pretty closely with the projections I have outlined. This would imply that sales would need to be about $30 million in the current quarter to get to the targets that I established a few months ago.
In its conference call, Eisai stated that the sales in the current quarter would be significantly higher than the last quarter. While the translation of the call is difficult, the number in the current quarter is looking to double the previous. Therefore, if gross sales were about $15 million in the previous quarter, it would stand to reason that the next quarter is anticipated to have gross sales at about $25 to $30 million. As it happens, that is the projection that I have been working from for quite some time now. Previous to this call, a reader might have felt that I was setting the bar too high. The bar no longer belongs to me. Eisai has now set the bar. Thus, if you feel that the bar is too high, my suggestion would be that you should now consider that the street will be looking for the numbers I have been presenting for quite some time now.
What we now have is an outline of sales expectations in the current quarter that should track to about $25 to $30 million in gross sales in order to meet street expectations. I have created a new chart that tracks the current quarter against the previous quarter. The statements from Eisai indicated a double in the current quarter. Weekly sales will help investors track that progress. One benefit we will see is that the previous quarter was severely hampered by the holidays. That should make it easier to double up in the current quarter.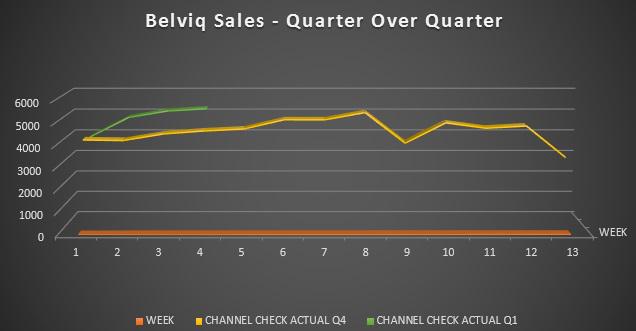 Source Of Chart - Spencer Osborne
As you can see in the cart above, the tracking in the current quarter is indeed ahead of the previous quarter. While we are not seeing the double that was insinuated on the Eisai call, we can see that it will be relatively easy to get that double in the weeks ahead. This chart will be an added feature to my weekly sales tracking series going forward.
The simple sales tracking model below outlines the sales since launch and projects forward to March 31, 2014. While sales will never be as smooth as the model, the overall numbers simply need to be tracking in the right area in order to obtain the numbers. My model carries that overall cumulative sales needed to be at 158,174 as of the reporting last Friday. My adjusted numbers for IMS Health have cumulative sales at 159,197 and my adjusted numbers for Symphony Health stand at 170,359. Both tracking services, on a cumulative basis, are tracking just ahead of my model. The time spent above the line in my model is helping the current trend of being below the line.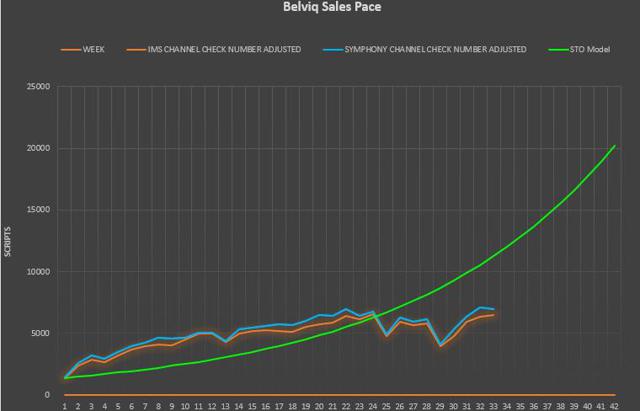 Click to enlarge
Source Of Chart - Spencer Osborne
The key element here is expectations. We now have essentially confirmed that the sales pace for Belviq needs to be at about $30 million in the current quarter. That is what the street will be looking for. At 4 weeks into the quarter I have estimated sales to consumers at about $4.7 million with 9 weeks left. That essentially guides to the expectations of $20 to $25 million for the balance of the quarter. If sales grow as expected, the company should be able to attain these levels.
For investors, one key element is understanding how expectations relate to the stock price. Meeting expectations should be neutral to positive depending on how much the equity has seen in a run or a dip. Underperforming these projections would be viewed as bearish. What will be happening as the quarter progresses is an assessment of how sales are pacing with expectations. Variables to the valuation and bullishness or bearishness will come from other catalysts such as news about another country approving the drug, pipeline news, news on clinical trials, etc. The baseline valuation will be tied to Belviq sales, while the premium or lack of premium will be assigned to other factors. If sales can be in the $25 to $30 million neighborhood in Q1, a decent foundation will have been established for future growth. It appears that television advertising will be more of an impact on Q2. That means patience on one hand and potential on the other. Stay Tuned!
Disclosure: I am long ARNA. I wrote this article myself, and it expresses my own opinions. I am not receiving compensation for it (other than from Seeking Alpha). I have no business relationship with any company whose stock is mentioned in this article.