ConocoPhillips (NYSE:COP), the largest independent E&P company, currently yields an attractive 4.2%. The dividend is poised to grow as management has stated it is a top priority. Projects in the works over the next 4 years do look attractive, but I think they are still making some strategic mistakes.
Highly capital intensive, $16 billion total is anticipated to be spent through 2017, broken down this way:
45% Development Programs
30% Major Projects
15% Exploration And Appraisal
10% Base Maintenance
With 2013 MBOED (thousands of barrels of oil equivalent per day) just north of 1,500, major projects are expected to add around 400 MBOED by 2017. These projects are diversified, taking place in every continent except South America and Antarctica. Oil Sands related projects are expected to contribute around 1/4th of the total.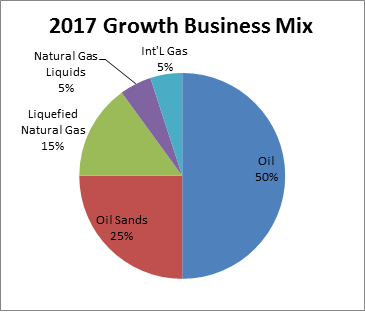 Total 5-year investment on the sands is expected to be around $5 billion, and a compound annual growth rate of 16% is anticipated. I think very highly of the value of Conoco's oil sands portfolio, but the company has been selling some of it. Notable recently is a $720 million deal with Exxon Mobil (NYSE:XOM) for the Clyden oil sands leasehold, about 100 miles south of Fort McMurray in Canada. There is the potential for more deals as Conoco chooses to focus more on U.S. shale oil and natural gas. Speaking on Canadian oil sands, chairman and CEO Ryan lance stated, "These are great assets, but one where we believe we're a bit overweighted in our portfolio today."
The deal Conoco made with Exxon was worth $3,186 an acre, which will give Conoco an after-tax gain of around $450 million. Is it worth it for Conoco to be giving up these valuable resources for the sake of diversity? I don't think so. For starters, their exposure to oil sands is still pretty minimal.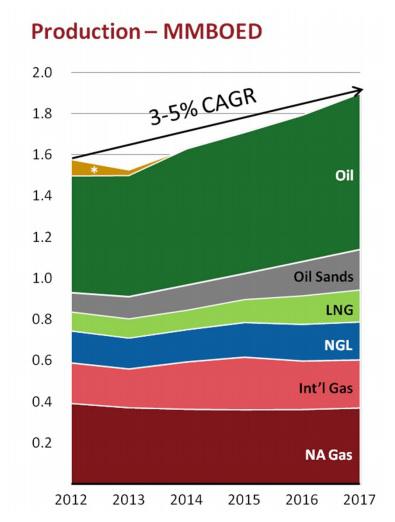 Secondly, Canada's oil sands are appearing to be some of the most reliable long-term energy sources available. Suncor Energy (NYSE:SU) is getting 50 years of stable cash flows from its recently announced Fort Hills project. Exxon is getting 40 years out of its Kearl oil sands project in northwest Alberta, which it invested $11 billion in. This is through its 70% stake in Imperial Oil (NYSEMKT:IMO). Production is already past 80,000 barrels of bitumen daily, with 4.6 billion barrels as a resource.
More projects have been announced within the last 50 days for Exxon and Imperial. Applications have been made to regulators for a 135,000 barrel per day project, which will take place in northern Alberta. At a cost of around $7 billion, production could begin in 2020. This project is notable for being the first of Exxon's to use steam assisted gravity drainage.
For oil sands, lower Canadian crude has been one concern of investors, but most of the concern lies with getting the product to markets. Many stocks involved heavily with the oil sands were mostly absent from the market rise during the last two years. Pipeline capacity is still in somewhat of a lull, but improving. Even if regulatory and environmental scrutiny hampers the pipeline efforts, railroads should be able to ultimately fill the void. With $20 billion in investments pouring in annually, potential is seen by many, even if that is not currently represented in the share price.
Warren Buffett's latest energy trade through his Berkshire Hathaway (NYSE:BRK.A) (NYSE:BRK.B) was to swap Conoco for Exxon, a company much larger and with a significantly less dividend. In fact, this took place right around the time of the Clyden deal. Berkshire also owns Suncor. Along with Bill Gates, Buffett took a trip to view the Canadian oil sands region a few years back.
As for Conoco, you could certainly do worse than having an investment in them currently. Exxon's recent quarter was not a good one, as earnings dropped 16% Y/Y. Meanwhile Conoco had profits of $2.5 billion and earnings of $2.00 a share, compared with $1.4 billion and $1.16 a year before. Conoco's proved reserves rose 3% over the year, to 8.9 billion barrels of oil equivalent. Oil sands projects will take many years to get up and running, however. When they do, Conoco will be missing out. With minimal geopolitical risks, and none that I can see on the horizon, it's an attractive investment that should have been held on to.
Disclosure: I am long SU, BRK.B. I wrote this article myself, and it expresses my own opinions. I am not receiving compensation for it (other than from Seeking Alpha). I have no business relationship with any company whose stock is mentioned in this article.