It's that time of the year. Three months ago, when the World Series has just concluded and the NBA season was in its infancy, I wrote an article on the business of sports. It was an overview of the business landscape and meant to provide readers with some investing ideas. So it's only fitting that now, shortly after the conclusion of the Super Bowl, the biggest single sports event in North America, I'm following up that article with an overview of several "derivative" sports industries that will hopefully provide readers with more investing ideas.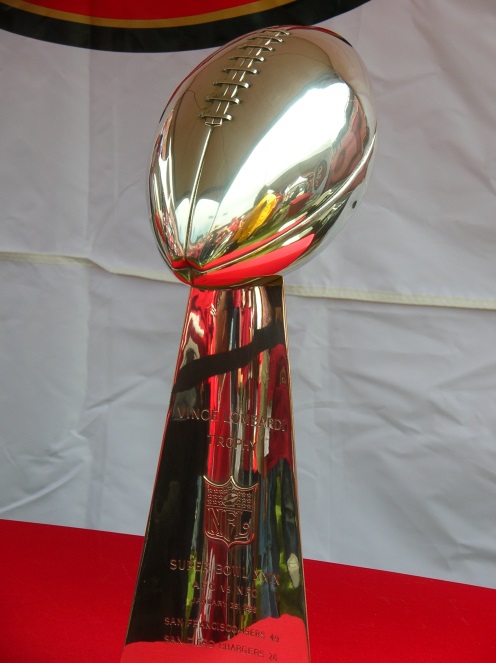 There are several industries whose fortunes depend largely on sports. Some of them are too large to discuss here and they deserve their own in-depth analysis. In this first part of the article, I will focus on perhaps the largest of these industries - the sports apparel and equipment manufacturers.
Sports Apparel and Footwear
Footwear and apparel is a huge sector, and can't be covered here in detail it deserves, but will attempt to highlight the more relevant and compelling ideas. Nike (NYSE:NKE) is the undisputed leader in the space, deriving huge revenues from large sports contracts and selling authentic sports merchandise. Nike is, in fact, the NFL's exclusive maker of licensed on-field apparel including uniforms, clothing worn on the sidelines and fan gear, having replaced Reebok in 2012. That was a huge win, as nearly half of the NFL's income from licensed goods comes from apparel and headwear, according to Ira Mayer, the editor of The Licensing Letter, an industry newsletter. Video games, trading cards and novelty goods make up the remainder. By comparison, NBA derives only 32% of its income from licensed goods from apparel and footwear.
However, investment choices beyond Nike aren't plentiful for investors looking for sports-driven revenues as opposed to the apparel trends. AND1 is private. So is New Balance Athletic Shoe. Adidas [FWB: ADS], which owns Reebok, and Puma [FWB: PUM] both trade in Germany.
Under Armour (NYSE:UA), a fast-growing supplier of sportswear and casual apparel, is a sponsor of the NFL Combine. In order to promote their product, they also sponsor a number of star players and teams across many sports and around the world. Among them are NFL's Tom Brady and Cam Newton, baseball's Ryan Howard and Bryce Harper, NBA's Stephan Curry, NHL's Toronto Maple Leafs, British Premier League's Tottenham Hotspur FC, NCAA's Auburn Tigers, US Olympic skier Lindsay Vonn, and US Gymnastics Team.
Sports Equipment
Original equipment manufacturers of all things sports like balls, pucks, helmets, bats, sticks, pads, etc., is an interesting, more niche group. This segment has gone over a period of significant consolidation, and there are few pure plays in the US market here as well. Russell Brands, the owner of Russell Athletic, Spalding Balls, Brooks Sports, and AAI (gymnastics equipment), among others, is a wholly owned subsidiary of Berkshire Hathaway (NYSE:BRK.A) (NYSE:BRK.B). Wilson Sports is owned by Finnish company Amer Sports [OMX: AMEAS], which also has winter and outdoor sports, and fitness divisions, including Salomon Group and Atomic Skis. Molten Corp., the world's largest ball and sports equipment manufacturer, is a private Japanese company. Sports Direct [LSE: SPD], which owns such brands as Slazenger and Dunlop as well as sports retail, trades in London. Bauer Performance Sports [TSX: BAU] is the last independent and public hockey equipment maker, as CCM, Jofa, and Koho were all bought out by Reebok, now part of Adidas.
Many other brands are now parts of larger companies, both private and public. For example, consumer products conglomerate Jarden (NYSE:JAH) acquired K2 Sports in 2007. Known for pioneering fiberglass ski technology, K2 Sports boasts brands such as Marker, Marmot, Rawlings, LINE, and Völkl. Many are also based in Europe, especially equipment manufacturers for winter sports, such as private Swiss SCOTT Sports, Italian Tecnica Group S.p.A, Slovenia's Elan, and French Skis Rossignol S.A., as well as public Dutch company Head NV, known mainly for their alpine skis and tennis racquets.
Investable Choices
Some US companies with exposure to sports equipment are listed below, although these only complement their respective outdoor apparel businesses:
VF Corporation (NYSE:VFC) - well-known brands in the space such as The North Face, Timberland, Eastpak, JanSport, and Vans;
Columbia Sportswear (NASDAQ:COLM) - footwear, headgear, camping equipment, skiwear, and outerwear accessories;
Quiksilver (NYSE:ZQK) - winter sports and surfing, in addition to apparel.
VF also has a deal with the NFL to license T-shirts and fleeces. The league also signed agreements with Outerstuff (youth apparel), New Era Cap Company (hats for sideline personnel and fans) and '47 Brand (hats for fans). All three are private companies with similar agreements with other major sports as well as NCAA.
NFL Helmets
One interesting development in the sports equipment space that deserves special attention is the drama surrounding the NFL helmets. During the past few years, as the league took a lot of public and media heat regarding concussions, and eventually had to settle litigation with former players for $765 million. Following that settlement, the NFL has announced that the 2014 Super Bowl will be the last game to feature Riddell as the official helmet of the NFL. NFL players can wear any helmet they want as long as it complies with prescribed standards, but Riddell was the only company whose name could appear on the helmet's nose bumper. Roughly, one-third of the league's players who chose a helmet from one of Riddell's competitors - Rawlings, owned by Jarden, or private manufacturers Schutt and Xenith - had to leave the nose bumper plate blank. Riddell paid for this privilege as well as the right to produce regular-size and mini helmets with league logos on them, which are favorite among autograph collectors.
Riddell has had the NFL's official helmet rights since 1989. In 2003, the company was acquired by the private equity firm Fenway Partners. Not to be confused with Fenway Sports Group, the owner of Fenway Park and Boston Red Sox, Fenway Partners are based in New York has owned other businesses including luggage maker Targus, 1-800 Contacts and bus company Coach America. Fenway also bought Bell Sports in 2004 and Easton Sports in 2006, merging all three companies into an industry leader with departments spanning from cycling to baseball, hockey, motocross and even archery.
After the break-up with the NFL, Fenway Partners tried to sell Easton-Bell Sports, but failed to find a buyer due to the concussion liabilities, according to the New York Post. Instead, Fenway will try to sell individual brands. The Post also reports that Fenway is close to selling the baseball helmet and bat business to Bauer, a public Canadian company mentioned earlier, which would complement its dominant hockey and winter sports equipment business.
According to the NFL, in 2014, no helmet maker will have exclusive right to display a name on NFL helmets, but that may change in the future. The three helmet makers that were a minority this past season will likely all benefit from Riddell's demise, but one could emerge a bigger winner down the road, and other companies may enter the market.
Potential Pure Plays
While the highlighted companies above provide exposure into the lucrative market of sports equipment, they're still broader, more diversified businesses. One possible exception is a pure play golfing equipment maker Callaway Golf (NYSE:ELY). Since golf is considered a high-end leisure activity rather than the entertainment business of professional team sports, ELY's performance does not exhibit high correlation with other stocks discussed here. In 2013, the stock's performance was on par with the broad market. Its smaller Asian competitor, Sino Golf Holdings Ltd [HK: 00361] trades in Hong Kong.
Another intriguing play may be Daktronics (NASDAQ:DAKT), which makes electronic scoreboards and large electronic marketing displays mostly used for sports events, including the Super Bowl. A small-cap at $625M market cap and yielding 2.05%, this may also be a back-door play on the rising LED lighting trend, as stadiums and arenas continue to switch away from traditional lighting. The stock has been in a rally mode since last October, after a seasonally strong quarter, and was very recently recommended by Forbes supported by its technical strength.
Conclusion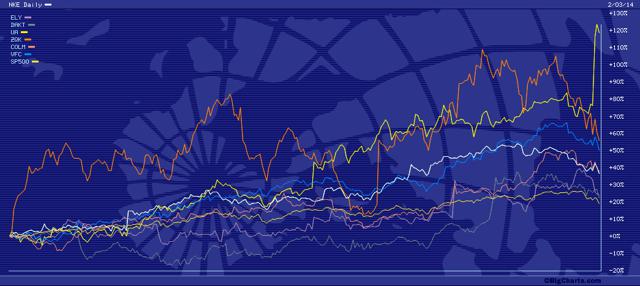 Source: MarketWatch BigCharts
With the professional sports industry growing, several potential investing opportunities remain in companies that benefit from sports derivative businesses, and none bigger than sports apparel and equipment. Relative stock price performance since the beginning of 2013 to date for some of the investment choices in this segment is charted above for reference.
Disclosure: I have no positions in any stocks mentioned, and no plans to initiate any positions within the next 72 hours. I wrote this article myself, and it expresses my own opinions. I am not receiving compensation for it (other than from Seeking Alpha). I have no business relationship with any company whose stock is mentioned in this article.