Though shares of companies across all sectors took a massive beating last week, the stock price of gaming company Zynga (ZNGA) surged after it released fourth quarter results and announced a $527 million acquisition of game developer NaturalMotion to drive mobile gaming growth. Shares subsequently jumped to $4.50 under high volume and are holding up well so far. Nonetheless the recent strength in share price, Zynga has largely disappointed investors since its stock market debut at the end of 2011. The gaming company had been riding high as it developed social media games such as FarmVille and Mafia Wars that were heavily played on Facebook (NASDAQ:FB). The hype about the IPO of the social networking site also affected Zynga which ultimately also went public at a price of $10 per share.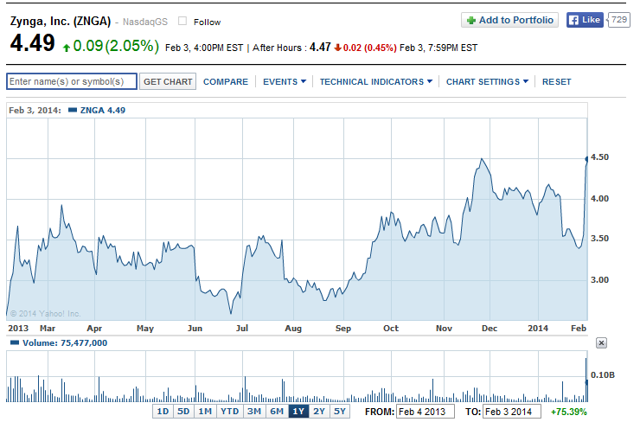 Quarterly results
Investors cheered Zynga's quarterly results which beat analyst earnings estimates. Zynga reported a fourth quarter 2013 adjusted net loss of $0.03 per share which compares to its own outlook of a net loss of $0.04-0.05 per share and analyst estimates of a net loss of $0.04 per share. Fourth quarter revenues came in at $176 million and were at the lower end of the communicated revenue range of $175-185 million. Quarterly revenues in Q4 2012 stood at $311 million which brings the y-o-y revenue decline to a whopping 43%.
The non-GAAP net loss for the fourth quarter of 2013 stood at $20.8 million vs. net income of $6.9 million in the fourth quarter of 2012. Zynga's operating cash flow fell from $19.8 million in Q4 2012 to $7.7 million in Q4 2013 while its free cash flow slumped from $29.5 million to $6.8 million over the same time period.
Though the gaming company delivered a lower-than-expected adjusted net loss on a per share basis, the overall trend with respect to revenues and adjusted EBITDA is worrisome.
Zynga's development of quarterly revenues is depicted below. In the fourth quarter of 2012 Zynga achieved revenues of $311 million (flat y-o-y). In Q4 2013 revenues came in at $176 million (down 43%) and the most recent quarter marked the sixth consecutive quarter of revenue declines. Revenues are down 47% from its Q2 2012 High of $332 million.
(Source: Zynga Q4 2013 results presentation. Click to enlarge)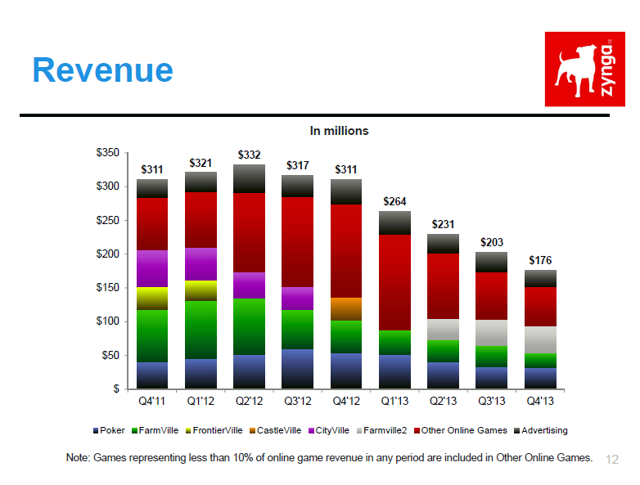 Zynga's adjusted EBITDA trend also is not very encouraging since its 2013 EBITDA is nowhere near the levels achieved in 2012. With an eroding revenue base it is also not surprising that Zynga posts low single-digit adjusted EBITDA margins. Zynga's fourth quarter adjusted EBITDA margin stood at a marginal 2% after 5% in the previous quarter and 17% in the year ago quarter.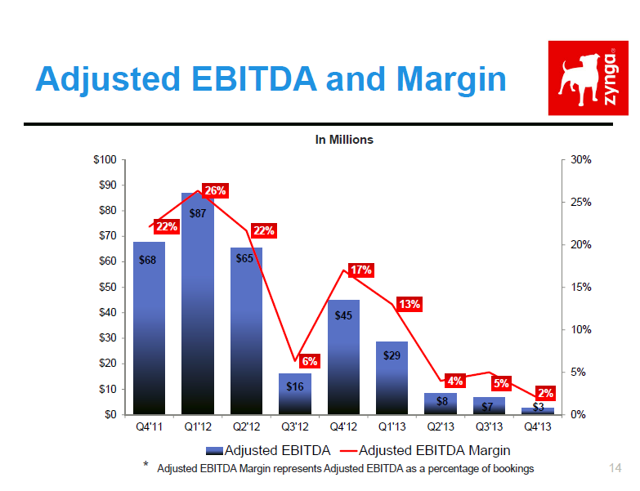 Zynga's audience engagement metrics also have been in freefall over the last two years. Daily Active Users (DAU) declined 52% from 56 million in Q4 2012 to 27 million in Q4 2013 while Monthly Active Users (MAU) fell from 298 million just a year ago to 112 million in the most recent quarter (a decrease of 62%). The depicted downtrend in user engagement, revenues and EBITDA suggests that Zynga has not yet succeeded in repositioning the company away from its primary gaming platform Facebook.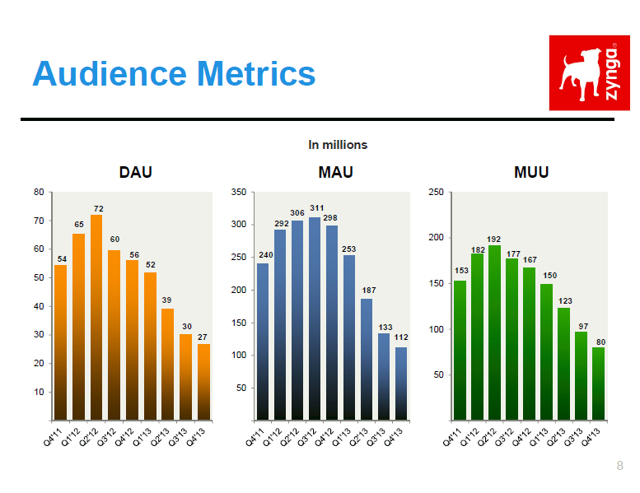 Downgrades
Weak results prompted Bank of America Merrill Lynch to downgrade Zynga to Underperform (previously Neutral) and issue a target price of $3.80 given the "premium over traditional game makers".
The Street also rates Zynga as a Sell. The company issued a rating score of D+ and commented:
We rate ZYNGA INC a SELL. This is driven by several weaknesses, which we believe should have a greater impact than any strengths, and could make it more difficult for investors to achieve positive results compared to most of the stocks we cover. Among the areas we feel are negative, one of the most important has been weak operating cash flow.
NaturalMotion acquisition
Zynga agreed to purchase NaturalMotion, a leading mobile game developer (renowned for games like CSR Racing, CSR Classics and Clumsy Ninja), for $391 million in cash and an additional 39.8 million Zynga shares bringing the total purchase price up to approximately $527 million. Zynga pays about seven times estimated 2014 mid-point Bookings or twenty-six times estimated 2014 mid-point adjusted EBITDA for NaturalMotion (see chart below). Those multiples are very rich and high valuations for high-growth tech companies always carry a significant amount of impairment risk down the road. In any case, Zynga expects the transaction to be accretive to non-GAAP earnings per share by $0.01.

Conclusion
Zynga has not yet presented a viable path for its gaming strategy. The audience metrics from above highlight that social media gaming might not be a sustainable business as gamers quickly change to the next hot thing. Also, let's not forget that the majority of game developers and apps don't make any serious money at all thanks to the tremendous competition in the gaming world. Zynga's revenue- and earnings decline is rather severe and I remain skeptical whether the high purchase price for NaturalMotion is justified. Zynga's share price certainly has reflected the decline of Zynga's revenue base and the company is in dire need to present a valid catalyst to turn its business around. It appears that Zynga is one of those companies that achieves a sky-high valuation by virtue of being at the right place at the right time (social media) rather than by developing sustainable earnings.
Disclosure: I have no positions in any stocks mentioned, and no plans to initiate any positions within the next 72 hours. I wrote this article myself, and it expresses my own opinions. I am not receiving compensation for it (other than from Seeking Alpha). I have no business relationship with any company whose stock is mentioned in this article.