McDonald's (NYSE:MCD) has been a great stock to own for the long-term investor. It performed well during the market sell-off and financial crisis in 2008-2009 at an operating level and also as a security. It did not drop as much as the market averages (red line in the graph is S&P 500), and its sales held up in part due to consumers looking for value when things got difficult. This relatively low correlation to the market has continued, less favorably to investors this time, as the market averages have rallied to new highs while MCD is trading near a 52-week low.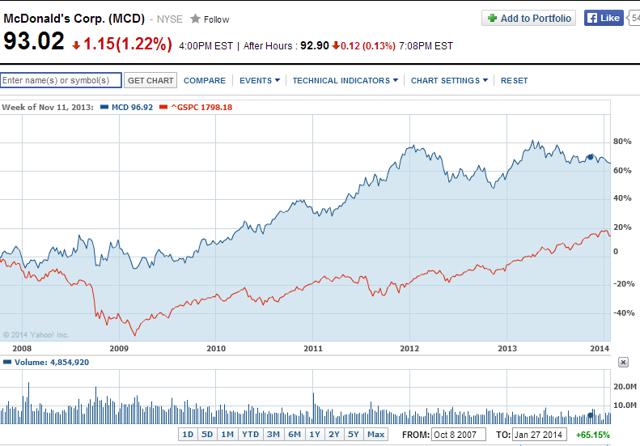 Click to enlarge
Chart Source: Yahoo Finance
MCD has 1 billion shares outstanding which trade at $93, making its market capitalization $93B. This translates to about 9 times EBITDA of $10B and compares well to 13 times for Burger King Worldwide (BKW) and 11 times for Taco Bell, KFC & Pizza Hut owner YUM. McDonald's pays $3.24 per year in dividends, and has increased this amount consistently through the years (it paid $1.63 five years ago, a CAGR of 15%). The payout ratio (dividends/earnings) is above 50%, which is relatively high, but its cash flows have stability due to the large amount of revenues that come from franchisees (about $9B). The margin on these revenues is around 80% because not many costs are associated with the revenue stream (for the most part consisting of occupancy costs), which brings stability to margins.
The franchising model has been developed to perfection at MCD, arguably the world's most successful franchisor. More than 80% of its approximately 35,000 restaurants are operated under franchise agreements. The franchise model used by McDonald's is more capital-intensive than traditional franchise agreements, because the company usually purchases land or otherwise secures the real estate on behalf of the operator. This allows the company to extract rent payments as well as the usual sales royalties from franchisees, increasing the revenues from non-owned restaurants. In 2012, MCD reported franchisee sales (sales it does not record as its own) of close to $70B; which means that about 12% of sales from restaurants owned by franchisees become revenues booked at MCD.
The company has some debt, which is not surprising given it owns such a large portfolio of land underlying its restaurants, but the level of debt is not large at $13B. To understand why this debt is manageable, I noted that between dividends and buybacks, MCD returns $5B to investors each year and consistently invests another $3B in growth and maintenance capital expense. Assuming all the capex is required to sustain sales, suspending the shareholder payments for 2.5 years would allow the company to repay all debt while continuing to invest in the business.
MCD offers excellent geographic diversification, with restaurants in 118 countries. World GDP during 2014 is expected to be higher than the last three years and growth is expected to return in Europe, a key market for McDonald's, as macroeconomic challenges are slowly diluted by growth.
The discount in stock price is attributed to a challenging environment. The company is facing a flat informal eating out (IEO) marketplace. This has triggered aggressive promotion and product cycles at competitors like Burger King and Wendy's, both of which had lost significant share but are fighting hard to recover. In addition, MCD has admitted some unforced errors like expanding product offerings too quickly, foregoing the usual testing period which has caused increased wait times for customers (especially at the drive-through, which used to be a core strength). The issue is serious enough that management has indicated it is programming fewer new restaurant openings and instead will allocate capex dollars to upgrading kitchens to streamline the preparation process. A quote addressing reduced openings during the prepared remarks of the latest earnings call (transcript from SA):
"This reduction is also the result of planned kitchen investments in the U.S. that are being prioritized in 2014. These new high density kitchen prep tables are designed to deliver enhanced service capabilities and menu choice to our customers."
McCafe continues to be successful outside the US. It has managed to place itself as a premium coffee outlet, serving pastries and bakery products in countries where Starbucks arrived late or has not been established yet. But McCafe has not been as successful at home yet. Other challenges facing the company are fast food industry pressures around low wages paid and a continued regulatory trend towards promoting healthier eating habits.
Valuation is the most attractive aspect of the company right now. Although there are valid reasons for investors to be concerned, I believe the discount in the stock relative to peers and relative to its own historic trading multiples is overdone and therefore more than compensates for the uncertainty. Using conservative assumptions on a simple discounted cash flow model, I get a value range of $118 to $136 per share, providing a margin of safety of about 30%. The stock is trading at 15x forward earnings, a low level of MCD, which usually trades around 17x to 19x. I don't know how long the shares will trade for less than $100, but I am confident that ten or fifteen years from now, the returns will have satisfied the hungriest of investors.
Disclosure: I am long MCD. I wrote this article myself, and it expresses my own opinions. I am not receiving compensation for it (other than from Seeking Alpha). I have no business relationship with any company whose stock is mentioned in this article.