The Securities and Exchange Commission's fraud charges against Goldman Sachs (NYSE:GS) today clearly took the markets by surprise, sending the bank's shares down more than 12 percent.
The technical formation that I had pointed out on the GS daily chart as a potential bullish pattern, which became active this week, is now inactive and likely broken at this stage. Prices and percentages are obviously subject to sharp and abrupt changes given today's fast-changing market conditions.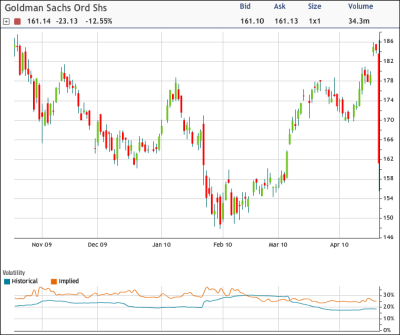 Beyond Goldman, the damage inflicted on the financial sector has been broad and deep. Deutsche Bank (NYSE:DB) and JP Morgan Chase (NYSE:JPM) are taking the biggest hits so far, down more than 7 percent and 4 percent respectively at the time of this writing.
The one beneficiary in all this is American International Group (NYSE:AIG), which may see some funds returned as a result of the action against Goldman. AIG shares are up 1.6 percent.

The uptrend in the Financial Sector SPDR (NYSEARCA:XLF) has been broken by today's action. The breakdown below the 10-day moving average, last at $16.57, has snapped the uptrend that was in place since the February lows. A lot now depends on whether the downside continues to accelerate, or moderates, as the trading day continues.

The S&P 500 cannot make headway without the financials continuing to participate in the upside. The index did test down to its 10-day moving average, last at 1195.45. If there is a breakdown and a close below that average, then the uptrend in the index since its February lows will also come to an end.

Markets rarely like surprises, and this one comes just as earnings season unfolds and many stocks had recovered to pre-crash highs. If the bears have a shot at turning the tide, this is their moment.
(Chart courtesy of tradeMONSTER)