With Buffalo Wild Wings (NASDAQ:BWLD) set to report this week, some of the analyst comparisons has pinned the company with Chipotle (NYSE:CMG), simply for growth purposes, as they have two different types of restaurant chains. I don't quite feel the same about the two of these places. Namely, I like Chipotle's food - Buffalo Wild Wings? Not so much. Here's one instance where I don't believe all up-and-coming restaurants are held equal, aside from the fact that CMG is casual dining and BWLDs are sit down restaurants.
Buffalo Wild Wings is set to report after market close on Tuesday. The mean analyst estimate in a Capital IQ survey looks for EPS of $1.07 on $347.5 million in revenue. Analysts are expecting a gain of 22% in annualized earnings for 2013.
(from Yahoo! Finance)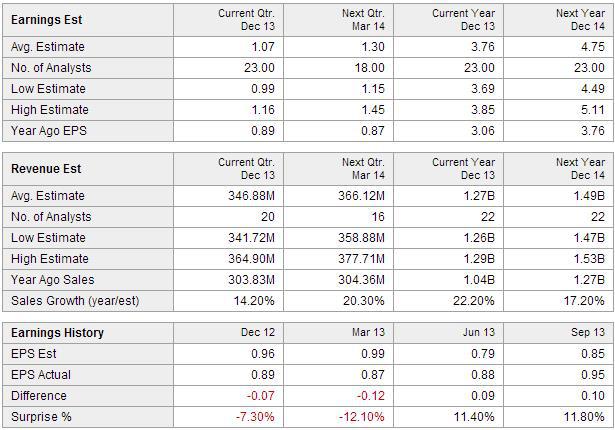 Buffalo Wild Wings has been on a tear for the last year, catalyzed by its motto, "Wings. Beer. Sports." That motto looks suspiciously like my "To Do" list for most Sundays - who couldn't subscribe to that? The company has seen its stock rise 86.1% in the last twelve months. Since 2014, amongst the massive market clipping, the company has pulled back 3.7%.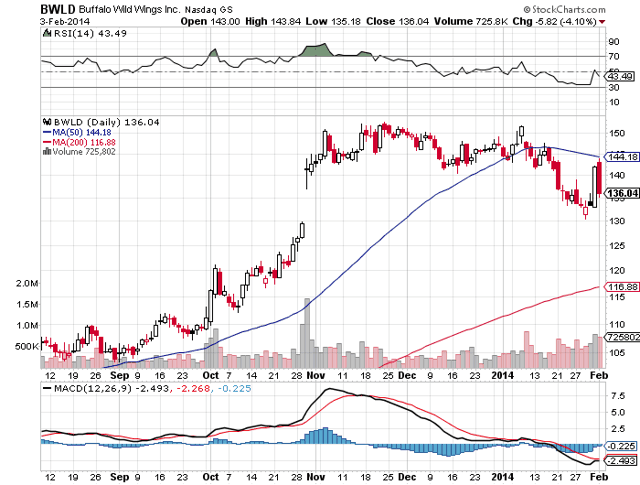 The company is going to be hoping that the price of chicken wings, which the company is seeing at $1.75/pound for the fourth quarter, could help stretch margins. Additionally, the company has been employing new portioning tactics that it hopes to help continue to curb costs as it grows aggressively.
The company had 25 restaurants in 1994. Today, the company has over 950 restaurants in the U.S. and Canada - and CEO Sally Smith has continues aggressive plans to take it global.
The company sports a trailing twelve month P/E of 38 and a market cap of 2.55 billion - which shows that the market expects aggressive growth and nothing less from the restaurant chain.
Short term, BWLD's past tells me that there's a damn good chance for a volatility play here.
You can buy a $135 long straddle on BWLD that expires February 22nd for $14 even. It would put your break-evens at $149 and $121 with two full weeks of theta priced into your options. That should give the market time to digest the news and push the stock accordingly. This is the only trade I'm considering for BWLD. I could enter into it as soon as today or I could avoid it altogether.
Additionally, NASDAQ.com reports that BWLD generally widens its moves the next day after earnings, so closing a straddle or strangle as soon as the CBOE opens might not be the best play, if you're going to play something short term:
In the last eight years, BWLD has shown a tendency to widen its after-hours move the next day following an evening earnings event. It has done so 17 times in 32 quarters.

Looking deeper into the data, bulls take note: the stock has recorded post-earnings gains in 17 quarters, widening that move 12 times, or 71% of the time.

Wider next-day moves have followed evening declines six times in 15 quarters, or 40% of the time.
Majority of analysts covering BWLD rate it as a "hold", with the median recommendation a "buy". A consensus price target is $153.50.
(click to enlarge - source Nasdaq.com)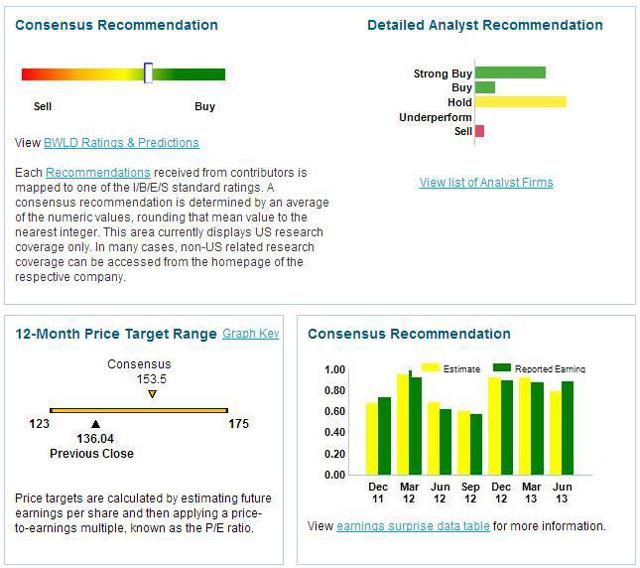 With Chipotle, I was able to push the multiple off the table because I liked the brand. In BWLD's case, I'm not crazy about the brand - nor am I crazy about the food or experience I've had while dining there. Jim Cramer has been pushing the "healthy" lifestyle stocks as people are starting to move away from fast food and into stocks like Chipotle and Panera (NASDAQ:PNRA). Buffalo Wild Wings doesn't fit this model and I think it's an area where they are vulnerable going forward. Couple that with lofty growth expectations in a slowing sector and long term, I'm not touching BWLD. I'm cautious into earnings.
Best of luck to all investors.
Disclosure: I have no positions in any stocks mentioned, and no plans to initiate any positions within the next 72 hours. I wrote this article myself, and it expresses my own opinions. I am not receiving compensation for it (other than from Seeking Alpha). I have no business relationship with any company whose stock is mentioned in this article.