The stats hounds at FactSet have crunched the numbers to see which technology companies grew the most in the fourth quarter from a year ago. Of those already reporting earnings, four of the top 10 fastest growers are semiconductor companies, but how likely is it that these four companies will reward investors with gains into spring?
To answer that question, my team at the Seasonal Investor dug into our seasonality database to see if any of the four offer exceptional track records for gaining ground over the next three months. Here's what we found.
The 4 biggest semiconductor sales gainers
Micron (NASDAQ:MU), the flash memory industry giant, saw sales spike 120% from a year ago, however a lot of that growth came thanks to its 2013 acquisition of competitor Elpida.
Applied Materials (NASDAQ:AMAT), the semi-manufacturing giant, is the third fastest growing on FactSet's ranking. The company cited a jump in new orders from $1.46 billion in FYQ4 2012 to nearly $2.1 billion in FYQ4 2013 when it reported fiscal fourth quarter results back in November. The company's fastest growing segment for sales in the fiscal fourth quarter was Displays, which saw sales of $163 million, up from $83 million a year ago.
The other two semiconductor stocks highlighted by FactSet were Lam Research (NASDAQ:LRCX), which significantly beefed up its product offering when it acquired Novellus back in 2012, and Microchip Technology (NASDAQ:MCHP).
At Lam, sales jumped to $1.1 billion in the fourth quarter, up from $860 million a year ago. Meanwhile, Microchips' calendar fiscal third quarter sales of $482 million improved 16% led by 28% and 30% growth for the company's 16-bit and 32-bit microcontrollers, respectively.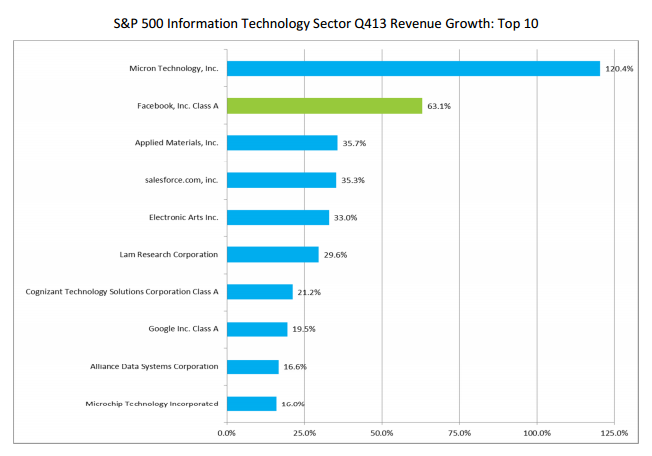 Source: FactSet
Tepid seasonal tailwinds
So, how do semiconductors look in terms of seasonality? The S&P Semiconductors ETF (NYSEARCA:XSD) has posted gains in six of its seven years in existence for the period February through April, gaining 10% on average, with a low 0.13 correlation to the S&P 500 (NYSEARCA:SPY).

Drilling a bit deeper, the seasonal history for the four semiconductor stocks mentioned by FactSet is fairly tepid. That's likely because the SEMI book-to-bill ratio usually peaks into spring and then heads lower through summertime.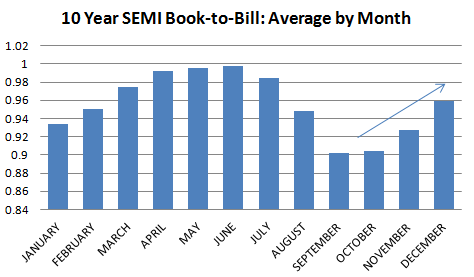 Source: E.B. Capital Markets, LLC
As a result, only Microchip has above average seasonal tailwinds heading into spring; gaining in seven of the past 10 years through April, and returning an impressive median 11.22%. The other three companies are more of a coin-flip in terms of seasonality, gaining in six of the past 10 years.
That suggests investors interested in the group may want to focus more on Microchip currently than the other three highlighted in the FactSet report.

Source: Seasonal Investor Database
Disclosure: I have no positions in any stocks mentioned, and no plans to initiate any positions within the next 72 hours. I wrote this article myself, and it expresses my own opinions. I am not receiving compensation for it (other than from Seeking Alpha). I have no business relationship with any company whose stock is mentioned in this article.