With J.C. Penney's (NYSE:JCP) 10-K and Q4 earnings release around the corner, there are a lot of hyperbolic predictions floating around. I developed the analysis below in trying to estimate values for JCP's debt under different scenarios. I'm sharing it here for your comments, and in the hope that it will provide a firmer ground for evaluating the company. Since this is principally an equity investor site, I've left out my debt price forecasts and liquidation waterfall, and instead concluded by considering JCP's share price.
JCP's Business Story: The Tall Tale of Two CEOs
If you believe the JCP's current story, for many years it had a great CEO named Myron Ullman who knew to market using discounts and coupons. Along came a hedge fund investor who thought he knew better and replaced Ullman with Ron Johnson, who seemed to be a retail genius coming from Apple (NASDAQ:AAPL), but was really riding Steve Jobs' coattails. Johnson tried to remake the store but his marketing ideas didn't work and sales dropped 25%. Bringing Ullman back means restoring the old, profitable business model and JCP's performance should revert to its pre-Johnson mean.
The story is wildly inaccurate. JCP's business model under Ullman, according to his descriptions and Johnson's (examples below), worked like this: JCP has 200 or so "private label" brands, consumers mistakenly believe that they are really national brands, JCP is therefore able to mark the goods up to national-brand prices, and then it can drive store traffic with nearly continuous massive discount promotions.
This is, obviously, not a business model that can be sustained indefinitely. It placed JCP in the category of discount retailers, where it has to compete with the Wal-Marts and Amazons of the world, but pays for shopping mall real estate. Being the lowest price point in the mall is not a desirable market position. Moreover, artificial markups and discounts cannot increase to infinity. Indeed, as Johnson pointed out, during the decade before he took the reins JCP increased both its markup rate and discount rate every year, but the discounts outpaced the markups as JCP had to do more each year to drive store traffic.
JCP's sales growth under Ullman could be most favorably described as stagnant. After adjustment for inflation, a statistically significant negative trend is unmistakeable:
Note that JCP's peak YOY sales growth was under 4%. Many of the pro-JCP models floating around today assume annual revenue growth of 7% or higher. I've asked the authors of those articles how they derived those numbers and never gotten a response. The most stellar retail recoveries of recent years, Foot Locker (NYSE:FL) and Pier 1 Imports (NYSE:PIR), achieved growth rates like that, but were only able to sustain them for three years, and each company is a fraction of JCP's size. At JCP's peak rate of nominal sales growth (6.7% in 1999), it would not return to 2011 nominal sales levels until 2020. Next time you see a JCP model that shows sales going up, ask by how much and how the analyst got there. But I digress…
By 2011, JCP's sales and gross margin were declining steadily. Why? Because the artificial-markup/discount model cannot be sustained indefinitely, because JCP had rebranded itself as the lowest price point in the mall, and because it cannot out-discount the Wal-Marts and Amazons of the world. ROIC had dropped from a trailing average of 11.3% to 2.3%. SG&A stayed above $7bn through much of the 2000s, settling back to $5,109mn in 2011. FCFF and EBIT were negative by the time Ullman left.
If you look at news reports and stock analyses from the time, Johnson was viewed as JCP's savior after a decade of weakening performance and brand degradation, something of the way Ullman is described today. When hindsight meets short memories...
Johnson was able to reduce JCP's SG&A by 12% during his tenure. If we blame Johnson for 2013 sales, then we should also credit him with the continuing SG&A drop in 2013 (which began to level off after Ullman's return). The total drop attributable to Johnson is a bit over $800mn, or 18%.
As for sales, I am not a marketing expert, and I don't know if Johnson's store-within-a-store concept would have worked in the long run. But there is no question that the Sephora stores-within-a-store are one of the only parts of JCP that are profitable today. Johnson may not have had the cure, but he accurately diagnosed the disease.
Prospects For Recovery: The Myth of "Comps" Vs. the Reality of SG&A and Liquidity
JCP analysts seem to be obsessed with same-store and comparative store sales growth. The fact is, it doesn't really matter. Using prior-year seasonal patterns, I estimate FY 2013 sales at approximately $11,689mn, a bit over half of 2011's $17,260mn. (This may be generous, but the point is to see how JCP would perform in a best-case scenario.) Starting there and assuming that JCP meets management's cost and margin targets, the following chart shows how JCP's performance will change at different rates of sustained sales growth:

High "comps" are not going to put JCP in the black. There is no remotely realistic rate of assumed sales growth at which JCP returns to 2011 net sales before the end of the decade or even becomes operationally profitable. Period, end of story.
It's interesting to note that the pro-JCP faction is cheering a press release from JCP today proclaiming that "comps" were positive 2% for Q4 2013. Not so fast. "Comps" are calculated after adjusting for the extra week in Q4 2012. 12/13 * 1.02 = 0.94; so JCP seems to be saying that net sales were down 6%. That would put them at $3656.9mn. This is within $40mn of my earlier estimate, and I therefore have not updated the charts and tables in this article to take the announcement (which was made after I submitted this article) into account.
JCP's problem today is not sales. The idea that JCP could "undo" 2012 is fully refuted. Today, JCP's problem is high fixed costs and, to a lesser extent, low gross margins. Over 2012 and 2013, JCP's gross margins fell from a historical, and industry-normal, 36-37% to 28-32%. Low, but not so far outside the retail norm. It's plausible that Ullman's plan to return to the artificial-markup/massive-discount business model restores the prior margin. But the forecast above assumed an immediate return to 37% gross margins -- even at that rate, JCP still would not generate positive cash flow for years.
The reason is SG&A. 30% is normal in the retail industry. JCP is running 34-36%. Even after Johnson's cost reductions JCP still has the fixed costs of a company with $17 rather than $11bn in revenues. Prospects for further cost cutting are remote. SG&A already dropped by 18% over two years, and the rate of reduction declined once Johnson left. The low-hanging fruit is gone.
Another chain might be able to reduce costs by closing unprofitable stores, and JCP recently announced that it was closing 3% of its stores. Obviously, that isn't very many. One reason JCP may be closing so few stores, and have so much difficulty closing more, is that almost all of its retail space is now mortgaged to support the $2.25bn term loan it took out early last year. Another reason may be that there are few stores that are identifiable as less profitable than others -- JCP's gross margins are not terrible. Closing more stores might only mean lower gross profit and slightly lower debt, not improved free cash flow.
Reducing capex isn't a solution either. I'm already assuming that, as Ullman said he intends, JCP reduces capex from ~$800 to ~$300mn/year. Since JCP's capex consists of items like uniforms, cash registers, and customized software, which are "capital" expenditures only in a technical sense, it does not seem that capex can drop further.
Liquidity. JCP has to cut costs to survive, as well as improve sales and gross margins. That will take years, perhaps a decade, if it is possible at all. JCP is already out of time.
In the first three quarters of FY 2013 JCP consumed $2.25bn in liquidity. (That takes into account, in addition to cash, JCP's revolver draw and pay down; its $458mn increase in the use of vendor funding and revolver-backed letters of credit; its $2.25bn term loan; and a secondary offering that raised $786mn.) If Q4 2013 followed the pattern of previous years, JCP got approximately $400mn in liquidity back over the holidays, leaving total FY 2013 consumption at $1.8bn. Remaining liquidity at the end of FY 2013 will be approximately $2bn.
This is consistent with management estimates. (And JCP's Feb. 4 press release.) But it is not remotely high enough for JCP to survive.
JCP uses $700-$1000mn in liquidity in Q2 and Q3 of each year to prepare the holiday shopping season. It also has impending debt maturities every year the next four years (and quite a few thereafter):
Combine that with the fact that JCP will be FCFF-negative for at least the next several years at best, and it is difficult to see a path to the company's survival.
I generated the following chart to illustrate this. It's a complicated chart so I'll explain it. It estimates how JCP's liquidity will change over time assuming different rates of sales growth. The chart assumes that JCP's gross margin instantly reverts to 37%, that capex drops to $300mn, and that SG&A drops and then increases at a rate lower than the rate of sales growth:

There are two discontinuities in the chart. The first assumes that JCP is able to raise $750mn in additional liquidity by selling assets and exercising the accordion feature in its revolver. The second is another stock offering, this time raising a full $1bn. These are generous scenarios.
Notice that without a new liquidity infusion JCP crashes by the time it needs to build-up inventory for the 2015 holiday shopping season. And even with $1.7bn in additional liquidity, JCP crashes by Q3 2017. This is true whether JCP grows at 0% or achieves and sustains an inconceivable 9% rate of year over year net sales growth.
To be clear, the chart is not my prediction of JCP's future. It is an attempt to assess management's plans for the company. The only reasonable interpretation I can give to JCP's behavior in the last six months is that management hoped for a best-case scenario in which net sales bounced back quickly toward 2011 levels over the holidays, costs dropped slightly, and the company would then be in a position to show a likelihood of near-term positive free cash flow and to refinance its debts as they came due.
The Debt Markets Are Now Largely Closed to JCP
A year ago JCP borrowed to buy time to try to escape its problems. That door is now shut: JCP's tangible assets are encumbered to approximately the limits of its debt covenants, and its unsecured debt trades at yields implying imminent default. (Some JCP inventory may be unencumbered if it is measured at book value, but it's difficult to believe that JCP's inventory retains value as it ages, and the inventory already secures its revolver.)
Goldman's famous note on JCP debt (I won't link to it out of respect for the copyright; you can Google it yourself) speculated that JCP could issue second-lien debt secured by its inventory, or somehow monetize its below-market leases.
I don't see anyone buying second-lien debt from JCP at better than unsecured rates. Its existing debt isn't oversecured. JCP's bankers at Goldman are a lot smarter than I am, but I don't see JCP raising cheap money by "monetizing below-market leases" either. Mall real estate prices aren't exactly high these days. It would mean some pretty impressive investment banking fees though. And anyway, JCP isn't short a few hundred million, it's short billions.
JCP's Equity Value and the Bottom Line for Investors
Sometimes academic methods can be enlightening. JCP has an estimated Altman Z'' score of 0.247, which forecasts a high probability of imminent bankruptcy. It is not hard to calculate the option value of JCP equity using Damodaran's method and Black-Scholes, which estimates a share price of $4.71. That may be an underestimate because JCP's current volatility is greater than it was historically. As of this writing, JCP equity trades at about $5.70. Black-Scholes also tells us that the market expects the probability of default to be 67%. That seems low to me.
JCP stock thus trades at or above its option value. Buying JCP equity means accepting a high probability of losing one's entire investment in exchange for a low probability of high returns if JCP manages to cut costs, reverse its sales trend, and buck a multi-decade trend in retail.
I have been suggesting purchasing credit default swaps on selected JCP debt instruments and hedging the position by purchasing JCP equity. For an individual investor without access to derivatives, a short position is far more likely to be profitable.
I hope this article helps to place their analyses on a firmer footing based on a realistic assessment of the company and its prospects, and serves as a antidote to the hyperbolic assessments that have been floating around (which I will not link to out of courtesy for the authors, but you can search for my username in the article comments).
Key Metrics
The following table summarizes key JCP numbers; the forecast is optimistic and premised on management's stated goals, which are shown in lavender. The assumption of 2% yoy sales growth was selected as reasonable to illustrate the challenges facing JCP.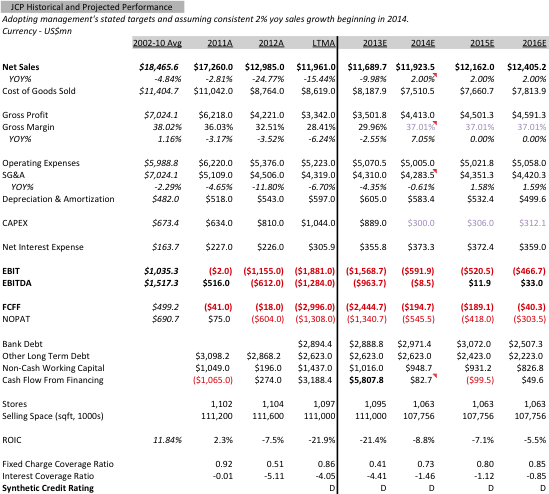 Disclosure: I have no positions in any stocks mentioned, nor any positions in JCP debt or derivatives thereof, and no plans to initiate any positions within the next 72 hours. I wrote this article myself, and it expresses my own opinions. I am not receiving compensation for it (other than from Seeking Alpha). I have no business relationship with any company whose stock is mentioned in this article.