You and I may complain about the price of Mac software, or the fact that we have to replace our laptop. But few of us complain about the power bills on our computing. For data centers (those large server farms running the internet as we know it, from the middle of nowhere), it's altogether another matter. The NY Times estimated that in 2012, data centers worldwide consumed the equivalent power of 30 nuclear power plants. This article points out that IT now consumes 10% of the worlds power, with data centers being a big part of that. And that is unlikely to abate, given that data center builds are fast and furious. The figure below shows Facebook's (NASDAQ:FB) upcoming spend on data center CapEx at $1.24B! It is no wonder that greening of the data center and reducing its carbon footprint is one of the top 3 priorities for datacenters in 2014.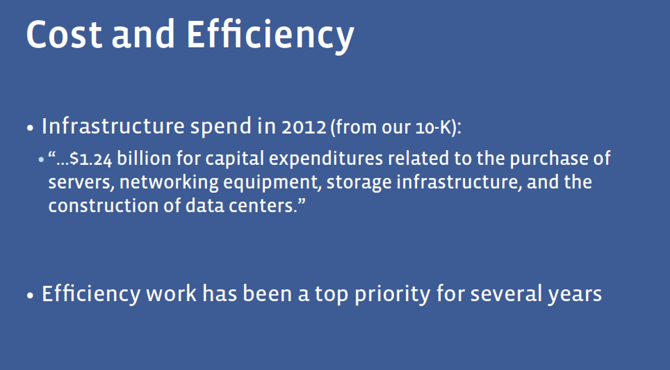 Reference. Facebook 10-K, 2013
So what does this have to do with Flash memory investments? Well, traditional disks are one of the big power hogs in a data center in 3 ways. Disks are big, they are slow (and make power hungry CPU's wait), and they run hot. Flash memory is smaller, cooler and faster. Which means that it consumes less power, lowers the data center HVAC bills, and produces results faster for the Internet user. The indirect power savings from flash memory can be 3 times larger than the direct savings. Consequently companies, like Facebook have almost doubled their use of flash memory in data centers on an annual basis. So what are the various ways to play the flash in data center trends?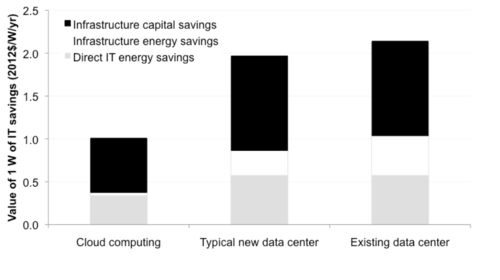 Reference. Flash Memory Summit

One could play this two ways. Flash memory component providers, and storage system vendors with strong roadmaps of flash-based systems. I outline the investment case for the four candidates across these categories that appeal to me :
Sandisk (SNDK): Any growth in flash memory based data centers is likely to benefit 'picks-and-shovels' vendors of flash memory. And for NAND flash, there are only a few. The big ones like Toshiba (OTCPK:TOSBF) and Samsung (OTC:SSNGY) have their fingers in too many pies to be a good play. I pick Sandisk over Micron (NASDAQ:MU) purely on a valuation and dividend basis. Both companies are strongly levered to flash demand, and have strong IP (more so with Sandisk in my view). You could play flash controllers such as Avago (NASDAQ:AVGO) due to its acquisition of LSI Logic (NASDAQ:LSI-OLD), but I don't see that as a value-added alternative.
Nimble Systems (NYSE:NMBL): On the system side, you could go with a disruptor. With the strong IPO market in late 2013, a number of storage disruptors including Fusion-IO (NYSE:FIO), Violin Memory (NYSE:VMEM) and Nimble came to the market. The first two are getting killed in the market. Violin is a cautionary tale on not betting the farm on 'pure flash' trends. And Fusion-IO on making sure the system vendor economics are sound. Nimble's hybrid approach (mix of flash and disk) and customer base (see below) makes it one of the better bets in the high-risk, high-reward portion of your portfolio.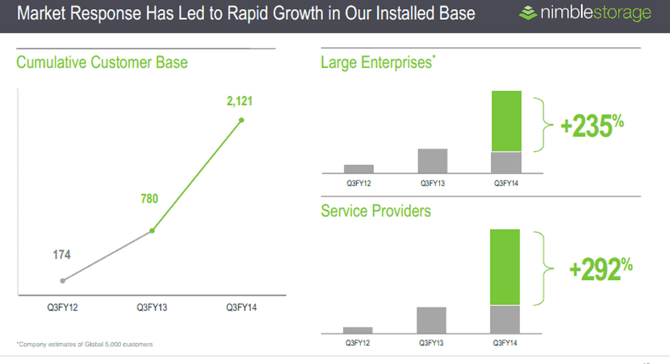 Reference. Nimble Investor Presentation
Network Appliance (NASDAQ:NTAP): My argument for Network Appliance is a play on company culture and people, not product roadmaps. First, as pointed out here, NTAP is very skillful at partnering and ecosystem development. The fact that they sold a ton of storage into VMWare shops (VMWare being an EMC company!), and are now partnering with Amazon (NASDAQ:AMZN) on the cloud front, goes to show that they are skilled at making money on other people's products. As even Nimble pointed out, flash is 25x more expensive than disk today, so assembling a multi-layer strategy for storage is likely to be the path to current revenue, until an all-flash future takes place. Such a strategy requires partnership skills and execution, both of which are ingrained in NTAP's corporate culture.
EMC Corporation (EMC): Many of the points about NTAP also apply to EMC. EMC is strong at assembling complex systems, strong (some would argue ruthless) at sales, and has come back from the brink of disruption many a time. I could talk about there XTremeIO roadmap or their recent acquisitions. But the two bigger factors for me regarding EMC are its substantial stake in VMWare (NYSE:VMW), and the high likelihood of activist investor participation in the stock. With both EMC and NTAP, you collect a dividend of about 1.5% while you wait (and likely a very healthy dividend growth rate)
Which of these should you pick? Well, that is a function of both your risk profile. Sandisk and EMC represent value plays, but with potentially muted growth. I have always found Network Appliance to pull a rabbit out of their hat in the past, and despite the lack of publicized product roadmap, would be my growth at a reasonable price pick. And for people looking at potential category killers, Nimble would be the choice.
As always, consider this an informed point of view but do your own homework.
Disclosure: I have no positions in any stocks mentioned, and no plans to initiate any positions within the next 72 hours. I wrote this article myself, and it expresses my own opinions. I am not receiving compensation for it (other than from Seeking Alpha). I have no business relationship with any company whose stock is mentioned in this article.