Fifteen months after releasing its
original report
citing "Top Ten Red Flags for Fraud at Lennar Corporation"
Fraud Discovery Institute
, co-founded by convicted felon turned fraud buster Barry Minkow, released a
follow up report
that provides even more compelling details backing up Minkow's allegations that Lennar (NYSE:
LEN
) is "a financial crime in progress." In addition, Fraud Discovery released
new preview footage
of its upcoming documentary, "Too Big to Go to Jail: The Lennar Story.
Both the
follow up report
called "Top Ten Red Flags for Fraud: The Sequel" and
preview footage
detail alleged business misconduct and alleged financial reporting irregularities by Lennar.
Top Ten Red Flags for Fraud: The Sequel
According to Fraud Discovery's
press release
, its follow up report:
...details how Lennar Corp. (NYSE: LEN) has bankrupted joint-venture partners, stiffed thousands of subcontractors, borrowed money at high interest rates to apparently fund a lawsuit, received F grades from Better Business Bureaus, received a sizeable payout from a land deal that eventually lost $1.2 billion for the California state workers' pension fund, filed misleading financial disclosure statements, and been accused repeatedly of double dealing, extortion and fraud.
Too Big to Go to Jail: The Lennar Story

The press release goes on to describe Fraud Discovery's upcoming documentary about alleged misconduct by Lennar:The movie documents the alleged nationwide pattern of fraudulent behavior by Lennar, one of the nation's largest homebuilders.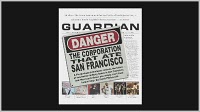 SF residents are angered Lennar's alleged misconduct
In the released clip, residents of San Francisco's Bayview Hunters Point, home to the largest African-American population in the city, angrily accuse Lennar of breaking its promise to monitor the community's health risks while developing a nearby toxic site and of reducing the number of affordable units it originally proposed.
Watch the clip here.

Allegation that Lennar Falsified HUD Document

Just three weeks ago, Fraud Discovery released other preview footage featuring an interview with Sandee Bradshaw, who purchased her home from Lennar. She described a meeting with Lennar Texas President Sean Chandler and claimed that he admitted to Lennar's falsification of a HUD document relating of soil samples. The allegedly falsified HUD document was shown in the video.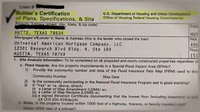 HUD document allegedly falsified by Lennar
Minkow Investigates Lennar for Client

Back in early January 2009, Fraud Discovery started investigating Lennar on behalf of Nicholas Marsch from Briarwood Capital LLC, a paying client involved in a contentious litigation with the company. Briarwood was involved in a joint venture development with Lennar in California. According to a January 2009 Bloomberg article Minkow claimed that:
Lennar "siphoned cash" from its joint venture with Briarwood and "killed the project."
Usually, when Minkow investigates other companies, he takes a short position in the company's securities, unlike this situation involving Lennar. Fraud Discovery started a website called "Lenn-ron.com" to document findings from its investigation of company. According to noted forensic accountant and author Tracy Coenen, many of the alleged "Red Flags" have already been proven correct.

Lennar Sues Fraud Discovery Institute and Barry Minkow

Lennar, in turn, has sued Fraud Discovery Institute and Barry Minkow in an effort to stop him from exposing alleged misconduct by the company. According to Minkow:
No one, not even an ex-con enjoys being sued. But sometimes there is a cost associated with muckraking and that is a cost we have been willing to pay as long as the truth about Lennar's business dealings comes out.
Lennar and Overstock.com Interfered in My Divorce Litigation
According to my ex-spouse and her attorneys, people working on behalf of Lennar even contacted them in an apparent effort to interfere with our ongoing divorce litigation.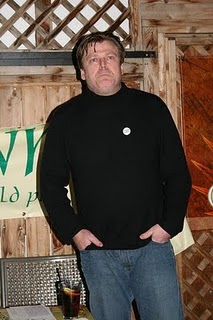 Patrick Byrne can't hold his liquor
In a similar move, CEO Patrick Byrne from Overstock.com (NASDAQ: OSTK) sent his paid cyberstalker Judd Bagley to interfere with my divorce proceeding. Now Byrne is under investigation by the Securities and Exchange Commission as a result of GAAP violations exposed in this blog. Recently, Overstock.com was forced to restate its financial reports to correct certain GAAP violations identified in the blog a year earlier. The company suffered the embarrassment of having to admit that its accounting for certain recoveries from underbilled and overpaid fulfillment was "inappropriate" after it went to great lengths to discredit my reporting of its GAAP violations.
Closing Commentary

When a public company goes to the length of interfering in the unrelated personal matter of a divorce involving a critic, it just highlights its own insecurity about its alleged misconduct and increases public skepticism of the company's activities.

Lennar should take note that bullying tactics don't work with both Minkow and I. Such retaliatory tactics only serve to energize us to intensify our investigations of corporate misconduct. As my personal friend Barry Minkow once said, "Such tactics have been tried and tossed" in the past.

Disclosure: I am a convicted felon and a former CPA. As the criminal CFO of Crazy Eddie, I helped Eddie Antar and other members of his family mastermind one of the largest securities frauds uncovered during the 1980's. I committed my crimes, simply because I could.

If it weren't for the efforts of the FBI, SEC, Postal Inspector's Office, US Attorney's Office, and class action plaintiff's lawyers who investigated, prosecuted, and sued me, I would still be the criminal CFO of Crazy Eddie today.

I do not own any Lennar securities, short or long.

I do not own Overstock.com securities, short or long. My research on Overstock.com and in particular its lying CEO Patrick Byrne is a freebie for securities regulators and the public in order to help me get into heaven, though I doubt that I will ever get there anyway. I will probably end up joining corporate miscreants such as fifth rate crooks like Patrick Byrne in hell.

I am assisting Fraud Discovery Institute in researching InterOil (NYSE: IOC). I do not own InterOil securities, short or long. However, Barry Minow has publicly disclosed holding a short position in InterOil securities.