UBS Investment Bank (UBS) (investor media page) expanded their family of funds that focus on high monthly returns. The first is the ETRACS Monthly Pay 2x Leveraged Diversified High Income ETN (DVHL) was introduced in November, 2013. DVHL is linked to the monthly compounded 2x leveraged performance of the NYSE® Diversified High Income Index, reduced by investor fees. ETRACS Diversified High Income ETN (NYSEARCA:DVHI) was introduced in September, 2013 and ETRACS Monthly Pay 2xLeveraged Closed-End Fund ETN (NYSEARCA:CEFL) give investors diversified exposure to the closed-end fund space. UBS is attempting to gain traction in the expanding opportunities of Exchange Traded Funds (ETFs) and Exchange Traded Notes (ETNs).
ETRACS Monthly Pay 2x Leveraged Diversified High Income ETN ((NYSEARCA:DVHL)) is a ETN that opened November 13, 2013 and is due on November 12, 2043, (30 years). According to the prospectus filed with the SEC, DVHL plans to offer investors a significant income potential in the form of a variable monthly coupon linked to 2 times the net cash distributions, if any, on the index constituents. The monthly compounded 2 x leveraged exposure to an index comprised of a diversified portfolio of 138 publicly-traded, income-producing securities. Diversification across geographic regions (e.g., emerging market bonds and international equities) and across asset classes and sectors (e.g., equities, fixed income, MLPs, BDCs, REITs, preferred stock, high yield bonds, etc.).
A quote from Paul Somma, Senior ETRACS Structurer, in the release to the SEC "We are very excited about the NYSE Diversified High Income Index. Since its inception, the index has delivered attractive returns and significant yields from a highly diversified asset pool. DVHL provides investors with 2x access to this compelling index that marries significant income potential and diversification, and further cements ETRACS' reputation as a leading innovator of income-generating products."
ETRACS Diversified High Income ETN looks to offer investors two times monthly compounded exposure to the ISE High Income Index. The index consists of a diversified portfolio of 30 U.S.-based closed-end funds. These component funds are chosen on the basis of their income yield, their discount from NAV and liquidity. There is only one newly-launched fund tracking the same ISE High Income Index through with unleveraged exposure - Yield Shares High Income ETF (NYSEARCA:YYY).
ETRACS Monthly Pay 2xLeveraged Closed-End Fund ETN anticipates paying out roughly 19.0% in yield a year to investors, indicating its focus on income. Equity sector allocation covers almost 60% of the fund yielding about 9.56% followed by debt-driven funds (about 25.0%) yielding about 10%. The remaining 15% goes to several other high income asset classes (see all the ETFs in the CEF space here). Since CEFL looks to track various funds, the information about the issuers of those funds is important. Eaton Vance takes up the top chunk (28.71%) while Blackrock (27.09%) and Nuveen (11.40%) form the subsequent two positions of the index. CEFL's top holdings include Eaton Vance Enhanced Equity Income Fund II (NYSE:EOS), Eaton Vance Tax-Managed Diversified Equity Income Fund (NYSE:EOI), and AllianzGI NFJ Dividend, Interest & Premium Strategy Fund (NYSE:NFJ), all accounting for about 4% plus share of the total.
Investors should also note that the product is structured as an ETN which carries an associated risk of the issuer's credit worthiness. Further, being a high income product, the underlying bond holdings of the note do not posses very high credit rating, thus calling for higher default risks.
The high-yield space is pretty crowded with products seeking investors willing to assume higher risks for higher rewards. ETRACS has gone for a handful of product launches in this year, with subtle differences between each. However, most of these products are open-ended unlike CEFL. So, the real challenge for CEFL will come from its close-ended high-income peers.
The High-income close-end space also has some renowned names including PowerShares CEF Income Composite Portfolio (NYSEARCA:PCEF) - managing an asset base of about $450 million and Market Vectors CEF Municipal Income ETF (NYSEARCA:XMPT), and Yield Shares High Income ETF.
From the yield point of view, the trio offers a yield of 8.33%, 5,88% and 6.35% respectively (as of December 13, 2013) while CEFL is likely to yield an impressive 19%. This makes CEFL a far more enticing option for yield-seeking investors than its other close-ended cousins.
The second area of strength is in the expense ratio of the product. CEFL charges investors a very low 50 bps in expenses while other above-mentioned products charge not less than 1.65% to investors. Quite expectedly, the product garnered $24.6 million in AUM within just two days of launch and is expected to continue its run in the months ahead, though volatility could be extremely high with this product.
Results - Return on Your Investment
On January 7, 2014, UBS declared coupon payments on fourteen ETRACS Exchange-Traded Notes.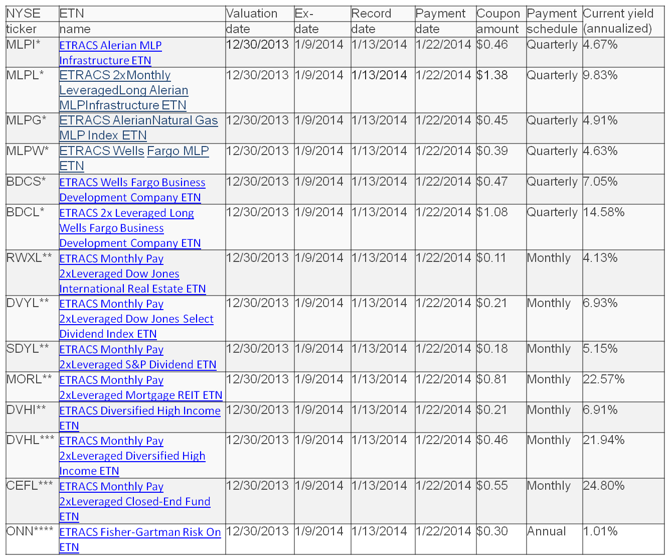 I recreated the chart to fit here, but the link to the UBS page is here.
The return on these investments are variable, and due to change each month. The bright side is the return is paid every month and creates a quick return and the ability for you to determine if the fund provides the reward for the risk you are willing to accept.
Because many of these funds are new, twe hold our recommendation, but want you, the investor, to continue to search for quality investments that provide a quality return for you.
Disclosure: I have no positions in any stocks mentioned, and no plans to initiate any positions within the next 72 hours. I wrote this article myself, and it expresses my own opinions. I am not receiving compensation for it (other than from Seeking Alpha). I have no business relationship with any company whose stock is mentioned in this article.