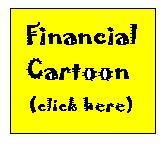 Outlook: There has been anecdotal evidence accumulating for a pause in the straight upwards trend in equity prices. These clues include a complacent VIX, an 82% generational high of investment news letters advancing a bullish opinion on stocks, and "America's Back!" on the cover of "Newsweek" magazine. [i]
The news of Goldman Sachs (NYSE:GS) being sued for fraud by the SEC on an option expiration Friday provided investors a catalyst for taking some profits. The timing of the Goldman allegations appears aimed at overcoming the current Congressional bottleneck regarding a long over due financial reform.
While the Goldman allegations may end up as a tempest in a teapot, the headlines are likely to confirm retail investors' greatest fear: you can't trust your broker. This may derail what appeared to be a nascent movement of retail investors' capital out of cash and bonds and into equities. Retail investors are likely needed to sustain the next leg of this stock rally. Without their participation the rally could sputter.
The recent set of economic numbers is converging on a picture of an economy that has regained its footing. While constructive on equities, a balanced solution of governmental spending cuts and tax increases remain elusive. The realization of looming tax increase could be a real "buzz kill" as that sentiment has now spilled onto the streets in the form of the Tea Party.
CEF Weekly Review: The 13 closed-end fund (CEF) types on average posted a 0.5% decline for the week ending 4/16/10. The high-low spread was 2.2% vs. 4.6%. On an aggregate, unweighted basis the weekly average price change for the 500 plus CEFs was down 0.5%.
The PowerShares CEF Income Composite (NYSEARCA:PCEF), an ETF that invests in taxable income CEFs, declined 0.9% for the week. The S&P 500 declined 0.2% for the week; up 6.9% YTD.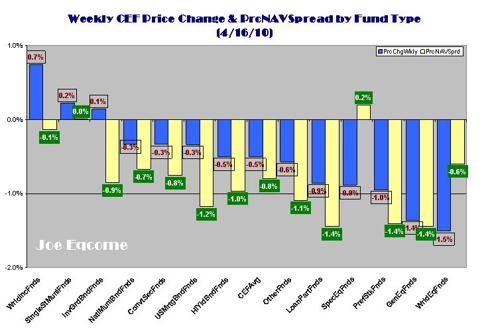 (Click here [ii] for YTD CEF performance. The table is based on a smaller CEF sample size as all the data fields are not available for the CEF universe.)
The Eqcome CEF Fear Index advanced for the week with the average price declining 0.5% versus a 0.2% increase in the NAV. The CBOE Volatility Index (VIX), which typically moves inversely with the stock market—but is mostly a measure of volatility—spiked 13.8% on the Goldman news after having slid 30.7% from early February.
The S&P 500 average daily trading volume spurted 34% to almost 6 billion shares for the week. On Friday 8.1 billion shares traded on the Goldman news and options expiration. Even before Friday, the previous four days showed an average volume increase of 22% which provided some encouragement that the retail investor was dipping his/her toe in the water.
CEF Weekly Fund Type Performance: The weekly performance of the fund types can best be separated into the first four days which saw a steady price advance versus Friday's reversal more than erasing the week's previous gain. So, the weekly performance numbers really reflect Friday's sentiments.
The 13 CEF fund types reflected the rush for cover with equities lagging and fixed-income outperforming—although the high-low spread was narrow reflecting the magnitude of the Goldman news on all fund types. Oddly, WrldIncFnds (up 0.7%) and WrldEqFnds (-1.5%) were on opposite ends of the market performance scale intimating that investors were more focused on asset classes than geography.
While WrldIncFnds were up 0.7%, its related NAV was up even more (+0.9%) in the face of continuing skepticism regarding EU's ability to deliver on their loan pledges. The PIS countries (Portugal, Ireland and Spain) have their own internal financial problems and may require their respective legislatures to sign off.
The PrcNAVSprds[1], which typically move in the direction of stock prices, registered a couple of notable exceptions. In addition to the WrldIncFnds noted above, InvGrdBndFnds was also of interest. The InvGrdBndFnds' NAVs exceeded the price change by 0.9% signaling a combination of a flight to quality and a commitment by the Fed to keep rates low "for an extended period of time".

CEF Winners and Losers: For a third week in a row one of the CEFs with the greatest positive PrcNAVSprd was Nuveen Tax-Advantaged Floating Rate Fund (NYSEMKT:JFP). This is a very unusual occurrence. During that three week period the shares have appreciated 28.5%. For this week JFP's price appreciated 6.4% while its NAV expanded 1.3% generating a positive PrcNAVSprd of 5.1%.
There continues to be significantly large volume in JFP's shares. Its volume hit 506,160 shares on the day after it went ex-dividend on a 5.3% increase in the share price. Somebody wants to own the stock although there are no current filings by insiders or institutions.
The CEF having one of greatest negative PrcNAVSprd for the week was First Trust Active Dividend Income Fund (NYSE:FAV). FAV share price dropped 8.9% versus a 0.1% decline in its NAV.
Earlier in the week FAV reduced its quarterly distribution 30.4% from $.46 per share to $.32 per share. Ouch! The stock is still trading at a 16.7% premium and at a 9.8% distribution yield. The stock may still be overpriced at these levels given its small size, limited track record and above average expense ratio.
Economic & Earnings Outlook: (Click here [iii] for next week's economic calendar; click here [iv] for earnings announcements and estimates.)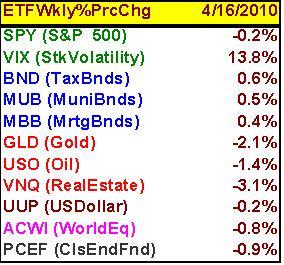 ETFs: According to Morningstar, investors plowed some $19.7 billion into ETFs in March. Those inflows helped push total net inflows for the ETF industry to $7.7 billion for the first quarter of 2010. At month's end, total ETF assets stood at $815 billion, up from $764.6 billion at the end of February and up from $484 billion a year ago.
Insider Trading: There was only modest insider activity this week. Benchmark Plus Management, LLC, ("Benchmark") continued its buying in DWS Dreman Value Income Edge Fund (NYSE:DHG) adding an additional 38,000 shares at $13.07 per shares for a capital outlay of $498,017.
During the prior month, Benchmark was an aggressive acquirer of DHG's stock; it accumulated 237,203 shares for a capital expenditure of $3,051,322. Western Investment Management, also considered a CEF connoisseur, owns a 9.4% position in DHG. Look for more activity here.
Whether coincidental or not, DWS Muni Income Trust (NYSE:KTF) was also subject of insider accumulation. In this case it was one of the directors, Robert H. Wadsworth, who purchased 4,000 shares in two separate filings. Also, during the month, one of the officers and portfolio managers, Philip G. Condon, completed his liquidation of 40,800 shares position he held at the beginning of this March. Mr. Condon has been an active trader in the stock.
The Horejsi Group (Horejsi) also added to its position in Boulder Total Return Fund (BTF) adding an additional 14,200 shares for an expenditure of $211,760. Horejsi owns 24.2% of the shares outstanding. (Click here for a hyperlink to the Joe Eqcome's CEF Weekly Insider Report.)
CEF Distribution Announcements This Week: The following is a link to a table of CEF distribution announcements this week as well as the previous week's with yet expired ex-dividend dates. The list is not intended to be inclusive. (Click here for Joe Eqcome's Weekly CEF Distribution Announcements.)
Significant CEF Corporate Events: Special Opportunities Fund (PIF) (f/k/a Insured Municipal Income Fund Inc.) announced that its ticker symbol on the New York Stock Exchange will change from "PIF" to "SPE" effective April 21, 2010.
The Gabelli Global Multimedia Trust (NYSE:GGT) announced that a federal district court in Maryland has dismissed an action that it had commenced against Arthur D. Lipson, Western Investment LLC, Western Investment Hedged Partners LP, Western Investment Total Return Partners LP, and Western Investment Total Return Fund Ltd. asserting that the Western Entities have violated the anti-pyramiding and anti-avoidance provisions of the Investment Company Act of 1940. The ruling only says that the SEC, not private litigants such as the Fund, can sue to enforce those provisions of the Act.
A proxy contest is being waged at Equus Total Return (NYSE:EQS) by the Committee to Enhance Equus, owning 11.4% of the outstanding shares. It has mailed its proxy statement, GOLD proxy card and a letter to stockholders in connection with the Company's May 12, 2010 Annual Meeting.
CEFs Focus for the Week: The focus continues to be on CEFs with the ability to generate tax-exempt income which includes the CEFMuni10™, CEFs with significant non-cash depreciation or depletion, such as natural resources, and those CEFs that have taxable income that can be sheltered by loss carry-forwards (this should be distinguished from those CEFs that are generating a return of capital distributions).
Higher Taxes Guaranteed: At the personal level we can expect: higher marginal income tax rates (35% to 39.6%), there will be higher rates on capital gains and qualified dividends (15% to 20%), a cap on deductions (28%) and an estate tax cap (45%). However, taxing the wealthy will not go far enough. Investors should anticipate the tax creep to continue to move downstream from those making over $200,000 to dipping as low as those making $100,000.
Munis: I have previously made the case for consideration of NatlMuniBndFnds and have provided investors with a portfolio of the 10 largest in the article entitled, "Muni CEFs Revisited: Feeling Lucky?"[v] (4/8/10). A list of the risks and rewards are highlighted in the article.
MLPs: Without regards to valuation, there are several CEFs that own MLPs that are typically engaged in the energy business where depletion is a non-cash charge that reduces net investment income but generates sufficient cash flow to support its distributions without eroding the underlying NAV. Kayne Anderson has two (KYN and KYE) and Tortoise has two (TYG and TYY). Others include MLP & Strategic Equity Fund (NYSE:MTP-OLD), Fid/Claymore MLP Opportunity (NYSE:FMO), and Cushing MLP Total Return Fund (NYSE:SRV).
Tax Loss Carry Forward: This is a group where there is no aggregation of tax loss carry forward information. The numbers have to be pulled out of each CEF's reports by hand. However, a crude proxy is looking at undistributed net investment income (UNII) as being associated with large capital losses and therefore the potential of a loss carry forward.
The following are those CEFs that have a sizable UNII and have NII greater than its distribution: First Trust Strategic High Income (NYSE:FHI), Helios Strategic Income (NYSE:HSA), First Trust Strategic High Income 2 (NYSE:FHY) and Evergreen Income Advantage (NYSEMKT:EAD).
Caveats: I'm least confident regarding "loss carry forward" group given the assumptions may not necessarily translate into usable loss carry forwards. Please do your own research on this group prior to making an investment based upon the assumption outlined in this article for the group.
---
[1] All things being equal, price and NAV should move in tandem. A price movement greater than the NAV generates a positive PrcNAVSprd and may be interpreted as negative on a near-term basis and indicate the stock is overvalued relative to its NAV which in theory is the stock's intrinsic value. The opposite would be true for a negative PrcNAVSprd.
---