It is quite shocking to me that Procter & Gamble (NYSE:PG) has fallen so far in so little time. The company is the quintessential example of a strong dividend-growth stock, with a rock solid yield of 3.10% and long history of annual dividend increases. In addition, Procter & Gamble's core business is essentially recession proof, with a wide moat in many key consumer product segments. With the stock now barely 3 points above its 52-week low, the market is offering a great entry point into Procter & Gamble for long-term focused investors.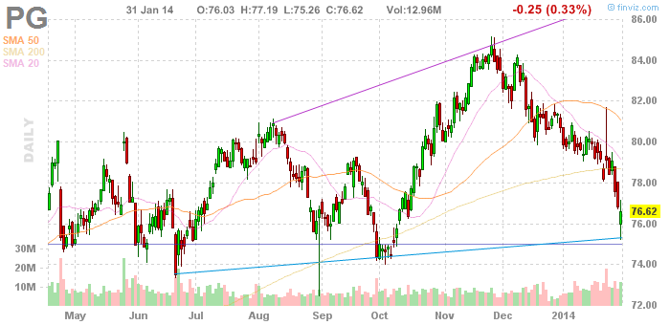 Company Overview
Procter & Gamble is a company focused on selling consumer packaged goods, mostly involving personal care products such as its Gillette branded razors, Charmin toilet paper and Crest toothpaste, fabric care products such as Gain, Tide and various other major brands.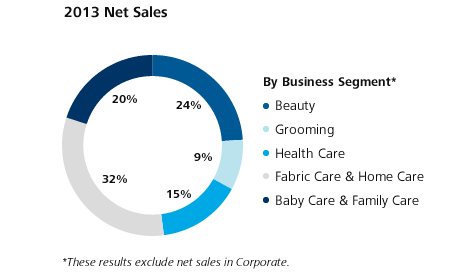 Regarding risks, Procter & Gamble is somewhat exposed to commodity prices and forex issues due to a large chunk of its revenues coming from overseas.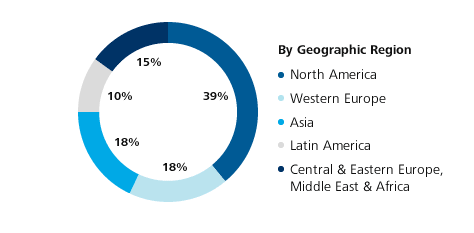 Q4 2013 Overview
On January 24, Procter & Gamble reported its fiscal Q2 2014 (calendar Q4 2013) results. For the quarter, the company posted net revenues of $22.3B, which was very slightly below estimates. Adjusted EPS came in at $1.21, 1% lower than last year though still beating estimates by a penny.
Gross margins came in at 50.0%, down 90 basis points from 50.9% last year. However, thanks to cost cutting, operating margins actually ticked 10 basis points higher to 20.4%.
All of Procter & Gamble's business segments posted volumes gains, ranging from 5% for Fabric Care and Home Care to 1% for Beauty. Total unit volumes saw a 3% increase from last year.
However, net sales were actually flat in dollar terms. In the quarter, Procter & Gamble faced forex related headwinds which impacts revenues to the tune of 3%. While Procter & Gamble was able to raise prices 1%, this was entirely offset by a shift towards lower margin products.
Procter & Gamble's valuation compared to peers
While Procter & Gamble's quarter was hardly great, results were not so bad to warrant the recent decline. Shares of Procter & Gamble are now down 6% YTD and down 10% from the November highs.
This has caused Procter & Gamble's stock to trade at a relatively attractive valuation compared to both its peers and historic multiple.
By TTM PE, Procter & Gamble now trades below its consumer staples peers such as Colgate-Palmolive (NYSE:CL), Church & Dwight Company (NYSE:CHD) and Kimberly-Clark (NYSE:KMB). Indeed, Procter & Gamble would need to increase 10% in value to match the valuation of any of these names. Also note that this metric uses Procter & Gamble's GAAP EPS number, which is much lower than the adjusted EPS figures due to the forex issues.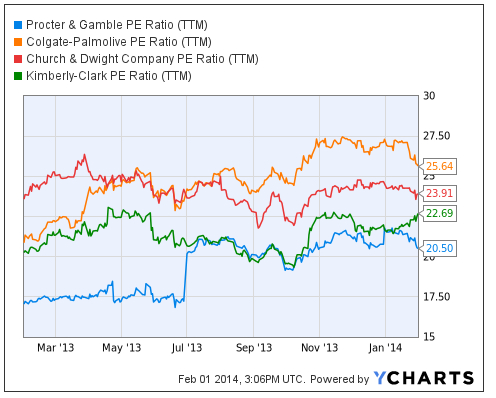 Procter & Gamble is also fairly priced when looking at its enterprise multiple, or EV/EBITDA. At about 14.46x, it is trading inline with many of its peers and well below the most comparable of the bunch - Colgate-Palmolive.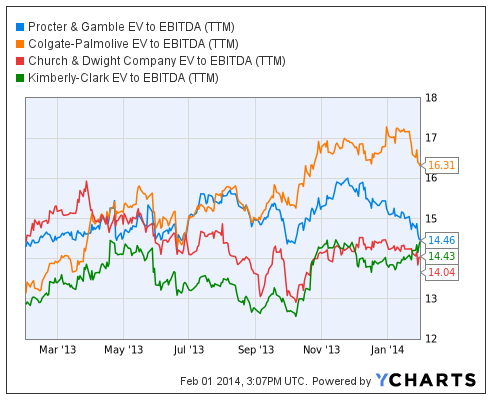 In addition to its valuation, Procter & Gamble also beats its peers with its current dividend yield. At about 3.10%, the company now yields well above Church & Dwight and Colgate-Palmolive and inline with Kimberly-Clark.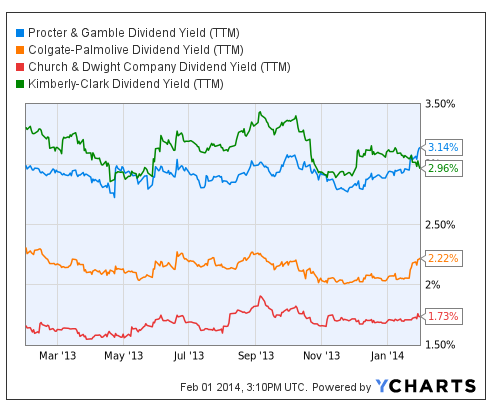 Also note that Procter & Gamble is very likely to announce an increase to its dividend sometime within the next few weeks. The company typically announces its annual dividend increase in Q1. Over the past 10 years, Procter & Gamble has averaged a 10% annual dividend growth rate, though this has slowed somewhat to 8% over the past 5 years. Assuming an 8% increase to the dividend, Procter & Gamble's forward yield is actually closer to 3.40%.
Conclusion
Procter & Gamble is the definition of a high-quality, dividend paying, blue-chip investment. Due to its numerous brands, the company has a massive moat and faces relatively little risk of obsolescence to its core businesses. In addition, given its history of 57 consecutive years of annual dividend increase, Procter & Gamble's dividend is rock solid.
Disclaimer: The opinions in this article are for informational purposes only and should not be construed as a recommendation to buy or sell the stocks mentioned. Please do your own due diligence before making any investment decision.
Disclosure: I am long PG. I wrote this article myself, and it expresses my own opinions. I am not receiving compensation for it (other than from Seeking Alpha). I have no business relationship with any company whose stock is mentioned in this article.