Gilead Sciences (NASDAQ:GILD) will report 4Q13 earnings and provide 2014 guidance February 04, 2014 at 4:05PM EST and will host its conference call at 4:30PM EST. Investors attention will be focused on Sovaldi's sales outlook in 2014 more than the headline earnings.
My latest article argued that the last two weeks of IMS sales data would create an urgent and rapid increase in Sovaldi sales estimates. Since that publication on January 22, 2014, Mark Schoenebaume of ISI increased his 2014 Sovaldi estimates to $5 billion. Deutsche Bank followed suit by increasing their price target to $132, while Baird now expects at least $5 billion in 2014 sales and raised their price target to $103.
Negative sentiment issues with Gilead center around two key issues:
Pricing issues and whether or not insurance companies will cover Sovaldi for their patients?
Will strong Abbvie (NYSE:ABBV) HCV data reduce Sovaldi's sales potential?
According to a note issued by Mark Schoenebaume of ISI, his research indicates that there are 400,000 patients under active care by a HCV specialists. Another 600,000 HCV patients have been diagnosed. While at least 3 million more are infected. And this is only inside the U.S.! Furthermore, Sovaldi is already approved in certain European markets, and the quick math on the global patient population and Sovaldi sales shows that only 15,000 treated patients translates into $1 billion in sales. Consensus sales estimates remain too low at $3.5 billion in 2014. And the rising tide of upgraded sales estimates will likely accelerate after today's earnings report and conference call. But the bottom line is that if Abbvie becomes a larger competitor in the HCV market than expected, it will not hinder Gilead's dominance and first-to-market advantage. The HCV market opportunity is much larger than analysts had expected and estimates are still way too low for both Gilead and Abbvie (see bottom of report of a visual comparison of Gilead and Abbvie data).
Below is a brief summary of key fundamental issues that will drive Gilead's share price tomorrow and likely throughout 2014:
Progress report on the Sofosbuvir/Ledipasvir fixed-dose combination FDA filing.
Expected demand for Sovaldi sales will not be broken down by product but by overall sales guidance. Below is a sensitivity analysis that shows the implied 2014 guidance for Sovaldi sales using 2014 consensus total product sales estimates (source: @tylerhcarter on Twitter).

Expect to hear from management how many total HCV patients they estimate are under care by a liver specialist in the U.S.
Today's report will be the first read through of how tight the correlation of IMS sales data are with actual sales.
I expect $72-$80 million in 4Q13 Sovaldi sales, IMS data implies >$100 million, Street estimates are $48-$60 million.
Hopefully, we will hear more color on Sovaldi efficacy in cirrhotic patients in light of recent Abbvie data. As well as commentary on just how much differentiation there is between these two regimens.
Many investors are hoping for Gilead to address Sovaldi pricing concerns and their strategy to gain favorable coverage with insurance plans.
Gauging Market Expectations
Front month, at-the-money (ATM) Straddles (Long Call + Long Put) cost $5.55-$5.65 implying that traders are expecting a move of at least +/- 6.8% after results are announced today.
Today there is a Put/Call ratio of 0.515, which indicated approximately 2 calls being traded for every put option (Chart 1).
Chart 1

Today's largest options trade occurred with the weekly February 85 strike calls where a trader bought 580 of them (Chart 2).
Chart 2

Largest Call Open Interest across all expiries are (Chart 3):
February 2014, $80 strike Calls (14,200)
February 2014, $85 strike Calls (9,770)
January 2015, $72.50 strike Calls (9,876)
May 2014, $95 strike Calls (9,801)
Largest Put Open Interest across all expiries are (Chart 3):
February 2014, $77.5 strike Puts (5,648)
January 2016, $67.5 strike Puts (9,798) likely short Put sellers which are equivalent long positions.
May 2014, $75 strike Puts (5,143)
Based on the current structure of the options market in Gilead, the current stock price of $81.64, and taking into account the implied move of +/- 6.8%, Gilead is likely to be restrained between the highest open upside interest Calls of $85 and supported by the highest downside open interest of bearish Puts at $77.50. This concept is termed "Options Pinning."
Chart 3

Implied Volatility of the various expiries expectedly show substantial skew toward the front-end of the term structure with February options carrying the highest levels and hence the most expensive. Interestingly, long-term traders would be wise to sell front-month and purchase May or August contracts to express pre-earnings bets in Gilead. Quite unexpectedly, the May and August contracts are cheaper than January 2015 and January 2015 options contracts (Chart 4).
Chart 4

Gilead Phase III Data (Merrill Lynch):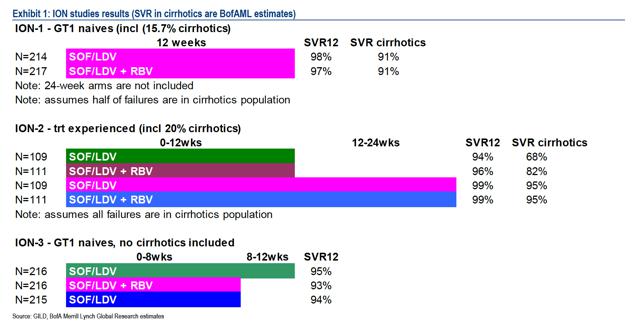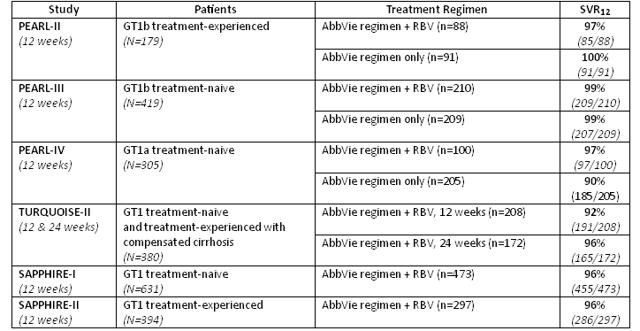 Disclosure: I am long GILD, ABBV. I wrote this article myself, and it expresses my own opinions. I am not receiving compensation for it (other than from Seeking Alpha). I have no business relationship with any company whose stock is mentioned in this article.