It's amazing, the inability of sellers to keep the market down into the close. One of the main indicators I've been watching throughout this rally is the ability for sellers to close the market on the lows, and continue the selling into the next session. It should be pretty obvious that this hasn't taken place since the sell-off in January. All sell-offs have taken place intra day, all dips have been bought.
That said, we've come quite a long way, and gains to the long side are significant. Let's take a closer look at Friday's action to see if now may be the time to take some risk off the table (click to enlarge).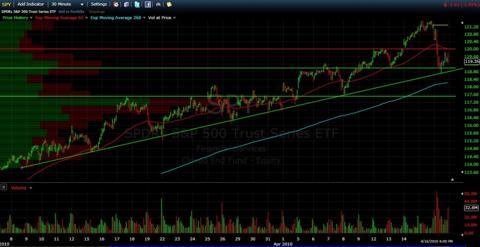 Futures Friday morning pointed to a weak open, this coming after what felt like an overheated market given the strong volume to the upside on the Nasdaq during Wednesday's session. I began to take risk off the table on Thursday afternoon, selling partial positions in several names. After a weak first hour of trading, the market was hit with news of the SEC charging Goldman Sachs (NYSE:GS) with fraud. After getting hit hard on high volume, the SPY found support at the uptrend line and the 119 support level. And like every other dip during this rally, it was bought as GS stabilized and rallied back up to volume weighted average price (VWAP). Both Goldman and the market could not break through VWAP as they were rejected twice during the afternoon session.
In the larger scheme of things, how bad was the damage? Well, the S&P 500 was down a little more that 1.5%, and didn't break the uptrend line or any major levels of technical support. Given those facts, panic was not warranted, I took a deep breath stepped away from the screens into the close.
On the other side, we were within 1% of my ultimate target for this rally, S&P 500 1,230. The market was hit with bad news leading to a high volume sell off while extended to the upside at the end of a long rally.
At 25% cash, I'll be looking to unload more stock if the market fails to hop back over the declining 5 day moving average and 1,200 SPX level. If the market breaks the uptrend line and the SPY 119 support level I will be taking my exposure levels under 50%.
I still see plenty of good setups to the long side, this market is still healthy, until major support levels are broken, including the 20 day moving average, continue to take your entries, trade the chart in front of your face.
For the week, the momentum book was up 20 basis points and booked 40 basis points of alpha. Given that momentum names often get hit far harder than the market at tops, I'm pretty satisfied with my performance last week.
Positions sold last week include DeVry (DV), Incyte (INCY), and Volterra Semiconductor (VLTR). I also sold partial positions in True Religion Apparek (NASDAQ:TRLG), Atheros Communications (ATHR), Cree, Inc., (CREE), Mindspeed Technologies (MSPD), Nu Skin Enterprises (NUS), and Mead Johnson Nutrition (MJN).
The only position added last week was Skyworks (SWKS) on Friday afternoon.
Positions that outperformed last week include MSPD, NUS, TRLG, and CREE.
Positions that underperformed included China North East Petroleum (NEP), MJN, Green Mountain Coffee Roasters (GMCR), and U.S. Gas ETF (UGA).
My weighting in materials and energy is now upwards of 40% with technology clocking in at 30%. I still believe oil services and miners are setting up for a major run, and I am positioning myself accordingly with large stakes in Dril-Quip (DRQ), Ivanhoe Mines (IVN), and Patriot Coal (PCX). The semis are on a roll and I'll continue to be heavily long that industry until the trend bends.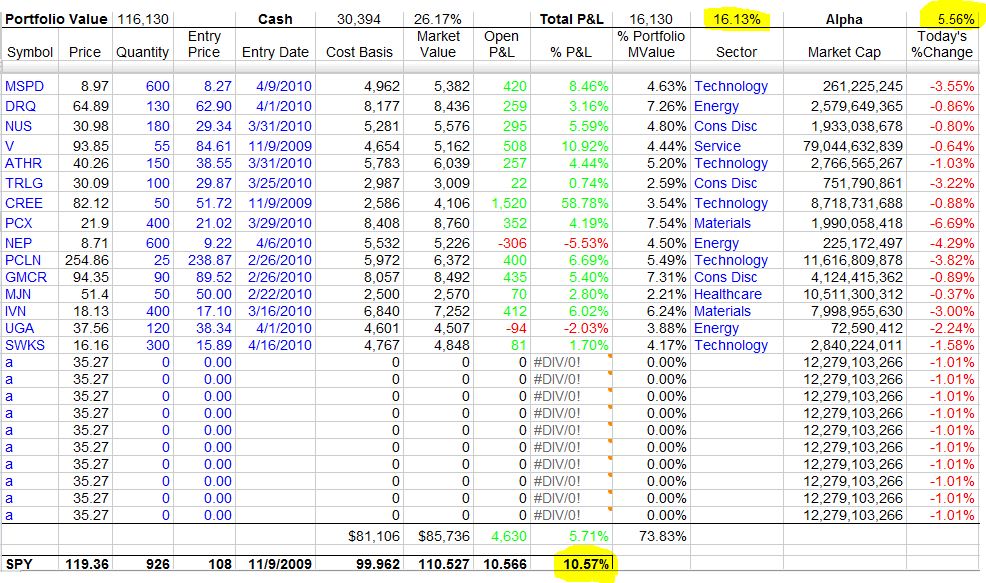 (click on charts to enlarge)
Disclaimer: Nothing that I say or show on this blog should ever be considered investment advice or a recommendation to buy or sell any security. The performance numbers that I post in the momentum book should never be regarded as representative of any specific client account managed by Surfview Capital, it is there solely for educational purposes and should be treated as such.