It seems week after week we hear more negative news and forecasts about emerging market economies around the globe. It seems everyday their currencies are sliding and investors are pulling money out. Just this morning in fact CNN Money had an article reporting that investors pulled the equivalent of $6.3 billion (US Dollars) out of emerging market stock markets last month alone. This is a record in dollar terms. The news media has even added a new term to our common language, the so called Fragile Five (which is comprised of Indonesia, Brazil, South Africa, Turkey and India). No longer do investors seem enchanted by the BRICs and their likely (eventual) growth. Now it's all gloom and doom, which is one reason I think there may be an opportunity there.
Speaking of the BRIC nations, Bob Pisani was talking about them just this morning. I believe the graphic below (courtesy of CNBC) describes the scene well. So far this year the BRICs, as well as Japan, are all down. Oh the tragedy (insert over the top Shakespearean humor here). In our world of 24 hour news programs and instant gratification, it seems such a disappointment to have stock markets go down, especially following the nearly 30% rise in the S&P 500 last year.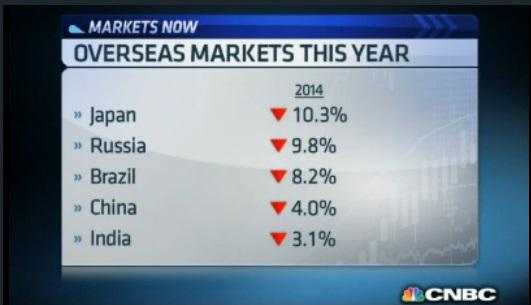 "If past history was all there was to future gains, the richest people would all be librarians....", Warren Buffett
I typically invest in emerging markets in two ways. One, I buy multinational companies that hold good market share with consumers in emerging markets. Think Unilever (NYSE:UL) or Coca-Cola (NYSE:KO). The other way is by purchasing an emerging market ETF, while I research American and (to a lesser extent) European companies, I find the lack of transparency and documentation in many foreign companies very frustrating. Therefore, I don't mind owning a low cost basket of these companies.
Two of the largest emerging market ETFs are the iShares MSCI Emerging Markets ETF (NYSEARCA:EEM) and the Vanguard FTSE Emerging Markets ETF (NYSEARCA:VWO). The fees for these ETFs are quite low (0.67% for EEM vs 0.18% for VWO). I prefer to invest in VWO, but please do your own research and invest in the securities that work best for your specific situation.
For simplicity's sake I will use EEM and VWO as proxies for the stock market returns of the world's emerging economies. I know this is a gross generalization, but it will work for what I'm trying to accomplish. I am sure we all remember the crazy returns that emerging market stocks generated in the early 2000s, or at least until 2007. Clearly buying after so much price appreciation did not work out well for investors in 2007. Those stocks were priced to perfection, as if they could do no wrong, and down they came. Instead, I like to invest after an investment has been flat to negative for several years. Well look at the two charts below, which show the stock price for EEM and VWO over the past few years.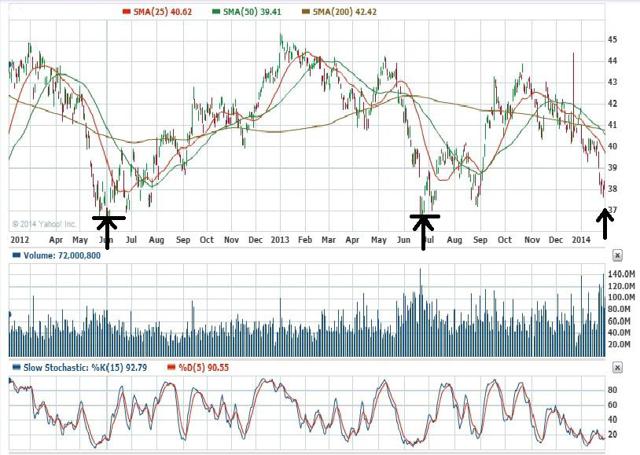 Chart of EEM's historical stock price, courtesy of Yahoo Finance.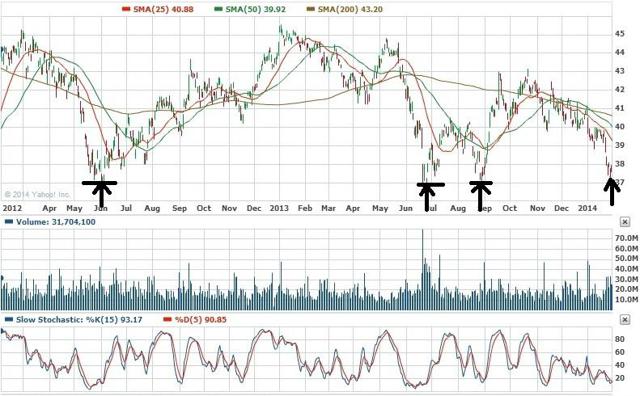 Chart of VWO's historical stock price, courtesy of Yahoo Finance.
Did you notice that we are at multi-year lows on both charts? Not that I'm a Day Trader, who trades on technical charts, but I like to take a look at where current prices stack up. The press has been going on and on about protests in SE Asia, panic in Turkey and riots in the Ukraine. At the end of the day, there is always panic somewhere in the world. Pick any year you like, and I guarantee there was some panic or fear that gripped the world that year. Some war or famine or disease. What I am saying is that this too shall pass, and our job as investors is to invest where the risk/reward balance is in our favor.
I believe that emerging markets (generally) are becoming a better value than the US and European stock markets. The tailwinds in these emerging economies aren't just young population demographics and current low income levels. Companies in many of these markets sell at a substantial discount to companies in developed markets. In fact in a recent Fortune Magazine article there was a discussion about economist Robert Shiller's CAPE (cyclically adjusted price earnings) ratio. Basically, the CAPE ratio seeks to level out the erratic nature of a normal price-to-earnings (NYSE:PE) ratio by using 10-year average earnings and adjusting for inflation. According to the article linked above, the CAPE ratio for emerging markets as a whole is currently 13, which is dramatically below the CAPE ratio for the S&P 500, which stands at 25. This implies a much higher return for emerging markets relative to the US's S&P 500. Below is a table of other metrics I have put together using data from Morningstar.com.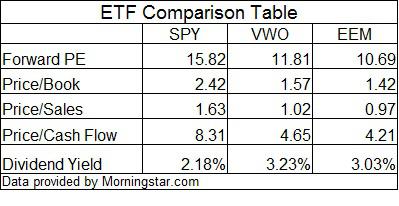 I think the metrics for either of the emerging market ETFs look substantially better than those of the US's S&P 500 (represented by the SPY ETF). Given these substantial differences and the recent sell of in global (but particularly emerging market) stock markets, I have begun to average into Vanguard's Emerging Market ETF. I plan to continue making a systematic investment in VWO as the price continues lower, until I reach a target allocation of approximately 20% of my portfolio.
Price is what you pay, VALUE is what you get," Warren Buffett
Disclosure: I own VWO, UL and KO. This discussion is for informational purposes only and should not be considered a recommendation to buy, sell, or hold any equities. I am not a financial professional. The information above is provided by Morningstar.com, CNN Money and Yahoo Finance. My target emerging market allocation is based on my extremely young age. Please make investment decisions based on your specific circumstances, after speaking to an investing professional.
Disclosure: I am long VWO, KO, UL. I wrote this article myself, and it expresses my own opinions. I am not receiving compensation for it (other than from Seeking Alpha). I have no business relationship with any company whose stock is mentioned in this article.