2013 was an outstanding year for most stocks. The Dow Jones Industrials rose 26%, one of its best years in history. Much of that rise was driven by the easy money policy of the Federal Reserve. Investors bid up most stocks looking for high yields. However yield sensitive stocks did not participate in much of that rise. Thoughts of the Federal Reserve cutting back on its monthly bond purchase before it begins increasing its benchmark interest rate caused yield sensitive securities to sell off when investors demanded higher yields. MLPs, REITs, junk bond funds, munis and Treasury securities sold off in May and most have not fully recovered since then. The Dow Jones Equity REIT Index sank from a multi-year high of 315 in May into the mid to high 200s followed by a sideways zone around 260-280, currently at 273.
One prominent REIT sold off sharply during the retreat which has given investors interested in high yields and growing dividends a more attractive buying opportunity. Realty Income (NYSE:O) shares have been climbing for years to a high of 55 in May. Then it dropped to the 30s and has climbed back over 40 in the last week with a yield of 5.4% from the $2.19 dividend that has tax advantages.
Realty Income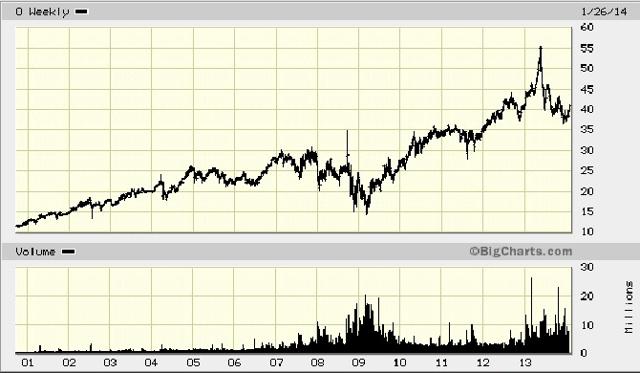 Realty is different from most other companies. Management proudly displays its outstanding record for growing dividends over 44 years. The first page from the 2012 annual report shows its main objective is fully in sync with the stockholders and that's what successful investing is about: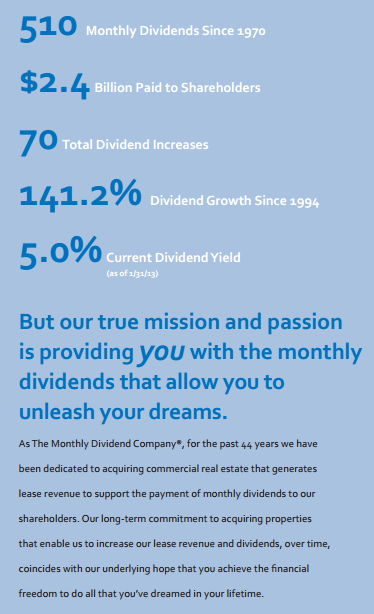 The first paragraph of the president's letter follows, adding to that thought:
It is always gratifying to hear that our efforts to produce monthly dividends provide you with the means to do extraordinary things like realize your life-long dream to start your own business, take your family on vacation, or simply find the time to spend with family and friends.
It is common for investment analysis to include a lot of numbers which may or may not be understood. However the chairman's comments describe what successful investment is all about, growing dividends and capital gains will follow. Management's track record of continuous dividend growth is nothing short of outstanding. Just so much can be done about the stock price, but management controls dividends. At Realty, the annual dividend rose from 90¢ in 1994, when it was listed on the NYSE, to $2.18 last year for a compound annual growth rate of 4.8%. How did the company do that?
Realty Income owns 3,866 properties and generally uses triple net leases. The company owns the property but the lessee pays virtually all costs. Leases perform well, providing dependable lease revenue because they are long-term (10-20 years). As of September 30, 2013, occupancy was 98.1% with only 73 properties available. The occupancy rate has been 98-99% in the last 20 years and has never fallen below 96%. Better known REITs have comparable rates around 95%. The top 5 tenants are: FedEx (NYSE:FDX), Walgreens (WAG), Family Dollar (NYSE:FDO), LA Fitness and AMC Theaters (NYSE:AMC), which collectively account for 25% of rents. The 200 tenants are classified in 47 industry categories and properties are located in 49 states and Puerto Rico. The largest investment is in California (its home state) with a 10% share.
One year ago American Realty Capital Trust (NASDAQ:ARCT) was acquired for $3 billion. Approximately 75% of the rental revenue from its 515 properties comes from investment grade rated tenants, which helped increase the credit quality of Realty's tenants. New leases increase tenant credit quality and expand property types. Existing properties are pruned by investing in properties with large corporate tenants who lease the properties.
Credit quality of tenants is being improved. After the ARCT transaction, 34% of tenants have investment grade ratings (up from 19% at the end of 2012). Increasing tenant credit quality augments the reliability of the lease revenue. About two-thirds of tenants re-lease the property at the end of the lease term. Tenants tend to operate in businesses where real estate is mission critical. Without the property, the tenants could not run their business. Retail tenants provide goods and services that consumers use every day which cannot be easily replicated over the internet.
In 2012 Realty acquired 423 properties for $1.16 billion and in the first 9 months of 2013, it acquired 407 properties for $1.37 billion (excluding the ARCT acquisition). It has a conservative capital structure with $4.15 billion in debt, $629 million in preferred stock and $8.9 billion in common stock.
In Q3-2013, same store rents, on 2,360 properties, increased 1.3% to $109.6 million, compared to $108.2 million in 2012. For the first 9 months of 2013, same store rents increased 1.3% to $328.4 million, as compared to $324.2 million in 2012.
The earnings metric for REITs used for paying dividends is funds from operations (FFO). In 2012, FFO was $2.02. Management in November is guiding FFO of $2.38-2.42 (the ARCT acquisition added 35¢) in 2013 and $2.53-2.58 in 2014.
The record of growth since 1970 is outstanding. 521 dividends were paid with 74 dividend increases and 65 consecutive quarterly increases. Besides dividend growth, as with many REITs, only a portion of the dividend is classified ordinary income for taxes. In 2013, almost $2.15 was paid in dividends and $1.31½ (61.25%) was considered taxable as ordinary income.
Even though the company proudly bills itself as "The Monthly Dividend Company," capital appreciation since 1994 has also been excellent when stocks of many well-known companies have stumbled: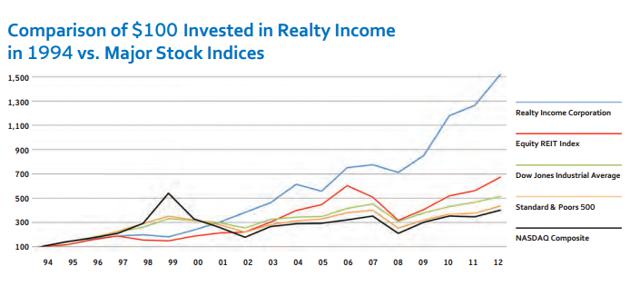 Realty is the top line in the chart and it clearly beat the REIT index. The 3 lines for the popular stock averages - Dow Jones Industrials, S&P 500 and Nasdaq - at the bottom have made only marginal progress in the last 10 years.
It's rare to fund a growth company that offers a high yield with tax advantaged growing dividends. In all fairness, the monthly dividend increases tend to be tiny. Many are only 1/10 of a penny. But the company earns income from long term leases with limited, if any, yearly increases. Small increases can be expected. The long term track record of raising dividends through the terrible recessions in 1980 (with double digit yields), the dot-com bubble in 2000 and financial meltdown in 2009 is impressive by any standard. The Monthly Dividend Company name is well deserved and will prove especially important if 2014 ends the stock market's streak of 5 straight up years. The Dow Jones Industrials began the year dropping 5%, an indication that its 5 year streak of rising will end. But Realty dividends are expected to keep growing whatever the Dow does, a key advantage of owning the Monthly Dividend Company.
Realty Income -- The Monthly Dividend Company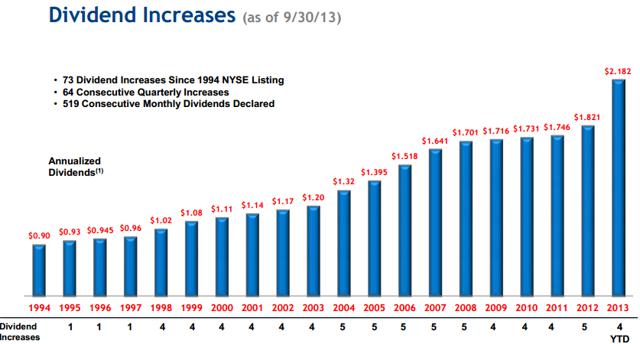 Disclosure: I have no positions in any stocks mentioned, and no plans to initiate any positions within the next 72 hours. I wrote this article myself, and it expresses my own opinions. I am not receiving compensation for it (other than from Seeking Alpha). I have no business relationship with any company whose stock is mentioned in this article.