Here is a 10-year daily chart of the S&P500:
click to enlarge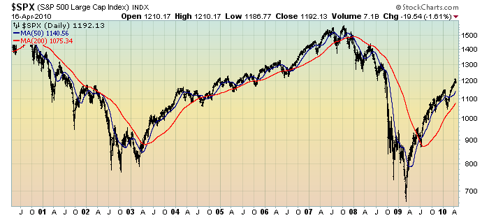 Chart courtesy of StockCharts.com
At first glance, it appears as if the stock market is experiencing a strong rebound from the late-2008 and early-2009 swoon. Perhaps the only thing that looks overdrawn is the extent to which the S&P500 is above the 200dma shown in red.
However, from a technical standpoint,with a focus on sentiment, there appear to be many extremes inherent in this market. While these extremes can persist and in some cases have persisted, for a while, they usually serve as a warning sign that price action is getting "frothy."
One item that stands out is the large spread between the VIX and VIX Futures. At Friday's close, the VIX stood at 18.36, while the July VIX futures were at 22.55 and the October VIX futures were at 23.8. This spread is outsized and is one "red flag."
Additionally, the SentimenTrader.com site had various statistics of note during the Thursday and Friday morning comments of last week. As seen in the Thursday morning note, the list of extremes that were bearish (i.e. skewed too highly bullish) for the market was very extensive, with 37 listed. In the Friday morning comments, I found this comment to be interesting: "We're still seeing an abnormally large number of extremes among our indicators, and most of them cannot be easily explained away."
Other signs of overextended sentiment and other worrisome market dynamics are too numerous to mention.
Of course, Friday's price decline will help alleviate some of the extremes, but it is becoming increasingly obvious that "froth" in the stock market, and other markets, is increasing. Many sentiment measures are at significant multi-year highs.
From a fundamental perspective, many believe the stock market valuation is well-supported by earnings. However, I believe that there is an array of worrisome economic dynamics that serve to support my belief that the stock market is vastly overvalued.
Of course, this "frothy" market action and outsized gains are common characteristics of asset bubbles. Conventional "Austrian" theory holds that many of the policies that have been enacted to offset economic weakness, such as ultra-low interest rates, cause asset bubbles.
I believe that there are many large asset bubbles in the U.S. and abroad. This is very worrisome. I have written about this issue extensively, most recently in a March 29th Seeking Alpha article.
Although investing in bubbles can be exceedingly profitable, history has shown that most are unable to accurately time an exit.
Disclosure: No positions in the S&P500