A dark cloud hangs over Europe, but you can profit from it. Airlines were over bought before the Eyjafjallajokull volcano started erupting. They have been a hot sector as fiscal statistics have been on the upswing. Now they may be just over inflated junk. Many of the big ones have not been profitable in the last two years: UAUA, AMR, and CAL. They are hugely indebted. UAUA, AMR, and CAL have debt to capital ratios (MRQ) of 149.04%, 142.51%, and 91.39% respectively. With the problems the volcano ash is causing in Europe these ratios will go up -- ugh. Preliminary estimates say this is costing the airline industry $200M/day. UAUA, AMR, and CAL all have significant European routes. Most of those have been shut down by the volcanic ash from Eyjafjallajokull. Some may think this is just a one time event. They may think that it will not have any lasting effect on the airlines. They have neglected to study their history.
When Eyjafjallajokull last erupted in 1821, the eruptions went on for a year. They could well do the same this year. The earthquake activity recently would tend to support the idea that this is an "active" year for seismic events. At the very least we are in for 3+ months of "fear" from the consumer (of air travel to Europe). This may ruin the travel season. Who wants to go breathe noxious air in Europe? Who wants to see famous gardens that are now coated with ash? The ash may cause business travelers to rethink their plans. Why pay for those hefty business class tickets when you can use video conferencing without risking noxious air or a possible crash? Too many will think this way.
If no one remembers hearing of a huge economic impact in 1821, it is likely because they had no air travel nor air freight then. Many perishable items and smaller items are shipped by plane these days. Some estimate 30% of all freight (in monetary terms) is shipped by air. If the planes do not fly, the goods do not get through. The businesses cannot function. Many drugs are shipped this way, etc. Contracts are shipped FedEx (NYSE:FDX). The plethora of sidewalk cafes that make Europe seem so appealing to tourists are deserted. Many health agencies are recommending that you not go outside without a mask. If the ash is as hard as glass, it cannot be good for your eyes (ski goggles in June?). The volcanic ash of 2010 may send the European economies back into recession. If this happens (even partially), businesses will begin scrimping on airline fees again (if they can fly in Europe at all). The recent ramp up in business class tickets will disappear in the blink of an eye. The tourist season may be obliterated by a dark cloud of volcanic ash.
Some point out that airlines are testing the possibility of flying through the ash. So far the results have been encouraging. This may work for the short term. If it is done long term, it seems fraught with peril. Volcanic dust as hard as glass will inevitably cause some extra damage. Will airplane engines age much faster? Will the ash eventually cause more crashes due to unexpected and undiscovered problems. The airlines cannot afford the extra inspections flying through this ash would mean any more than they can afford not to fly. They cannot afford the lawsuits alleging negligent maintenance that would certainly be filed if the ash contributed to higher levels of failure.
Regardless of whether the volcano keeps erupting or not, "fear" is likely to send the airlines' stocks plummeting near term. You can take advantage of this by shorting. Fortunately for this play, the market is also over bought in general. It is due for a pull back. The recent charges of fraud brought by the SEC against GS should spur a retracement. The added momentum to the financial reform bill due to the charges against GS should spur a retracement. This means the weather should be good for shorting (pun intended).
The only problem I see is the already high degree of short interest in these airline stocks. The short interest of UAUA, AMR, and CAL is 19.28%, 10.14%, and 11.58% respectively. This means the uptick rule will be in effect. It means the HFT traders who like to short squeeze these highly shorted stocks are a danger. If you decide to short any of these, you should be wary of this. If the overall market is going down, it is unlikely the HFT traders will squeeze these stocks to the upside without extraordinarily good news. However, you will have to watch for good news and/or for a market upturn. None of these companies is in imminent danger of bankruptcy as they have raised money in the last year. Each company had approximately $3B to $4B in cash and short term investments at the end of FY2009. This is not a play for a novice, nor for a lazy trader.
Some relevant fiscal data is in the table below:
| | | | |
| --- | --- | --- | --- |
| Stock | UAUA | AMR | CAL |
| Current Price | $22.52 | $8.79 | $22.98 |
| 1 yr. Target Price | $24.86 | $12.86 | $26.14 |
| PE (TTM) | Negative Earnings | Negative Earnings | Negative Earnings |
| FPE (FY2011) | 8.39 | 18.70 | 9.30 |
| Avg. Analysts' Rating | 1.9 | 2.0 | 1.8 |
| Short Interest% | 19.28% | 10.14% | 11.58% |
| Beta | 1.1 | 1.8 | 1.3 |
| Price/Cash Flow (TTM) | 15.48 | -- | 15.07 |
| Price/Book (MRQ) | More debt than value | More debt than value | 5.4 |
| Debt/Capital (MRQ) | 149.04% | 142.51% | 91.39% |
| Held by Institutions% | 95% | 77% | 95% |
| Quick Ratio (MRQ) | 0.76 | 0.79 | 0.94 |
| Interest Coverage (MRQ) | -- | -- | 0.01 |
| Return on Investment (TTM) | -5.37% | -8.76% | -3.40% |
| EPS Growth (MRQ) | 85.63% | 16.94% | 125.37% |
| Revenue Growth (MRQ) | -7.79% | -7.44% | -8.33% |
| Gross Profit Margin (TTM) | 32.36% | 43.09% | 12.50% |
| Net Profit Margin (TTM) | -4.01% | -7.37% | -2.24% |
I could cite the estimates for EPS and Revenue for both 2010 and 2011, but these seem likely to change. In fact the FPE's seem highly questionable too. If the ash cloud persists over Europe for any appreciable amount of time all three of these companies will likely lose money in 2010. They will lose their buffers of cash and short term investments. They may find it hard to raise more money with the future so uncertain. We know the market hates uncertainty. The persistence of the volcanic eruptions and hence the longer term disturbance of air traffic by the ash cloud represents a large uncertainty. Prices of these airline stocks seem likely to drop by at least 25%. They may drop by 50% or more. It is not inconceivable that one or more of the above airlines could go bankrupt soon. I can't predict volcanic actions accurately. I can go with the trend. The trend is for more eruptions. History says they may go on for a year. If they do, the negative impact on the airlines as well as the European economy will be tremendous. A negative effect on the European economy will have a further negative effect on the airlines' profitability. One has to go with this scenario until it is proven false. UAUA and CAL may get a little lift from a merger (if it is allowed). However, they really are now under a dark cloud, which shows no signs of dissipating. Short these stocks until the situation changes, or until they are priced much lower. I have included 5 year charts of each below.
UAUA 5 yr. chart:
click to enlarge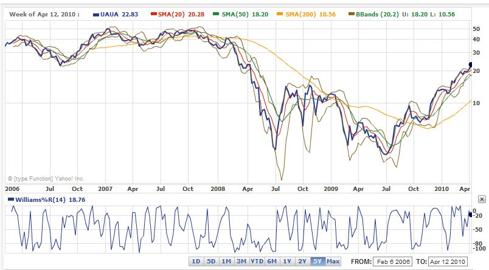 The UAUA chart shows good support points at $14.50 and $9.50.
AMR 5 yr. chart: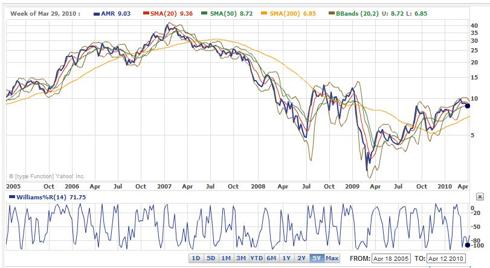 The AMR chart shows good support in the $4.75 to $5.50 range.
CAL 5 yr. chart: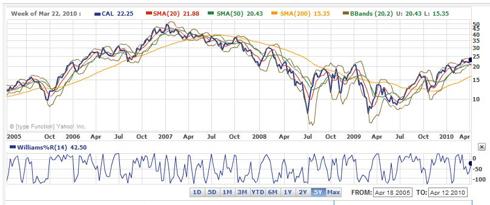 The CAL chart shows good support at $15.50 and $13.50.
The support points may be good targets for exit points for a short trade.
I note I have also recommended shorting British Airways (OTC:BAIRY), Air France (OTCPK:AFLYY) - KLM, and Lufthansa (OTCQX:DLAKY); but one cannot short them in US markets. They may be even better short plays as they are wholly under the ash.
In the latest news a total of 313 airports had been paralyzed by the restrictions due to the ash cloud, with a total of 6.8M passengers affected (BBC). This is no small problem. The EU transport ministers are meeting via video conference to discuss what can be and should be done. One gets the feeling a lot of video conferencing may be used in the near future. This may mean an even longer lasting down turn for the airlines. Once a substitute becomes common practice, businesses do not often revert to previous practices. This is especially true if the new practices are cheaper.
Good luck trading.
Disclosure: No positions yet, but I am considering them.