By Platinum Tiger
What a difference a week makes. Just last Saturday I wrote that the eight pharmaceutical stocks in our RCS small cap index were deeply oversold value opportunities meriting "serious investment consideration." Four trading sessions later the sector has gained 9.5 percent, with especially impressive performance by Jiangbo (OTCPK:JGBO), up 28 percent since Saturday, and Biostar (NASDAQ:BSPM), up 17 percent.
I believe this is just the beginning of a big bull run for small cap Chinese pharmas. They are, after all, still down 7 percent this year, compared to a 27 percent gain for non-pharma Chinese small caps. As the chart below shows, the sector has double-bottomed and signaled a sharply bullish rebound this week. Yet several of these stocks are still trading at absurdly low PE multiples.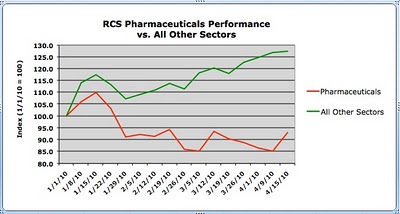 [Click to enlarge]
Jiangbo, for instance, with management guidance indicating EPS growth of approximately 25 percent, is trading at a forward multiple of 3x. Huifeng Bio Pharma (OTC:HFGB), with projected EPS growth of 62 percent, is trading at a forward PE of 5.2x. And Biostar, with EPS growing at about 60 percent, is trading at a forward PE multiple of 6x.
These are the sorts of bargains that can only be found in OTC stocks. Each of these companies has real near-term uplisting potential, so their upside opportunity would seem to far outweigh their downside risks.
Disclosure: BSPM.OB, JGBO.OB