Slowdown in manufacturing in the world's largest economy sent the benchmark indexes falling through key levels on Monday. S&P 500 (NYSEARCA:SPY) fell 2.3 percent while the Dow Jones Industrial Average closed down 2.1 percent. The S&P 500 has fallen 5.8 percent since January 15. Under-performance of indexes behind the backdrop of strong earnings reports reflects the concern that the turmoil in emerging markets is threatening a global economic recovery. U.S. gross domestic product expanded at 3.2 percent in fourth quarter. Fed policy makers said on Jan. 29 that the central bank will reduce its monthly bond purchases by $10 billion to $65 billion, cutting the pace of stimulus for a second straight meeting because of an improving economy.
Gold (NYSEARCA:GLD) gained 3.1 percent in January and has been up this week. Reversal in gold's performance since the beginning of this year can be attributed to the rising demand for safe haven assets. Equity risk premium increased from 4.96 percent at the beginning of January to 5.26 percent.
CBOE Volatility Index (VIX) broke 20 for the first time since October and the move is reasonable given the larger moves in the S&P 500 index we have had lately. Changing volatility dynamics is affecting how the options market is pricing the risk in the S&P 500, Gold & Emerging Markets (NYSEARCA:EEM). Table below highlights the 30 day realized volatility levels, estimated volatility levels (using GARCH model) and options implied volatility levels for gold, emerging markets, and the S&P500.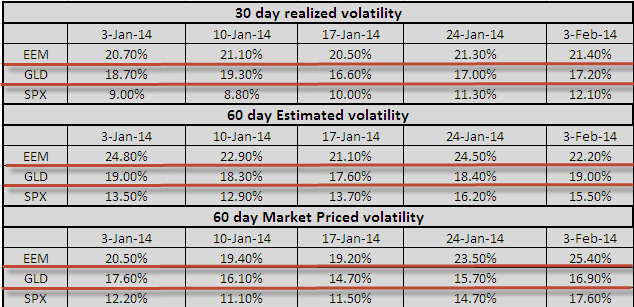 Even though realized volatility level for gold has increased to 17.20% from 17.00% (on a close to close basis), gold exhibited significantly higher intra-day volatility last week after factoring high, low, open and closing prices. This explains why options implied volatility has increased from 15.70 to current level of 16.90. But implied volatility levels for gold have in fact decreased 4 percent since the beginning of this year. On the other hand, volatility premiums for the S&P 500 have increased by 44 percent, followed by 24 percent rise in premiums for emerging markets. Backwardation in the VIX indicates traders are fearful about the near term, but they don't see the current decline as the beginning of a more serious meltdown. However, there are multiple catalysts building up in the market place which indicate higher downside risk for equities in the future and upside risk for precious metals.
Can Emerging Market Crisis Turn Into A Contagion
Emerging markets are struggling with high inflation levels whereas inflation expectations have trended lower in the developed world. Macro impact of weakening emerging market currencies is laying the groundwork for breakdown of international monetary cooperation. Central bankers from emerging market expect developed economies to continue with the loose monetary policies. Last week's statement from the Reserve Bank of India's Governor on the role industrial countries have to play underscores this. Volatility markets are not echoing this concern for the emerging markets and are indicating current crisis to be a contained event. Chart below demonstrates the price behavior for EEM and 30 day implied volatility levels.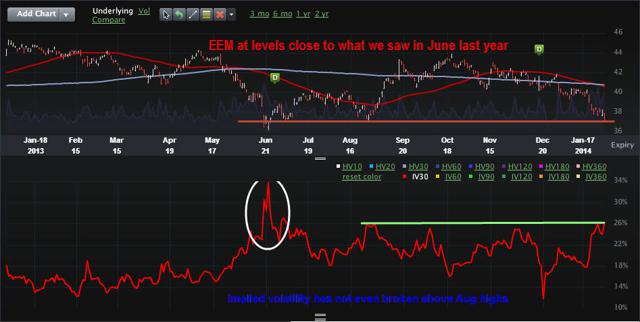 Even though implied volatility levels have increased 24 percent this year, option premiums have not even broken above August 2013 highs. Existing term structure is indicative of markets not as fearful about emerging markets. Under current circumstances, the Federal Reserve will continue scaling back from its loose monetary policies. Conflicting expectations and lack of coordination between central bankers in a crisis will create more uncertainty, pushing risk premiums and volatility premiums higher.
Lofty P/E Multiple for the S&P500
Arguments over the S&P 500 trading at lofty P/E multiples have already created a negative bias among the investors which potentially can also drive risk premiums higher. Options premium for the S&P 500 are at their highest levels since January 2013. Volatility premiums rising by more than 44 percent this year reflects how this bias is feeding into the investor sentiment. As investors continue to digest the earnings reports, increase in overall earnings growth rate for the S&P 500 can elevate the profit margins. Historically, gold has maintained a cyclical relationship with equity risk premium and the corporate profit margins. The direction the S&P 500 moves (irrespective of market fear / higher profit margins) will affect gold prices. Diminishing options premium in gold affirms depressed volatile moves in gold and the moderation of downside risk.
Can the Federal Reserve Shift from its Policies
The Federal Reserve took another gradual step in exiting from its bond buying program and decided to reduce the pace of monthly asset purchase to $65 billion. Everybody on the Wall Street currently expects the Fed to end its monthly asset purchase program by end of this year. Question investor should be asking is "What if the emerging markets contagion gets out of control pushing the Federal Reserve to extend its asset purchase program?" Shift in policy by the Federal Reserve, will drive investors to seek the safety of gold.
All the above mentioned catalysts support towards upside in the gold. Higher implied volatility levels in the S&P 500 reflects more downside risk with equities and the declining volatility expectations affirm the moderation of downside risks in gold. Inversion of term structure provides an opportunity to sell the near dated options and collect hefty premium for it.
Disclosure: I have no positions in any stocks mentioned, but may initiate a long position in GLD over the next 72 hours. I wrote this article myself, and it expresses my own opinions. I am not receiving compensation for it (other than from Seeking Alpha). I have no business relationship with any company whose stock is mentioned in this article.