We find it absolutely fascinating how, with the stroke of just 1.5% downside in the S&P 500, the bears emerge from their dens in a fit of desperate rage.
Just why everyone is reacting to the whole Goldman thing is completely beyond us. What is the worst case scenario for Goldman? A substantial slap on the wrist...a few hundred million dollars in reparations? Either way, Goldman is not going the same way as Bear Stearns, big ML, or Lehman Brothers (OTC:LEHMQ) did in 2008. Nor is it going to be wound-up as was Arthur Anderson. Yet the market seems to be carrying on as if Goldman is about to go under.
Tall poppies? While we are certainly not groupie fans of Goldman Sachs (or any investment bank for that matter, having worked for a number of them in my trading career) one certainly gets the feeling that a witch hunt is on. Yes it certainly brings back memories of the hunt for IT analysts and brokers in 2000/2001. Does anyone remember the Henry Bloget (of Merrill Lynch fame) debacle? Or even Junk bond "King" Michael Milken for that matter? It seems that history really does repeat. Either way, life goes on in the markets.
So far about 400 companies have reported, with earnings coming in at about 30% ahead of expectations (again analysts are behind the "curve"). You may say that these results are influenced by the results of a few megacap stocks. OK, well looking at the members of the Russell 2000 who have reported so far, the results are similar, with earnings coming in some 28% ahead of "forecasts". Yet the market would have us believe that the impending action against Goldman is far more important than the very thing that drives stock prices - cashflow. Or even anticipation of those cashflows. The guidance by bellwethers such as UPS, Intel (NASDAQ:INTC) and BAC have hardly been negative.
Anyway, from the level of bearish commentary appearing in the media of popular opinion one would be forgiven for assuming that significant bearish activity was already present in the major market indices and the risky areas of each asset class. Yet we cannot see any evidence of bearish activity - of course, beauty is in the eye of the beholder.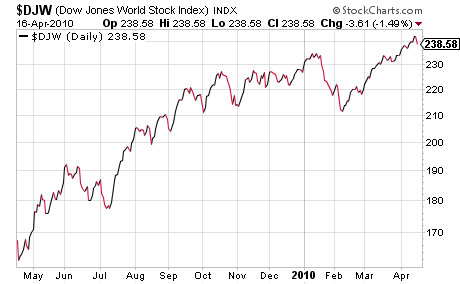 Small caps continue to out perform the general market. Yes, they have risen rather significantly over the last few weeks so weak hands have probably crept into the market. But at important turning points in the market small caps usually turn down well before large caps. Until the market gives evidence to the contrary equity markets are poised to move higher.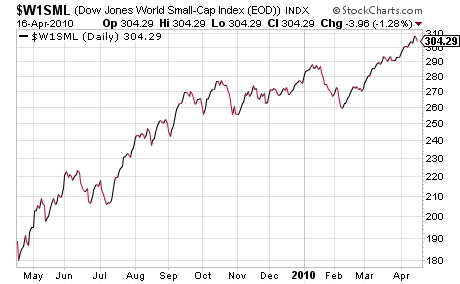 Surely if there was genuine fear then there should be a race into "safe-haven" assets such as US Treasuries, yet the chart below hardly suggests that the long bond is going to flex its muscles.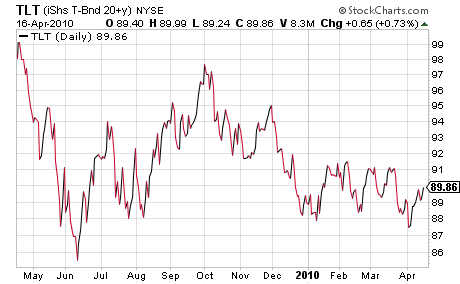 The proverbial canary in the coal mine remains very chirpy. Junk bonds will give warning well before self appointed experts in media of popular opinion turn bearish.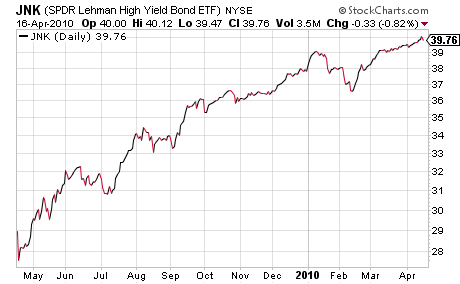 Being totally objective the CRB is inconclusive - it appears neither bearish nor bullish. On thing is for sure and that is when the breakout comes it is liable to make up for lost time in a hurry.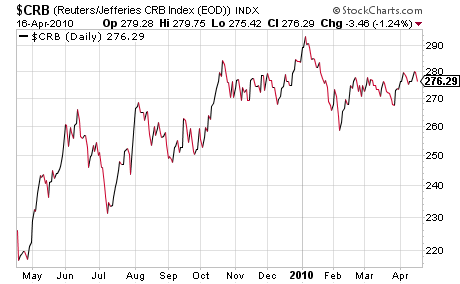 Gold continues to look more bullish than bearish. Remember, just a few days ago it had broken out of its 3 month old trading range.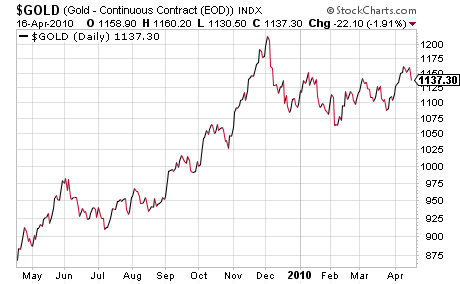 The big USD Index continues to labor with an apparent loss of momentum. Although, to be "technically" correct we should wait until it closes below the 80 level before jumping to conclusions.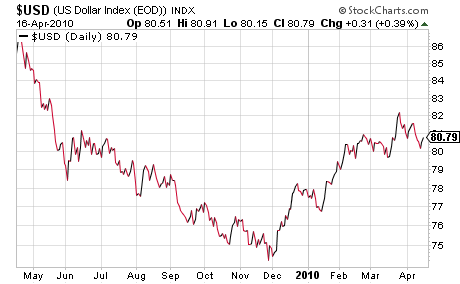 Risk aversion usually shows up first in high yield currencies, or in the "carry trade". Granted, DBV has so far not made a new high for the year, it is some ways off entering a bearish state. Until then we will give it the benefit of the doubt.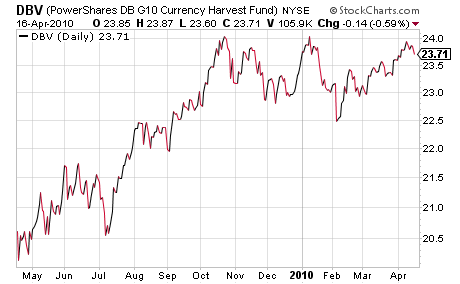 If you are bearish, what is your evidence? What activity are you observing (with your own eyes) in the market that suggests a cyclical change is taking place? We would certainly be interested because from what we are observing the carry, risk taking, yield trade (call it what you will) is still alive and kicking. We would use any weakness in equities, commodities, and high yield currencies as a buying opportunity and strength in the USD and treasuries as a selling opportunity. Of course, only the gods will decide.