Investing in Weight Watchers (NYSE:WTW) right now offers a great entry point, improves portfolio diversification, and could result in big returns.
So many people know or use Weight Watchers, yet the stock is selling at extremely depressed and appealing levels. The company is set to report earnings results next week (Feb. 10th), which is both a risk factor and a big potential catalyst, but a number of signs suggest that Weight Watchers is a good buy here: Extremely cheap valuations, huge short interest, underlying technical buying, and enormous shareholder support. After nearly three years of sharp declines, it is not unreasonable to say that the stock has 25-50%+ upside from here if it can ignite a turnaround.
EXTREMELY APPEALING VALUATIONS
Weight Watchers is attempting a turnaround after a period of declining growth, but the cheap valuations and very low expectations make the stock appealing. We don't even need "good" news, just less "bad" news.
With a market cap of around $1.5B, Weight Watchers is the largest diet-related company trading in the public markets. Jenny Craig and Ediets.com are private competition, and the much smaller Nutrisystem (NASDAQ:NTRI) and Medifast (NYSE:MED) are public market competition but still a tiny fraction in size. Herbalife (NYSE:HLF) is also considered a "weight management" company, but due to its huge price appreciation and ongoing legal headwinds, I don't consider it a good alternative to WTW.

Source: Yahoo Finance
In terms of valuations, Weight Watchers has a trailing Price/Earnings (P/E) ratio of less than 7, a forward P/E of less than 10, and a Price/Sales (P/S) ratio of less than 1! These ratios are close to as low as they usually get for companies not on their way to bankruptcy. One major concern, however, is the $2.4B in debt. Regardless, if Weight Watchers stays in business going forward, these valuations are ridiculously cheap.
Even more surprising is how the stock price has dropped so sharply (~50%) even when the company has exceeded earnings expectations over the past 4 quarters.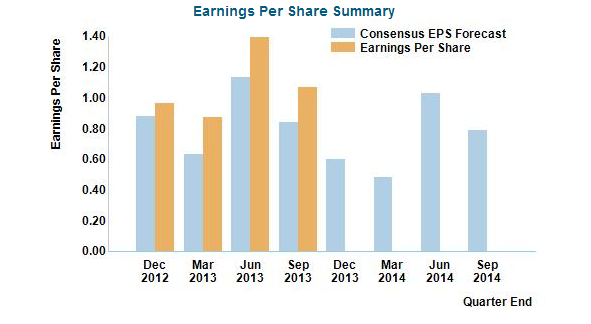 Source: NASDAQ, Zacks Investment Research
SHORT SQUEEZE POTENTIAL
One of our favorite indicators of an upcoming skyrocketing stock price is a high short interest. Short interest represents those investors who are betting against the stock and have little faith in a company's improvement. However, when short interest (as % of float) reaches extremes, it can signal over-hated sentiment; and when that happens, the overcrowding on the short side could actually lead to panic covering - which then leads to a soaring stock price.
From our experience, when short interest reaches 30%+ it could signal a good buying opportunity. In fact, Weight Watchers appears to be such an exceptional opportunity because short interest is as high as 59.5%! Such high short interest could signal that the company has large bankruptcy concerns, and the short-sellers could be right. However, such an extreme reading could perhaps signal that the selling is overdone. If any good news comes out, the "short-squeeze" could be dramatic, and could send the stock flying higher.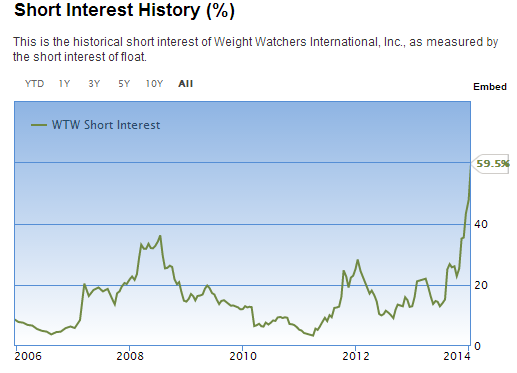 Source: Guru Focus
ENORMOUS SHAREHOLDER SUPPORT
Perhaps the strongest support of share prices right now is a monstrous position by Artal Group SA, a holding company/investment fund. Bearing in mind that a 5-10% ownership is considered very significant (think Carl Icahn's recent moves), the fact that Artal owns over 50% of Weight Watchers stock is outstanding. Yes, Artal could suffer and even attempt to sell off its shares if Weight Watchers continues to perform poorly; however, such an enormous position is almost impossible to sell out of. If anything, Artal's majority position could be strong underlying support for the stock, and could even be a big catalyst if Artal eventually decides to buy out Weight Watchers and take the company private, or if another big player does so.

Click to enlarge
Source: Yahoo Finance
TECHNICALS
Weight Watchers stock still hasn't shown a confirmed bottom, but it appears that it may be close. After a very sharp rise from the 2009 bottom to over $80/share, the stock has plummeted approximately 70%. Now, with the stock price back to decent support levels of $27-28 (see horizontal line in chart below), a bottom may be forming. If earnings are good next week, this could be the perfect place to buy.
Historical chart (monthly):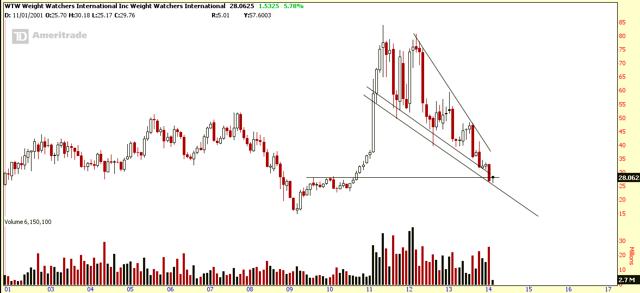 Click to enlarge
Furthermore, when we zoom in and look at a shorter-term chart, we can see that indicators have been oversold and that momentum is turning positive (signaling a potential bottom). Even better, in the last 4 days we've seen very good candlestick patterns: two "Dojis" and now a "Harami" or "Inside Day". If we see positive movement tomorrow (February 5th) and confirming price action leading to next week's earnings, this could be the long-term bottom.
Daily chart: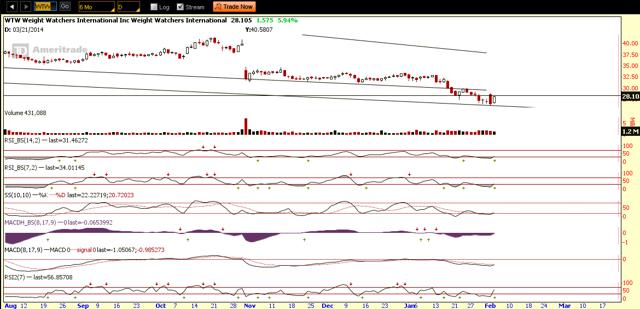 Click to enlarge
CONCLUSION
Weight Watchers looks good for a number of different reasons, including very low expectations, cheap valuations, short-squeeze potential, enormous shareholder support, and fairly good technicals. The large debt load is definitely a concern, and next week's earnings report is a risk to consider, but this very well could be a long-term bottom as Weight Watchers embarks on its historic recovery. I have personally heard of many people signing up to Weight Watchers lately, and it appears that the company is garnering more attention. Yes, things could get much worse; but at these levels, at such cheap valuations, and considering WTW is a very good diversifier for a portfolio, we think Weight Watchers is a BUY. Investors could wait and see what happens in next week's earnings announcement before jumping in (after which there could still be much upside), but doing so could also lead to missing out on a big breakout move.
Disclosure: I am long WTW. I wrote this article myself, and it expresses my own opinions. I am not receiving compensation for it (other than from Seeking Alpha). I have no business relationship with any company whose stock is mentioned in this article.
Additional disclosure: I am long WTW via Call options.