Editors' Note: This article covers a stock trading at less than $1 per share and/or with less than a $100 million market cap. Please be aware of the risks associated with these stocks.
XPEL Technologies (OTC:XPLT) is a marketer and distributor of after-market automotive paint protection products. Far from the average automotive parts supplier, XPEL has built a marketing model around an extensive customer base that has given the business many desirable qualities: recurring revenues, high returns on capital, low customer concentration, and high barriers to entry. On top off all that, XPEL has experienced torrid 50+% revenue growth over the last few years on the heels the company's breakthrough product, the ULTIMATE Film that has revived a long-stagnant industry and left XPEL's competitors struggling to keep up. With a market penetration rate of just 2-4%, XPEL's future could see revenues into the hundreds of millions of dollars and a share price multiples of today's price if paint protection film can achieve the 20+% penetration rate of many common automotive products.

Industry Overview
Paint protection film (PPF) is a thin material, typically made out of urethane, which is applied to select parts of a car to protect the paint against rock chips, gravel, and other abrasions. Installing paint protection film is an involved process and typically requires a trained installer to cut the film on-site to specification and meticulously apply it to the vehicle.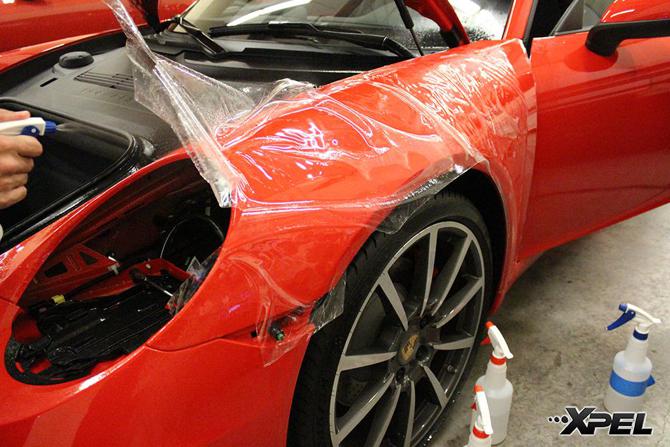 The film is most effective when installed at the time of initial purchase and provides a powerful value proposition to the consumer, preserving the appearance of their new car while also maintaining the resale/trade-in value. The value proposition is equally enticing for car dealers, providing them with a high-margin up-sell while also lowering their risk of receiving rock chip complaints, which happens to be the number one complaint found on customer satisfaction index surveys.
The paint protection film industry has relatively low penetration in the domestic market, which the company estimates to be in the range of 2-4%. The low penetration can be primarily attributed to low-quality early generation products (3M's Scotchguard film) that became notorious for causing an "orange peel" discoloration that led dealers to abandon the product altogether after a barrage of customer complaints. As product quality, led by XPEL's ULTIMATE Film, has improved dramatically, the PPF industry has gained traction from a number of "early adopters", specifically car enthusiasts, customers living in harsh weather environments (Denver, Salt Lake City), and serial vehicle leasers looking to avoid damage charges at trade-in. As the company notes, the desire to product one's car is a universal concept, and a focus on consumer awareness campaigns to drive PPF penetration will be key for the industry moving forward.
XPEL has risen to become the leader of its industry through marketing a superior product and offering a customer solution that is unmatched in the marketplace. XPEL leverages multiple features to gain an edge over competing film, including material design to prevent orange peel discoloration, self-healing properties that allow the film to reconstruct itself after incurring minor scratches (see a video demonstration here), and an industry-leading 10-year warranty. XPEL perfected these features in its latest generation product, the ULTIMATE Film, which was released in late 2011 and has driven the rapid growth that will be seen later in the company's financials.
To offer a complete customer solution, XPEL markets their film along with licenses to their Design Access Program (DAP), which gives the installer access to over 70,000 vehicle applications updated in real-time. XPEL spent most of its history building the DAP software and recreating the database, along with the car manufacturer relationships necessary to match this offering, would be a formidable challenge for a competitor.
Business Model
XPEL's business model is also unique in that it sells its product directly to installers instead of going through distributors, as is commonplace in the industry. This is a huge advantage which gives XPEL very low customer concentration and allows them to bypass the middlemen who extract a sizable portion of the profit pool and don't have much of an incentive to sell one product over another. Acquiring this advantage requires a large trade-off, however, as XPEL must have a support staff and sales force in-place to educate each customer about the advantages of their product, ensure each installer is properly trained, and service the account over the lifetime of the relationship. Given the infrastructure necessary to support this model, the company can only operate this way domestically and still must rely on distributors for all of their international sales.
After understanding this aspect of the business, it becomes clear XPEL operates more like a franchisor than an automotive supplier. The company treats each installer like a franchisee: they provide them hands-on training, accompany them during sales pitches to large dealerships, and capture leads for them in their local markets. In return, XPEL receives a loyal customer who will do the work for them as they grow their own local business. Since each film type requires a slightly different method to install, XPEL also benefits from customer switching costs once the installer gets comfortable with their film and learns to use their software for cutting patterns.
Financials
Below is a summary of XPEL's financials over the last nine years: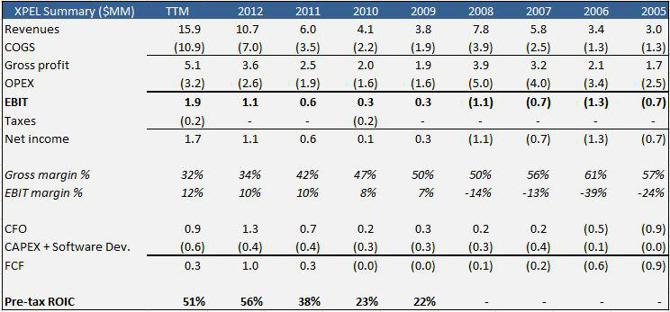 The current management's refocus on sales and marketing had a dramatic effect on the business, bringing XPEL to profitability for the first time in 2009. Management's decision to shift from software licensing to film sales caused a decline in gross margin percentage but a sharp rise in overall revenue and gross profit. The power of the company's asset-light business model also shows in the financials, with ROIC rising over the 50% mark in the last two years.
A closer look at XPEL's quarterly financials allows us to appreciate just how rapidly this business has grown following the release of the ULTIMATE Film:

The last three quarters have seen revenue grow 50-100% y/y and earnings grow 65-170% as the business has scaled. Also encouraging is that gross margin percentage ticked up in the latest quarter and appears to have stabilized around the 33% level. These results have brought XPEL's 3-year revenue CAGR to over 60%, a figure few businesses in the world can claim. As would be expected, the market responded positively to these developments, sending shares up nearly 600% in 2013 alone. As it stands, here is XPEL's current valuation: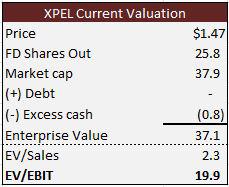 At 2.3X sales and an EV/EBIT multiple of nearly 20, the company's valuation clearly has an element of future growth priced in. For us to determine if the stock is wildly overpriced or deeply undervalued, we need a firm handle on the company's growth potential. Fortunately for XPEL, a plethora of growth opportunities lie ahead that could all combine to keep the company on its rapid growth trajectory.
Growth Opportunities
Increased Market Penetration
For the reason stated above, PPF penetration remains quite low, especially when compared to window tint's 50+% penetration rate. Taking the high end of XPEL's estimated range (2-4%), we can estimate the current market size:

Also, given that 70% of XPEL's revenues are domestic, we can estimate XPEL's U.S. market share:

It would not be unreasonable to see penetration reach 10% in the near future, especially given that a few Western markets, namely Denver and Seattle, have already surpassed the 20% penetration level. Provided XPEL maintains their market share, they stand to benefit substantially from increased penetration:

Market Share Gains
Though the PPF market has been growing overall, there is no question XPEL has been taking share from competitors with their superior product and direct-to-installer business model. Slowing XPEL's progress would require a competitor to not only design a superior product, but also match their business model and support infrastructure. Since PPF is such a small part of their main competitor, 3M's overall business, I think it is reasonable to anticipate future market share gains. If XPEL can take their current share from 16% up to 25%, this alone would add significantly to their revenue base:

International Growth
Perhaps the biggest growth opportunity for XPEL lies in international expansion. Not only is the propensity to protect one's car just as strong overseas as it is domestically, but XPEL makes far more per car in some countries. For example, customers in China typically opt to cover their entire vehicle to protect it from acid rain. Protecting an entire vehicle costs around $5,000 for the labor and materials, which yields 5X the revenue for the company as compared to the typical $1,000 domestic install. A similar dynamic also exists in the Middle East, where drivers need to protect their vehicles from sand damage.
The combination of low penetration rates and higher revenue per install creates huge opportunities for the company abroad. In fact, management believes it is possible that their current 70/30-domestic/international revenue split could invert over time. Assuming the company can bring the revenue split to 50/50 in the mid-term, this scenario would serve as a further revenue driver for the company:

Company-Owned Install Shops
XPEL recently began experimenting with opening company-owned install shops with the intent not to take share from their customers, but to learn more about the end-users and installation process. Outside of San Antonio, the first shop opened was in Houston last year and all signs are it has been a big success. In fact, opening a company-branded shop has brought XPEL accounts that local mom-and-pop shops would likely not have been able to win, such as Lamborghini and Porsche dealerships.
This dynamic clears the way for XPEL to open more of these without risking upsetting their customer base - it wouldn't be a stretch for them to open a few of these in each major market and get to 50 nation-wide over the next few years. Based on my estimated shop performance metrics, here is the revenue impact such a roll-out could have on the company's financials:

One thing to remember is that this model would earn the company installation labor revenues as well, which even after considering the additional overhead, would be a significant driver of XPEL's bottom-line. For simplicity, I have only considered the incremental film sales from this avenue.
Franchising Program
As explained previously, XPEL already operates like a franchising business and has the entire infrastructure in place to begin selling XPEL-branded franchise licenses. Further, the success of the company-owned shops proves the concept and would serve as a platform for selling the first few licenses. Assuming they extract a standard franchise fee of 7% of sales and manage to convert 25% of their installer base to franchisees, such a program would bring the company a valuable high-margin revenue stream in addition to existing film sales:

Beyond these growth avenues, there are further opportunities that are difficult to quantify but should not be discounted when considering the company's growth potential. These include growth into ancillary markets, like motorcycles and heavy machinery, development of new products such as window film, and the sale of customer leads to their install shop base.
Growth Scenarios / Valuation
So which growth route will the company choose to pursue? Management has made it clear each of these avenues will be integral to the company's growth strategy, though no plans for a franchising program have been laid out. Viewed independently, we see the potential for nearly $35M in incremental revenue from these sources. Viewed in combination, however, the impact on the company could potentially be much higher.
The company likely won't have the resources to fully execute on each of these opportunities, so we will call the above analysis the bull case. After assigning a bear case where only modest revenue growth is realized, we can take the mid-point to generate a base case growth scenario: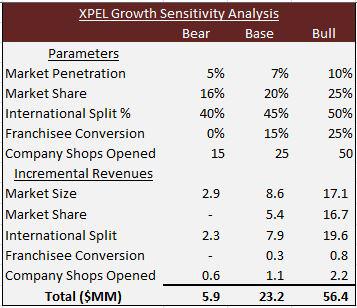 Assuming it takes the company 3 years to capture this incremental revenue, we can project how the company will perform under this growth scenario: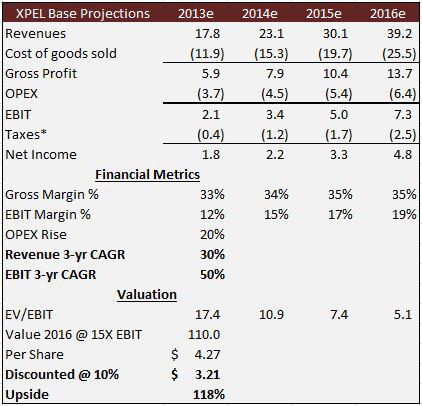 The base case allows the company to continue with solid 30% revenue growth, which would be far below the company's current 60+% rate. We will assume gross margins stabilize and trend up slightly as the company scales and reaps purchasing efficiencies. XPEL will have to build their infrastructure to support this growth, which we will assume drives OPEX up 20% per annum. The company's operating expenses have risen roughly 35% during the period of 50-100% revenue growth so this would appear to be a reasonable assumption moving forward.
Through operating leverage, EBIT would grow at a rapid 50% clip and the lofty EV/EBIT multiple would quickly compress. I would argue that at a minimum, a 15X EV/EBIT multiple would be a fair multiple for this business, should it achieve the projected financial performance. Discounting our results back to today would yield a share price of $3.21, offering nearly 120% upside from current levels. To put things in perspective, here are the bear and bull cases: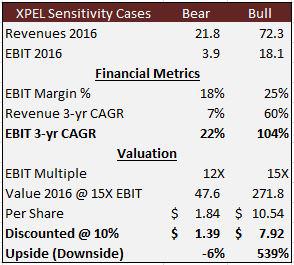 Note: Though significant, the effect of cash build has been ignored for simplicity in the above analysis.
Even in the bear case, the company would grow revenues 7% per year, which I estimate the company could support with only a modest 5% annual lift in OPEX. This disaster case would still give the company solid EBIT growth and imply only ~5% downside, assuming multiple compression to 12X. Should the company execute flawlessly and realize the bull case growth, investors could be looking at business doing 4X the revenues, which at a 25% EBIT margin and conservative 15X EBIT multiple, would have shares worth nearly $8.00 - over a 5-bagger from current levels. The bull case may seem like a long shot, but keep in mind all it requires is for the company to sustain its past 3-year growth rate for the next 3 years.
Risks
In my opinion, the biggest risk with the XPEL thesis is competition. As with any expanding market, competition is virtually guaranteed to enter the market and attempt to get a piece of the growing pie. Given that XPEL's product is not particularly advanced from an R&D standpoint, it wouldn't be a stretch to see a few competitors bring comparable film to the market and attempt to undercut on price. One dynamic to mitigate this is the difficulty a competitor would have in replicating XPEL's direct-to-installer business model and convincing their loyal customers to switch from an already established premium product. Lastly, given the issues the PPF industry in the past, competition could actually be a positive for XPEL in that it could legitimize the industry and catalyze market penetration.
For a company with so many growth avenues available to it, there is a high degree of execution risk, especially since management will be pursuing multiple opportunities at once. The company only has 40 employees and if the base case growth is realized, their organization could rapidly become strained. International growth, especially, will stretch the company's resources and could leave a window open for competitors to take share from XPEL in the domestic market.
Insiders
XPEL has very high inside ownership, with management, directors, and employees collectively owning over 50% of the shares outstanding. CEO Ryan Pape owns 6% of the shares and has done an excellent job of turning around the company since coming on board in late 2009. His vision to rebuild XPEL as a marketing/branding company from a technology company has been the primary driver of XPEL's financial performance and has resulted in a 2000% share price performance during his tenure.
Ryan has also been an excellent steward of shareholder's capital. Ryan has exhibited a conservative management style, operating the company debt-free, shying away from acquisitions, and issuing very few press releases. Under his leadership, XPEL has adopted a policy practically unheard of in the investment world: the company has no stock option or warrant program and hasn't issued a single share since he took the helm nearly 5 years ago.
Conclusion
XPEL Technologies finds itself in the early innings of a rapidly growing industry, where it has taken a leadership position with its superior product and its unique pseudo-franchising model. Major growth avenues in increased domestic penetration, market share gains, international expansion, and company-branded install shops are all poised to give the company a runway for revenue growth that few companies possess. Competition and consumer awareness remain as large obstacles for XPEL's growth, but if management can execute and maintain the company's market-leading position, the company's value could realistically increase multi-fold as the PPF market develops and more investors become aware of this compelling growth story.
Disclosure: I am long XPLT. I wrote this article myself, and it expresses my own opinions. I am not receiving compensation for it. I have no business relationship with any company whose stock is mentioned in this article.