Chinese online game stocks have underperformed the market significantly since entering 4Q09 earnings season on February 1, when Changyou.com (NASDAQ:CYOU) reported results. The CWD China Online Game Stock Index has merely risen 2.5% in this period, while the NASDAQ Composite Index has surged 15.5% (Chart 1). Heading into the 1Q10 earnings season, investor sentiment toward Chinese online game stocks has plunged to near its one-year low (Chart 2).
I believe recent data points have caused investors to worry about three things: 1) Slower revenue growth: Tencent (OTCPK:TCTZF) management said industry growth will slow down in 2010 due to high base in 2009, more competition, and players' higher taste. Shanda Games (NASDAQ:GAME) management forecast 1Q10 revenue will decline 10-15% Q/Q. 2) Declining profitability: Perfect World (NASDAQ:PWRD) grew game revenue by 11% sequentially in 4Q09, but its net profit margin dropped four percentage points on higher marketing expenses. Prices of Baidu (NASDAQ:BIDU) paid search ads for popular online game-related keywords have risen 8x since late 2009 (source: adSage). 3) Regulatory uncertainty: NetEase (NASDAQ:NTES) is still waiting for the regulatory approval of World of Warcraft's Wrath of the Lich King expansion pack. In a recent influential article, the Ministry of Culture discussed risks of the industry's item-based business model, and suggested changes to the model.
These concerns are reasonable, but I believe current investor sentiment is overly bearish, as current stock prices have not fully reflected several positive signs about the industry:
1) Leading companies are still able to launch popular new games: Tencent's A.V.A and Da Ming Long Quan have become hit games with over 200K peak concurrent users (PCU) in the past week, according to my estimates. Shanda's Dragon Nest has been well-received in the current closed beta stage, and I forecast it will reach 200K PCU in the open beta stage.
2) There are still plenty of potential catalysts for individual stocks: Tencent's League of Legends (Ying Xiong Lian Meng) is likely to become an instant hit in 2H10 due to its unique designs and the sizeable DOTA player base in China. Perfect World's Forsaken World (Shen Mo Da Lu) and Dragon Excalibur (Xiang Long Zhi Jian) are likely to drive earnings growth in 2H10, based on the company's track record of turning almost every new game into a business success. NetEase's stock will get a boost immediately after Wrath of the Lich King gets approved, although it is difficult to predict its exact timing.
3) Some mature game franchises are still able to grow by launching expansion packs or sequels: Changyou's recent launch of TLBB 2 has been very successful. I estimate the game has surpassed 890K PCU as a result of the new version. Giant Interactive (NYSE:GA) increased its revenue market share by nearly one percentage point in March, driven by the open beta of the new game ZT Green.

Chart 1: CWD China Online Game Stock Index vs. NASDAQ Composite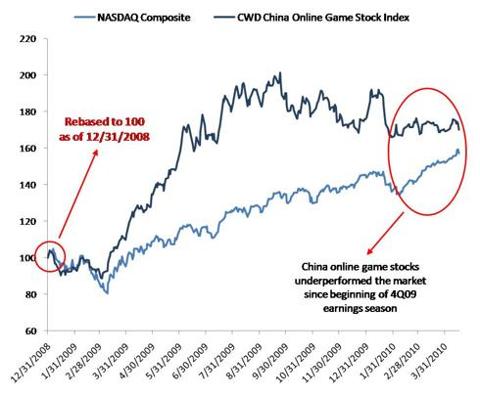 Chart 2: Investor Sentiment Near 1-Year Low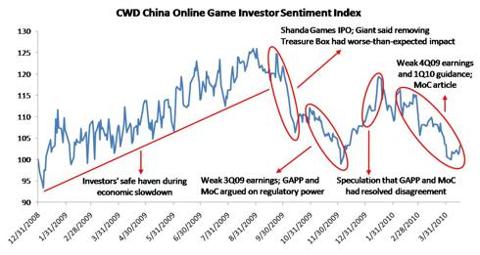 Disclosure: No positions