Lululemon Athletica (NASDAQ:LULU) is a yoga-inspired athletic apparel company marketed to upper income woman. The company has ~120 stores and anticipates a market for over 300 stores in the United States. If you live in one of Lululemon's markets, you have seen women and, increasingly, men in their signature black yoga pants. What started as a product for yoga enthusiasts is now worn for daily activities.
LULU's stock is up significantly in the last year. Below we analyze the market opportunity, growth, profitability and valuation for lululemon.
Snapshot

Market Size
LULU competes in the large and moderately growing market for Activewear/"Everday" gear representing the bulk of the market at over $42 billion annually.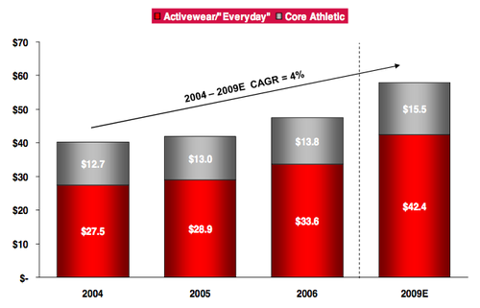 Source: NPD Research
Top-Line Growth
LULU's growth is driven by new stores, growing same store sales and optimizing the sales per square foot. The charts below detail the trends over the past 6 years for each metric.
Revenue Drivers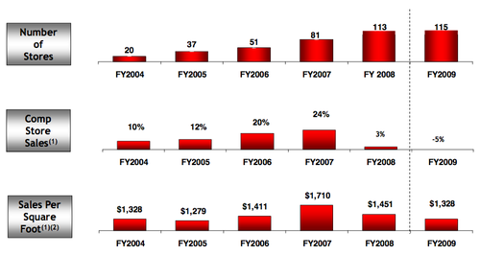 Source: lululemon
Revenue growth, store openings and same store sales slowed during the economic downturn but bounced back in Q409. Q4 net revenue increased 55% to $160.6 million with FY09 revenue increasing 28%.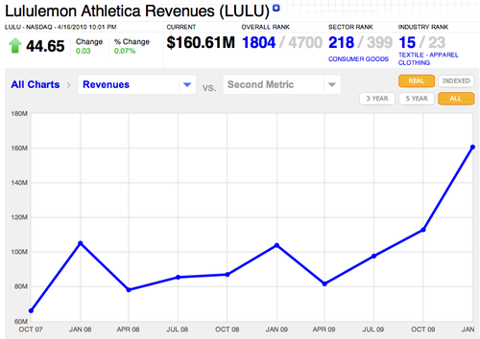 Christine Day, CEO stated:
We are very pleased with the growing sales momentum in our business which has accelerated as the economy has improved and with some of our key initiatives which have taken hold.
Profitability
LULU targets women 32 years of age with an income over $85,000, as they tend to be less price sensitive. As a result, the company maintains some of the best profit margins in the industry.
Profit margins have been increasing for the past several quarters rising from a low of 8% and now approaching 18%. LULU has the highest profit margin in the apparel clothing industry.
Profit margin comparisons for Nike (NYSE:NKE) and Under Armor (NYSE:UA) are in the 8 to 10% range and lead us doubt that the margin improvements can continue for Lululemon.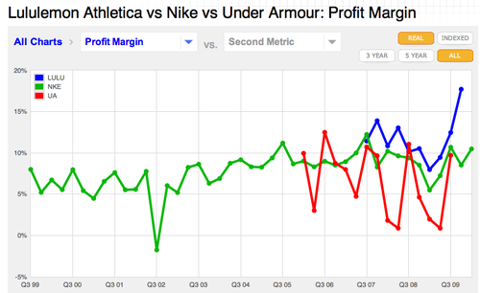 New Initiatives
e-Cmmerce launched in the middle of 2009 and should contribute to healthy margins but competitors are noting their success and launching low cost versions of some of the most popular products. Approximately 120 stores are open and there is an opportunity for another 180+ to be added. You would expect the attractiveness of the new stores to decrease as the best locations are selected first.
Valuation
Lululemon trades at a premium to the market by a wide margin and currently sports a price to earnings ratio over 50 and a price to sales ratio at the top of historical range and well above competitors.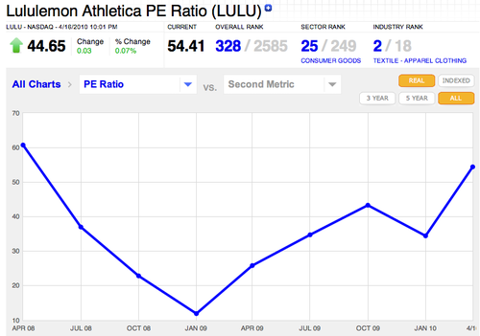 Given the FY09 EPS growth of 49%, the PE appears rational but can they keep that kind of growth up. As with all companies, the law of large numbers makes it much harder to keep growing revenues at the same pace as the company scales. FY09 revenue growth YoY was 28% but expanding margins enabled the strong EPS growth.
Company Outlook
For fiscal 2010, Lululemon expects net revenue to be in the range of $570 million to $585 million and diluted earnings per share in the range of $1.00 to $1.05 for the full year. The company is forecasting revenue growth under 30% for 2010.
Valuation
It really doesn't matter what metric you choose in valuing LULU. All of them are signaling the same thing.
LULU's earnings yield is under 2% and well below 10 year.
PE Ratio is > 50 with YoY top-line growth of 28%.
Price to sales ratio > 6 at the top of historical range.
The analyst consensus price target it $42 which is below the current price.
Conclusion
If you are a momentum investor, LULU has been a great ride and could run further but if you invest on the fundamentals there are better places to invest y our money. We like the company and love the products, but LULU may have run too far, too fast.
Disclosure: No positions