When the stock market performance for January is down, the performance for the rest of the year is usually flat. This has occurred 73% of the time in the past 85 years. Thus far, the stock market was down about 3% for January 2014. Will we have a flat year for the rest of 2014? Not necessarily. I think it will depend on the monthly jobs reports, company earnings, GDP growth, etc. If these reports trend positively, then the market is likely to perform well. Although I don't think that the market will repeat 2013's strong performance.
When 2014 began, the market was already overbought from a better than average performance in 2013. The SPDR S&P 500 ETF (NYSEARCA:SPY) gained over 30% last year, which was three times higher than the long-term average annual increase for the market. In addition to the market being overbought, the December jobs report was less than expected. Economists were expecting a gain of 205,000 jobs, but the actual figure was only 74,000. This disappointing report set the tone for January's market sell-off. Then, the disappointing economic news from China that its export growth slowed more than expected added to the market's sell-off. China's December exports rose 4.3% which came in below expectations of 4.9%.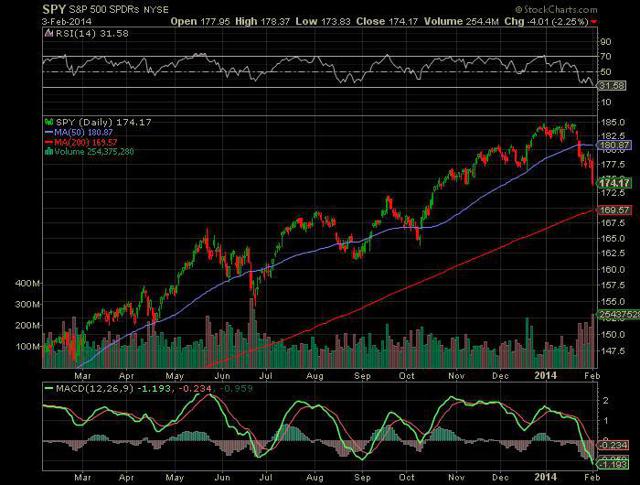 I think that this will turn out to be a mild correction for the market. I would also expect to see more corrections this year as compared to last year since volatility has picked up. Although it is difficult to predict how the year will end up, the improvements in the U.S. and European economies should help to stimulate a positive move for the markets. Stronger demand from the U.S. and Europe should also benefit China's exports in 2014.
Since we already experienced an above average year for the market in 2013, I think 2014 will experience returns that are closer to long-term averages. There will probably be more ups and downs this year, so the final result for 2014, might look like a 5% - 10% return. This is contingent upon getting more positive than negative news regarding the economies of the U.S., Europe, and China. GDP growth for these regions is important, plus growth in job creation, corporate earnings and personal incomes are likely to factor in on the market's performance. The result for 2014 could be higher or lower than my estimate depending on what happens throughout the world. Given how things are progressing in the world economy, I think that there will be a majority of positive economic reports with some disappointing ones mixed in.
Jobs reports that end up beating expectations are a sign that businesses are hiring due to increased demand, which reinforces economic growth. It also means that there will be more people contributing to 401k and other savings plans which provide an increased flow of money into the market. Increases in personal incomes show that businesses are healthy and confident enough to raise wages. The increased wages allow for more money to flow back into the economy.
What Should Investors Do in 2014?
I think the strategy that investors use in 2014 should be the same as for any year. I like sticking to a dollar cost averaging strategy to reap the benefits of the stock market's gains over the long-term. This takes the guesswork and frustration out of trying to time the market. It eliminates getting out of the market too early and jumping back in too late. This is easily accomplished through 401k and similar retirement plans, but it can also be accomplished in regular brokerage accounts. Put a set amount of money into your account every month and purchase an ETF such as the SPDR S&P 500 ETF to capture the market's gains over time. When the market is down, you'll be buying more shares at lower prices. When the market rises, the shares you own will increase in value. By owning an ETF such as SPY, you'll have a diverse collection of companies under one ticker, which reduces the risk of individual stock ownership. I can't say for sure what will happen in 2014 and that doesn't really matter if you keep your eye on the long-term, looking 5, 10 or more years down the road.
Disclosure: I have no positions in any stocks mentioned, and no plans to initiate any positions within the next 72 hours. I wrote this article myself, and it expresses my own opinions. I am not receiving compensation for it (other than from Seeking Alpha). I have no business relationship with any company whose stock is mentioned in this article.