When it comes to a company's earnings, a stronger-than-expected quarter gives most investors a reason to a take a closer look at that particular company. In this article, and after a pretty stellar FQ4, I wanted to highlight a number of reasons why I'm staying bullish on shares of MDU Resources Group (NYSE:MDU).
An Overview of MDU Resources
Headquartered in Bismarck, North Dakota, MDU Resources, Inc. operates as a diversified natural resources company that is divided into a number of different segments. These segments include its Electric segment, its Natural Gas Distribution segment, its Pipeline and Energy Services segment, its Exploration and Production segment, and its Construction Materials and Contracting segment which contributed quite nicely to the company's very impressive FQ4 results that were reported on February 3.
Recent Performance & Trend Behavior
On Monday, shares of MDU, which currently possess a market cap of $5.87 billion, a forward P/E ratio of 19.73, and a dividend yield of 2.28% ($0.71), settled at a price of $31.11/share. Based on a closing price of $31.11/share, shares of MDU are trading 0.71% above their 20-day simple moving average, 2.98% above their 50-day simple moving average, and 11.68% above their 200-day simple moving average.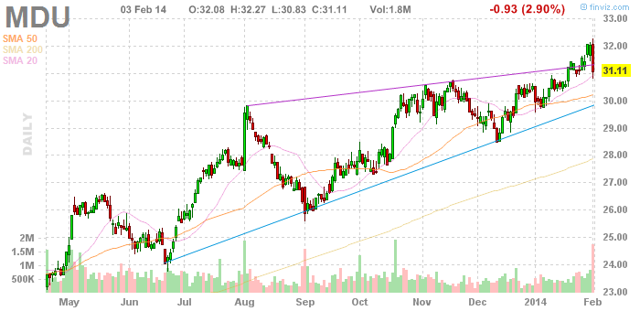 Even though these numbers indicate a short-term, mid-term and long-term uptrend for the stock, I actually think the current share price of $31.11 offers investors a considerable point of entry for most investors especially since MDU Resources recently surpassed FQ4 estimates by a considerable margin in terms of both EPS and Revenue.
MDU Demonstrates Strong FQ4, Guides Higher
Also on Monday, and after all three major indexes fell just over 2%, MDU Resources reported the results of very strong fiscal fourth quarter. Analysts had been expecting the company to earn $0.41/share on revenue of $1.12 billion, however MDU impressed both investors and analysts when the company reported earnings of $0.48/share on revenue of $1.18 billion. One of the things that stood out for me wasn't just the 36% increase in the company's construction services business-related earnings or the 15% increase in utilities-related natural gas sales, but rather the company's guidance which is expected to fall into a range of $1.45/share to $1.60/share (which is well above the $1.42/share that some analysts has expected).
If the company can continue to demonstrate strength in its construction services and utility-based natural gas sales over the next 6-12 months I think the company's earnings could easily fall into its expected range.
Recent Dividend Behavior
Since December 9, 2008, the company has increased its quarterly dividend seven times in the last five years, with the most recent increase having taken place in December of 2013. The company's forward yield of 2.28% ($0.71) coupled with its ability to maintain its quarterly dividend over the last five years, make this particular diversified utilities play a highly considerable option, especially for those who may be in the market for a moderately-yielding stream of quarterly income.
Risk Factors (Most Recent 10-K)
According to MDU Resources' most recent 10-K, there are a number of risk factors investors should consider before establishing a position. These risk factors include but are not limited to:
#1 - The Company's exploration and production and pipeline and energy services businesses are dependent on factors, including commodity prices and commodity price basis differentials, that are subject to various external influences that cannot be controlled.
#2 - The Company is exposed to credit risk and the risk of loss resulting from the nonpayment and/or nonperformance by the Company's customers and counter-parties.
#3 - The Company's operations are subject to environmental laws and regulations that may increase costs of operations, impact or limit business plans, or expose the Company to environmental liabilities.
Conclusion
For those of you who may be considering a position in MDU Resources, I strongly recommend keeping a close eye on the company's dividend behavior, trend performance, and its ability to continue to enhance shareholder value over the next 12-24 months as each of these factors could play a role in the company's long-term growth.
Disclosure: I have no positions in any stocks mentioned, but may initiate a long position in MDU over the next 72 hours. I wrote this article myself, and it expresses my own opinions. I am not receiving compensation for it (other than from Seeking Alpha). I have no business relationship with any company whose stock is mentioned in this article.