The SEC's suit against Goldman Sachs (NYSE:GS) on Friday brought an entirely different tone to equities markets. In an environment where investment assets have become overly correlated, many investors have noted a "risk on – or risk off" approach to trading. When news is positive – or even marginal – the "risk on" mantra applies and managers use available cash to load up on high-beta names. However, if we are now entering a "risk off" period, it will not just be the investment banks which will suffer
At risk are many of the sectors which have seen the most speculative buying since the most recent January swing low.
Markets have continued to motor higher, and recently the crossing of major points of interest (11,000 on the Dow and 1200 on the S&P 500) has had a major psychological effect on short exposure. For the most part, short-sellers have picked up stakes and gone home – leaving the market more vulnerable to a significant drop.
When there are enough short participants in a market, that can help to add support. This is because profit taking occurs when markets fall – and shorts covering profitable positions can sometimes be the majority of buying interest in certain stocks or sectors. With very little short interest, a significant drop in speculative sectors could go un-checked and lead to more volatility.
So due to high levels of speculation and risk – and with the next inclination likely to be a flight to safety, here are the three areas I think traders should be most interested in shorting.
The retail industry has logged some impressive gains since the pullback in January / February. After hitting a low on February 5, the retail HOLDRS (NYSEARCA:RTH) made a new recovery high in just 20 days, and has continued to march steadily higher.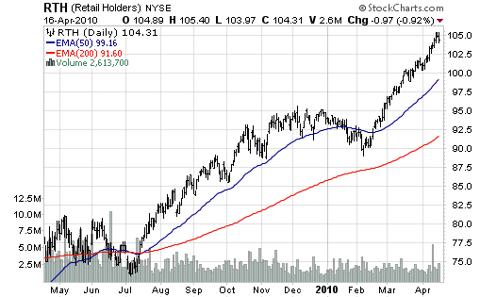 Individual retailers have been reporting a pickup in sales levels and with inventories largely low and overhead costs also reduced, the profitability increase has been tremendous in some cases. For the most part, the profitability increases has been boosted by one time issues (it's unlikely that companies will continue to cut overhead and inventories are already picking up in anticipation of stronger demand).
The same could be said about the consumer demand for goods. Especially if you buy into the concept of strategic defaults boosting consumer spending. Since I have written the article on strategic defaults, I have received what I would consider a bi-polar response with many outraged readers suggesting the concept is ludicrous, while the other half actually know at least one (if not more) friends or neighbors engaged in a strategic default situation.
The ability to spend more through living rent-free in one's house (by simply not paying the mortgage) cannot continue indefinitely and when this practice is stopped, it is likely consumer spending will once again decline – especially since employment numbers have yet to show much in the way of recovery. When consumer spending is called into question – or simply when managers start applying the "risk off" portfolio management, retail stocks could take the brunt of the selling.
Shorting the RTH vehicle is one broad way of capitalizing on this movement, but it may be more profitable to focus on some individual stocks which have experienced significant gains and could be due for a pullback. Stocks that quickly come to mind (for more research later) include Abercrombie and Fitch (NYSE:ANF), Ann Taylor (NYSE:ANN) and potentially Lululemon Athletica (NASDAQ:LULU).
Domestic China Companies
Strong economic growth in China has attracted significant foreign investment and led to strong price appreciation. While speculative buying has supported strong price multiples, another issue has been reduced supply of available investment vehicles. Since the Chinese government restricts the amount of financial assets available to foreigners, mutual fund managers and other institutional investors have found it difficult to secure their desired level of exposure to China. By nature, a low supply of an asset coupled with strong demand will result in higher prices.
With current prices already reflecting strong long-term growth for the Chinese economy, it would only take some small disappointments for this sector to begin to fall. The strong GDP reports are likely to cause the government to be more aggressive, tightening regulations on the banking sector which would reduce available capital to industry. As these measures are enforced, the Chinese economy could continue to grow at a slower pace, but the stock prices could decline sharply to reflect the lower growth rate.
Two easy vehicles for investors to trade are the iShares MSCI Hong Kong (NYSEARCA:EWH) and the iShares FTSE/Xinhua China 25 (NYSEARCA:FXI). The EWH includes a broader section of the Chinese economy, while the FXI has a larger financial concentration.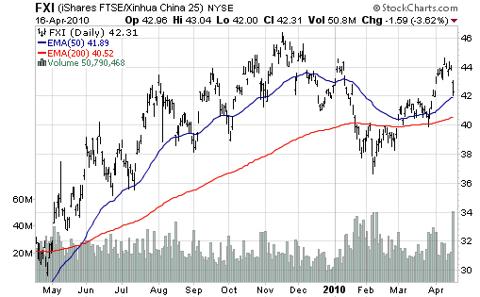 For a bit more volatility (and potentially larger gains) traders could consider short positions in individual China companies:
E-House China (NYSE:EJ) – A real estate agency whose profitability is closely tied to property transactions in China's overheated real estate market.
Baidu Inc. (NASDAQ:BIDU) – The well-known Google competitor running online advertising and internet search capabilities. The stock has a strong trend but investors are paying 63 times this year's expected earnings.
Home Inns & Hotel Management (NASDAQ:HMIN) – A Chinese hotel manager with a high multiple and declining revenue growth. The hotel industry is closely tied to a vibrant economy and any hiccup could send the stock sharply lower.
US Regional Banks
During the last financial crisis, many of the largest banking institutions were deemed "too big to fail" and were subsequently bailed out or backstopped by the US government. While it is certainly not fair, the majority of US regional banks are decidedly NOT too big to fail and face significant risks in today's environment.
A rising stock market and improving confidence has led many investors to overlook balance sheets with excessive leverage, and the impending danger of write-downs. Commercial mortgages still comprise a major risk to regional banks and many of these loan portfolios are still being carried at valuations which imply economic health and little risk of default.
If the Goldman news causes a new "risk off" dynamic with lower amounts of liquidity and a focus on what could go wrong instead of only what could go right, the multiple on many of these smaller and more vulnerable banks could decline sharply.
There are two primary ETFs which were designed to track the regional banks – the iShares DJ US Regional Banks (NYSEARCA:IAT) is comprised of some of the largest regional banks like US Bancorp (NYSE:USB) and BB&T Corporation (NYSE:BBT). While these banks may be vulnerable, they may also still fit into the "too big to fail" bucket and be propped up by the government in some shape or fashion.
For this reason, I'm more interested in the SPDR KBW Regional Bank (NYSEARCA:KRE). The ETF is made up of many smaller banks and even its largest holdings only represent a small portion of the total fund. Shorting this vehicle will give traders more exposure to the general factors that affect the small traditional US bank, and looking through the top 25 holdings for this ETF (which can be found on Morningstar.com) could yield some individual picks that are even more powerful.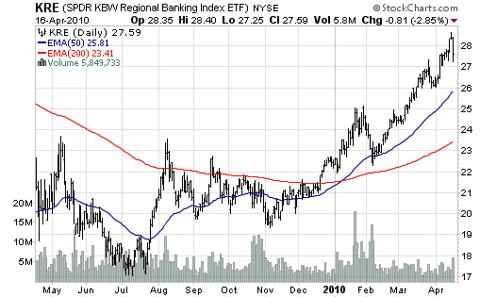 Timing is Everything
Timing will be key when laying out shorts in the post Goldman lawsuit period. My expectation is for bulls to step in early this week and prop up markets. After such a stunning run for the last 6 weeks (and for the last 12 months for that matter), it is hard to imagine the market rolling over and heading directly south without at least a week or two of wrestling.
Using reflex rallies to lay out shorts may help to cut risk. At the same time, small positions could be initiated right away so that if the bearish sentiment takes hold immediately, at least we have some exposure taking advantage of the new trend.
For long positions in these three sectors, I would urge caution. True investors may want to hold these positions long-term for better tax treatments and for fundamental reasons. If this is the case, it may make sense to sell calls against individual stocks to create some income and reduce the risk, or potentially buy inverse ETFs which can generate gains while the market falls. This could help offset traditional exposure and lead to better long-term profitability for your portfolio.
The ZachStocks Newsletter will likely begin adding short positions later this week or early next week. At this point we are waiting to get a better feel for the market reaction, but should be able to use a reflex rally to step into some profitable shorts at appropriate risk / reward ratios. The important thing for traders to do at this point is to continue building a watch list of appropriate short candidates so that when the decline begins in earnest, we will have a robust list of short candidates.
Full Disclosure: Author does not have a position in any stocks mentioned in this article.