Just whoa. J.C. Penney (NYSE:JCP), the embattled department store chain suffering from declining sales, loss of investor confidence and a collapsing share price, was thrown under the bus yesterday once again. Shares of the retailer literally collapsed by more than 10% in Tuesday's trading session under extremely high volume and actually fell below the psychologically important $5 mark. J.C. Penney shares fell as low as $4.90 even though shares managed to rebound and close at $5.08. Nonetheless, the stock has marked a new 52-week Low and a new five-year Low as enervated investors threw their shares away. J.C. Penney was trading at $42.68 on February 13, 2012 and the company has now lost 88% of its market capitalization over the last two years. In other words: A great time to buy.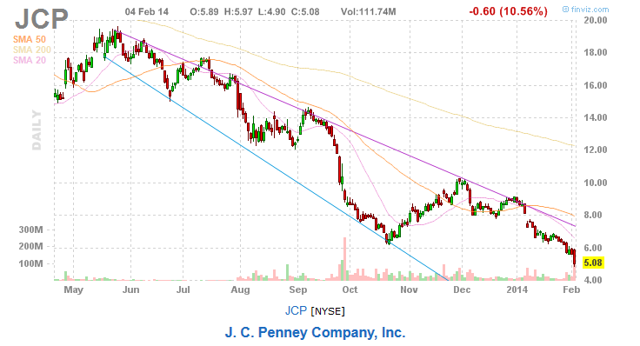 Click to enlarge
What were the relevant trigger news?
J.C. Penney yesterday reported its comparable store sales growth figures which weren't that bad at all. The retail company reported comparable store sales growth for the nine-week November and December period including the crucial holiday period of 3.1%. J.C. Penney also reported comparable store sales growth of 2% for the fourth quarter 2013. The company release regarding J.C. Penney's sales performance from February 4, 2014 is reproduced below [emphasis added]:
Turnaround Remains on Track

Plano, Texas - (Feb. 4, 2014) - J. C. Penney Company, Inc. (the "Company") today provided a preliminary update on its sales performance during the holiday and fiscal fourth quarter periods. For the combined, nine-week November and December period, the Company reported comparable store sales growth of 3.1 percent over the same period last year. For the full quarter, comparable store sales - which exclude the 53rd week of fiscal 2012 - rose approximately 2.0 percent, marking the first time since the second quarter of 2011 that JCPenney has generated a positive quarterly sales result. For the fourth quarter, jcp.com sales grew approximately 26.3 percent over last year. In addition, the Company closed its 2013 fiscal year with total available liquidity in excess of $2 billion.
There are three important take-aways in the press release that deserve special recognition:
1. Comparable sales increased 3.1% for the nine-week period. Even though investors might be disappointed with respect to J.C. Penney's holiday performance, the results presented are generally positive and yesterday's share collapse clearly didn't reflect this.
2. Quarterly comparable store sales growth increased 2% in the quarter which is the first time in almost two and a half years that the company reported a same-store sales gain.
3. Investors and analysts repeatedly voice their concern that the company will run into liquidity issues. I think that this is a major myth that keeps on perpetuating itself. The $800 million capital increase in September 2013 has clearly shored up J.C. Penney's balance sheet. Also, the company specifically addressed those concerns saying that it had more than $2 billion in liquidity at hand.
Chief Executive Officer Mike Ullman summarized positive fourth quarter results which were achieved in a challenging environment:
While 2013 brought a lot of change and challenges to JCPenney, the steady improvements in our business show that the Company's turnaround is on track. In spite of the significant headwinds facing all retailers this season, including unprecedented harsh weather conditions in many parts of the country, we delivered on our promise to generate positive comparable store sales growth in the fourth quarter.
Yesterday's mindless sell-off happened because J.C. Penney's comparable store sales weren't as high as expected but the overall tone and the direction of released sales results clearly need to be interpreted in a more positive light. Reuters also commented on J.C. Penney's results with the following introductory paragraph for its article published on February 4, 2014:
(Reuters) - J.C. Penney Co Inc (JCP.N) shares fell 10 percent on Tuesday after the struggling retailer reported a disappointing rise in comparable sales for the holiday quarter, prompting fears its business is recovering too slowly.
So there it is. The real reason for yesterday's sell-off: The business is recovering, but it is recovering too slowly.
Panic selling amplifies mispricing
Rational investors need to ask themselves whether a 2% quarterly increase in same-store sales justifies a 10% decline in market capitalization. Though analysts expected a higher growth figure of 4%, the reaction of investors to J.C. Penney's quarterly sales growth data appears to be extremely irrational.
Investors generally seem to be way too impatient, especially when companies in restructuring contexts are involved. Turnarounds are often achieved slowly and it appears that both analysts and investors have lofty expectations when it comes to J.C. Penney's turnaround progress. J.C. Penney's share price decline is a result of investor impatience rather than an accurate reflection of the underlying company value.
Analysts overwhelmingly negative
Sterne Agee analyst Charles Grom issued a note to investors that highlights the mainstream attitude towards J.C. Penney:
While posting a +2.0% comp in 4Q is a step in the right direction, the slope of the improvement continues to disappoint. Equally concerning, our math suggests comps were negative (say 1%) during the December period, which frankly is just unacceptable given the compare. Net, odds of another cash infusion just augmented meaningfully…Based on our model (FY14 = assuming a +2.0% comp/[gross-profit margin] + 540 bps YOY/[Selling, General and Administrative Expenses] growth down 1.7%), we believe [JC Penney] could run into another liquidity situation by 3Q14.
While there are different approaches to modeling cash burn rates and cash flow in valuation models, I generally don't think that liquidity issues really are going to be a concern for J.C. Penney in 2014. With more than $2 billion in short-term liquidity available and a turnaround in sales, I think analyst assumptions are mostly too pessimistic when it comes to J.C. Penney's finance situation. In addition, the retailer still has the opportunity to step up its restructuring plan by closing unprofitable stores and streamlining the company.
Conclusion
What really happened yesterday can easily be summarized: Analysts expected sales growth of 4%. J.C. Penney delivered 2% and the first same-store sales growth since 2011 (a point on which investors obsessed about just six month earlier) and the stock collapses by more than 10%. As a contrarian investor I think yesterday's sell-off offers investors a deep bargain opportunity mainly because of the panicky behavior adopted by many market participants. J.C. Penney is deeply in oversold territory. Many bears seem to think that an opportunistic investment in J.C. Penney means that investors deny the business challenges ahead. This isn't the case. The vast majority of investors is aware of sluggish sales growth and profit-eating sales promotions. However, the company's recovery seems to be on track and whether that recovery is slow or fast isn't really that relevant. Share prices increase before the turnaround is accomplished.
I think contrarian investors who possess a solid amount of mental armor and who have no desire to be part of the crowd are looking at very attractive turnaround returns should J.C. Penney be able to carry its sales momentum forward. Strong, contrarian BUY.
Disclosure: I am long JCP. I wrote this article myself, and it expresses my own opinions. I am not receiving compensation for it (other than from Seeking Alpha). I have no business relationship with any company whose stock is mentioned in this article.