U.S. auto sales for January were reported on Monday. They came in at a 15.2 million seasonally adjusted annualize rate, or SAAR vs. the 15.8 million Wall Street consensus forecast. The SAAR for domestic OEMs (GM, F, Chrysler) came in at 12.1 million, only slightly below the 12.2 million forecast. As I'll outline below, however, the rate of decline in auto sales appears to increasing. In the context of my view that the economy is headed into a recession, it appears as if the data further confirms my view that auto sales are headed lower. Based on this, I recommend that Ford (NYSE:F) and General Motors (NYSE:GM) stock should be sold and/or shorted.
While the SAAR for auto sales from December to January declined from 15.4mm to 15.2mm, it was the year over year decline from January 2013 to January 2014 for the three domestic OEMs that shows the significant slowdown in sales that is occurring. General Motors sales dropped 12%, Ford's declined 7.1% and Chrysler's increased 8%. Overall, total domestic OEM auto sales dropped 25,618 year over year (January auto sales data):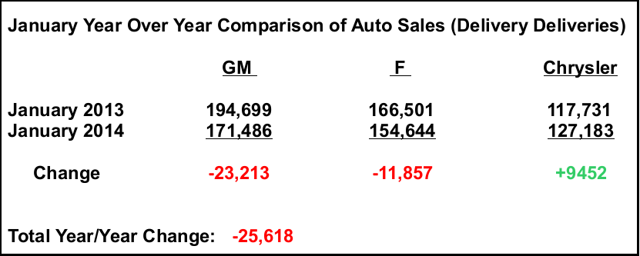 As you can see, vehicle sales dropped by over 25,000 last month from January 2013. In the context of the year over decline reported in December, it would appear that the decline in auto sales is picking up momentum.
To be sure, the cold weather may have some small affect on sales. However, per the article linked above the chart, Chrysler's head of U.S. sales is quoted as saying the weather did not affect Chrysler's sales. Furthermore, in examining the actual temperature data, it would be difficult to argue that last month was any colder than the historical average temperature for January for the 10 largest cities in the U.S. In fact, the average temperature is several cities was actually warmer than average. Given this fact combined with the comment from Chrysler, I would argue that the weather largely did not play a factor in January's auto sales.
Finally, as I have detailed in previous articles on this topic, it is important to note that the auto sales reported by OEMs represents deliveries to dealers and not sales to the actual end-user buyer. For sure, the dealers "buy" the cars. But the data does not represent retail sales transactions. I have also noted in previous articles that GM and Ford (Chrysler is no longer public) are careful to make this disclosure and distinction in the footnotes to their SEC-filed financial statements.
This is important because it would appear that a portion of GM's sales involved dealer inventory stockpiling. As you can see from this bar chart (source: Zerohedge), GM's dealer inventory jumped by 32,000 cars from December to January. Even more to the point, it jumped by 42,000 cars from last January. Note that GM's dealer inventory in January was significantly higher in relations to its sales volume compared to that same ratio last January. In other words, sales slowed down and dealer inventory expanded.
While it is probable that these cars will eventually be sold, to the extent that it takes a long time work off this inventory and affects the level of future dealer orders, it implies that either GM's sales were overstated for January or GM will experience an even bigger decline in sales in future months. I have not been able to find dealer inventory numbers for Ford or Chrysler.
As outlined above and in previous Seeking Alpha articles, auto sales are slowing down and I expect them to slow down at a quicker rate during the course of 2014. The primary reason is my view that the economy is going to contract going forward (see previous articles). Moreover, I believe that anyone in general looking to replace their existing vehicle with a new car used historically low interest rates and easy access to credit (see my last article) to do so over the last couple of years.
Since the date of my article on December auto sales, GM stock has dropped 11.6% and Ford has dropped 4%, in the context of the S&P 500 dropping 3.8%. Because I believe that expectations for 2014 auto sales are still too high, I continue to recommend selling GM and F shares. I also continue to believe that extraordinary risk-adjusted returns can be achieved by shorting both stocks, I prefer GM if you want to play the short side.
Disclosure: I have no positions in any stocks mentioned, and no plans to initiate any positions within the next 72 hours. I wrote this article myself, and it expresses my own opinions. I am not receiving compensation for it (other than from Seeking Alpha). I have no business relationship with any company whose stock is mentioned in this article.