Citrix Systems, Inc. (NASDAQ:CTXS) designs, develops, and markets technology solutions that allow applications to be delivered, supported, and shared on-demand with high performance, enhanced security, and improved total cost of ownership. CTXS recently reported full-year results that disappointed investors as slowing growth fueled concerns about the competitive landscape.
For fiscal 2014, management is forecasting revenues growth of 8%-10% with GAAP diluted EPS of $1.58-$1.69, which would represent a 12% decline at the low end. For the first quarter, management is guiding towards revenues growth of 8%-10% with diluted EPS of $0.24-$0.26. In my opinion, revenue growth of 500 basis points or more represents excellent financial performance.
While CTXS faces increased competition from VMware, especially following the acquisition of AirWatch, and Microsoft, CTXS remains well positioned in 2014 with updates to its XenMobile, XenDesktop, and XenApp offerings. Additionally, CTXS's partnership with Microsoft helps it to tackle challenging legacy workloads, which provides CTXS with an advantage. Also, the partnership with Cisco should allow CTXS to capture incremental revenue as existing ACE deployments eventually migrate to NetScaler.
The distribution of CTXS shares has made the firm cheaper as investors adjust to the new normal growth rate of CTXS. This represents an opportunity for shrewd investors to accumulate shares as CTXS could grow between 7%-12% over the next three years and 3x book value is relatively inexpensive.
Recent Developments
Fourth quarter revenue was $802 million up 8% y/y. Diluted EPS was $0.74, up 23% y/y.
Mark B. Templeton returned as CEO, but will be retiring within the next year.
Citrix announced the release of Citrix XenDesktop 7.5, which doesn't force customers to use completely different solutions for on-premise and cloud and allows customers to leverage any of the large public clouds on the market.
The company also announced the release of XenApp 7.5. XenApp includes Citrix HDX Mobile, which optimizes Windows apps for mobile devices.
Citrix and Zettics, a leader in big data analytics for operators, established a strategic partnership.
Citrix DesktopPlayer for Mac is available; the application allows users to work on their MacBook laptop then seamlessly switch to any other device to access their cloud-hosted virtual desktop.
Citrix acquired Framehawk, which optimizes the delivery of virtual desktops and applications to mobile devices and will be combined with the HDX technology in the XenApp and XenDesktop products.
Business Summary
Citrix is a leader in virtualization, networking and cloud infrastructure that enable new ways for people to work better. Citrix solutions help IT and service providers to build, manage and secure, virtual and mobile workspaces that seamlessly deliver apps, desktops, data and services to anyone, on any device, over any network or cloud.
Citrix and industry-leading systems and storage vendors are working to bring down the cost of desktop virtualization. A new class of converged infrastructure architectures is delivering upfront equipment costs of under $200 per user leveraging local storage, powerful CPUs, and large capacity low-cost memory. The solutions are part of the Citrix Ready Low-cost Converged Infrastructure Verified program.
Net revenues increased $332M during fiscal 2013, relative to the year-ago period. That represents a 12.8% increase. The increase was mainly driven by license updates and maintenance revenues growth. Software as a service growth contributed a significant portion of the net revenues growth. The 7.3% increase in product and licenses revenue represented 18.4% of the total increase in net revenues. Looking forward, Software as a service could become the second largest portion of net revenues.
Gross margin during the year contracted, which is primarily attributable to the cost of services and maintenance revenue increase and partly attributable to increases in cost of product and licenses revenues and amortization of product related intangible assets. If this trend continues, the cost of services and maintenance revenues, which is lower margin than product and licenses, appears likely to weigh on the consolidated gross margin. Reinvestment in research and development, and sales marketing, and services drove the operating margin lower. That suggests the potential for above industry revenue growth in future reporting periods. The net profit margin declined 100 basis points, which was a decline of 15%.
Liquidity declined substantially at the end of the December 2013 quarter relative to the December 2012 quarter. The cash ratio declined from 0.69 to 0.50, and the current ratio declined from 1.28 to 1.06. The current portion of deferred revenues, which increased 14.6% y/y, adversely impacted both measures of liquidity. CTXS isn't carrying debt and the financial leverage ratio was 1.57, at the end of 2013. Shareholders' equity increased 6.3% y/y.
During fiscal 2013, cash flow from operations was just under $1B with free cash flow of $765.5M. Operating cash flow in 2012 was $819M. Net stock repurchases were $406M. CTXS should earn more than EPS of $1.41 during fiscal 2014.
Risks
The share price is likely to remain volatile and investors could lose a portion or all of their investment.
Investors should judge the suitability of an investment in CTXS in light of their own unique circumstances.
A decline in the global economic growth rate and/or a decline in the pace of economic growth in the United States could adversely impact the results of operations and the share price.
The technology industry is characterized by rapid technological change, which could materially adversely impact the results of operations.
Competition in product development and pricing could adversely impact performance.
Incorrect forecasts of customer demand could adversely impact the results of operations.
Higher interest rates may reduce demand for CTXS's offerings and negatively impact the results of operations and the share price.
This section does not discuss all risks related to an investment in CTXS.
Portfolio & Valuation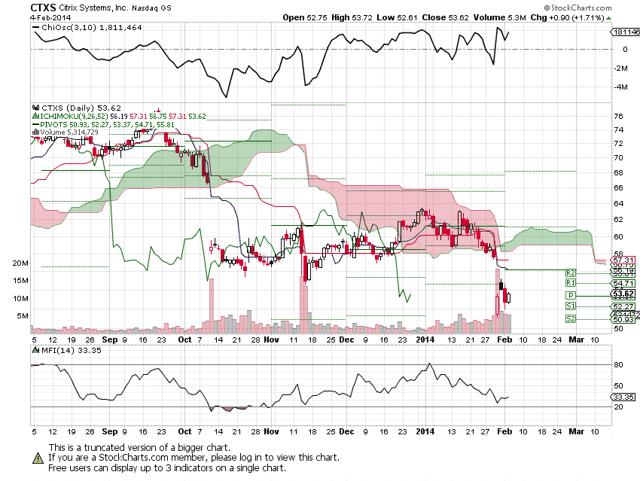 There are latent signs of strength as CTXS is in a confirmed bear market of primary degree. Aggressive investors would attempt to pick a bottom while conservative investors would wait for more signs of strength. Near term, there could be a bit of a bounce back to the 50-day SMA. Additionally, the $50 per share level should act as support, investor/trader psychology.
There are diversification benefits from investing in CTXS. Since 2009, the correlation is 0.63. But since 2011, the correlations have been negative. The correlation since 2011 is -0.36 and is -0.59 since 2013. As the broader market has trended higher, CTXS has trended lower.
The variations of the broader market explained 40% of the variations of CTXS since 2009. But since 2011 that drops to 13%. Since 2013, variations of the broader market have explained 34% of the variations of CTXS. CTXS variations could be company and/or industry specific.
I use 3-months, 6-months, and 12-months price targets. The price targets are $80.29, $82.20, and $86.01. At just over $50 per share, CTXS is well below the 12-months price target.
Given the fundamentals of the business, CTXS should be trading at a premium to the market. But the 20% premium is low by historic standards. Also, Citrix could trade at 3.5 to 4x book without being pricey. The company is likely to continue to grow (7% to 12%) over the coming three years, which could limit downside risk. Consequently, 3x book appears inexpensive.
Disclosure: I have no positions in any stocks mentioned, and no plans to initiate any positions within the next 72 hours. I wrote this article myself, and it expresses my own opinions. I am not receiving compensation for it (other than from Seeking Alpha). I have no business relationship with any company whose stock is mentioned in this article.