I was very bearish on Intel (NASDAQ:INTC) towards the end of 2013, and maybe to a point I pushed the short case a bit too hard. However, I could not find a reason for investors to be jumping into shares of the chip giant, which kept going higher despite a lack of positive news. Intel rocketed to new yearly highs in early January, and I stated that a short position would be warranted if shares hit $27 into earnings, which they did. My only regret is that I was not able to personally short Intel at that time. As you can see from the chart below, Intel shares have fallen back to earth, as the company's weak 2014 guidance and lack of dividend raise has spooked investors.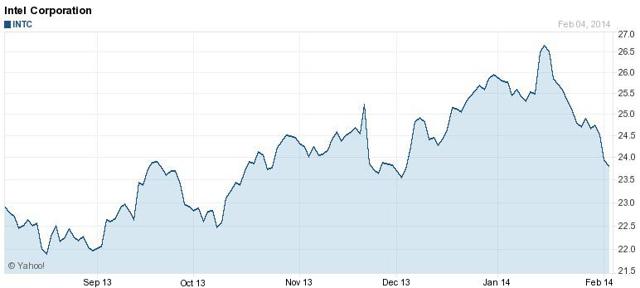 (Source: Yahoo! Finance)
This still is a company expected to have around $53 billion in revenues this year, and it is not like the company is losing money. Intel is quite profitable. But I would not pound the table for Intel shares just yet. I think we are getting closer to that point, but some downside might still remain. Today, I'll detail how reality has set in for the chip giant, and what investors should do now.
An update on estimates:
One thing I track heavily with most names is analyst estimates. Intel is a name that does provide quarterly and yearly guidance, so analysts usually aren't that far off in the end. The table below shows a history of 2014 estimates going back to Intel's Q1 2013 report. The yellow line is the day Intel held its Investor Day, and the green line is the day Intel reported Q4 2013 results.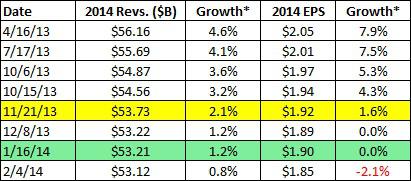 *The growth figure for 2014 revenues and earnings was based on the 2013 estimate at that time, an estimate that kept changing. Now that we have final results for 2013, the 2/4 update and any future updates will be the actual growth number, not based on a floating estimate.
When Intel announced its Q4 results, the company reiterated guidance for flat revenues in 2014. Intel originally handed this forecast in during its Investor Day Presentation in November. Most originally thought Intel was being conservative or sandbagging guidance to set up beats. Intel shares dipped briefly on the disappointing forecast, but then headed to new highs as we approached the Q4 report. When Intel reiterated the forecast, investors started to realize that 2014 might not be the turnaround year many were expecting.
Analysts are still holding some hope for revenue growth, with the current average estimate implying 0.8% growth. I do think these estimates are likely to come down, especially as it seems there is one analyst who may be too positive right now. The high estimate on the street for 2014 going into Intel's Q4 report was $55.30 billion, and now the high estimate is $55.35 billion. That implies 5% revenue growth, a mark I do not think the company will ever be able to hit. I think a positive year for Intel would be 2-3% growth, but I think 5% is way too high and that estimate will have to come down. Additionally, one analyst (maybe the same one) is looking for $2.12 in EPS this year, after $1.89 in 2013. The way Intel is spending right now, I don't see how the chip giant can come anywhere close to that. I think $2.00 would be a huge success right now, but $2.12 seems out of the question. Thus, I think estimates still have a little room to the downside, but those high estimates may not come down until after the Q1 report or even later.
Bay Trail a flop?
Perhaps one reason why Intel shares lagged on Tuesday was a negative note out of Bernstein. Analyst Stacy Rasgon believes that Intel's current version of chips, led by Bay Trail, are aimed at the higher end of the market, primarily the part dominated by Apple (NASDAQ:AAPL) and Samsung. Rasgon doesn't think that Intel will ever get inside the iPad, and Apple had tremendous success in its fiscal first quarter with the iPad. I've been hoping that Intel could get into Apple eventually, but I thought that this was at least a couple of years out, at best. That is if Intel proves itself in the tablet space, which so far, the company is well behind.
Rasgon has an Underperform rating on Intel and an $18 price target. He believes that Intel's actual cost on its chips is more than the $20 subsidy that the chip giant has told the street. He believes it could be $51 in embedded costs, as he explains here:
Intel's guidance for 2014 incorporates the financial consequences of scaling the tablets strategy. The company has guided to flattish revenues, and gross margins of ~60%, which include a ~150 bps hit from the tablet subsidies, with a goal to move 40M tablets (up from ~10M in 2013). Now much of the math we have seen along these lines has been somewhat simplistic (e.g. "150 bps of GM on $53B in revenue is ~$800M/year in subsidies). In actuality, the math doesn't work that way (indeed, this simplistic math understates the true magnitude of the costs as we will illustrate in a moment). Rather, "contra-revenues" take away from the top line - in other words, without the contrarevenues, Intel's own revenues would be higher (under the assumption that they would still be able to sell their tablet chips), and gross margins would be consequently higher as a result of the higher revenues. However, working through the math properly yields a somewhat strange result. In fact, accounting for a 150bps hit to gross margins, strictly due to "contra-revenues," would imply over $2B in rebates taken off the 2014 financials (e.g. Intel's revenues would need to be $2B higher, on the same COGS base, to drive gross margins 150 bps higher than guidance). This would imply an average subsidy of over $51 per tablet, MUCH higher than Intel's stated $20 or so, and which on the surface seems absurd.
Rasgon doesn't see an opportunity for Intel overall, thinking that Intel, based on these numbers, won't gain more than a few billion dollars of revenues annually. He doesn't see this moving the needle for Intel with more than $50 billion in revenues annually. This is especially true if the PC division continues to contract. What would move the needle for Intel? Getting into the iPad would certainly help.
Value investors getting frustrated:
As was mostly expected after the Q4 results and 2014 guidance, Intel did not raise its dividend in January. After no raises during calendar 2013, the hope was that Intel might raise the dividend in January to get back on a first quarter raise cycle. However, as I've started to detail, Intel remains above its 40% free cash flow payout ratio. Until Intel's free cash flow improves, the dividend is not likely to be increased. Even those investors that thought the company might reward shareholders with a half cent or a penny increase ended up disappointed in the end.
The prospects for a dividend raise seemed to lessen as 2013 went on, but there was still a glimmer of hope. When Intel did not raise the dividend in January, investors became a bit more frustrated. This is another reason why reality has set in that 2014 won't be the year many expected. I said in the article above that if Intel gets off to a good start in 2014, a dividend raise in the second half of the year might be considered. However, the probability of this at the moment seems very low, so investors should not be expecting a raise. At Intel's 52-week high pre-earnings of $27.12, the dividend yield was 3.32% on an annual basis. As of Tuesday's close, the yield was back up to 3.78%.
The other item that value investors look for is the company's buyback program. Intel was really pushing the buyback in 2011 and 2012, even taking out a bit of debt to do so. However, the company really slowed down the buyback in 2013. The table below shows Intel's diluted share count per quarter. This is the count used to determine EPS for the quarter.

In Q4 of 2013, the diluted share count rose over the prior year period. Intel did buy back over $2 billion worth of stock in 2013, but that was less than half the amount bought back in 2012. As you can see, the diluted share count still rose despite the buyback. If Intel slows down the buyback even more in 2014, the share count will probably continue to rise. A rising share count, or even a stagnant one, will hurt Intel's quest for rebounding EPS. In past quarters, the buyback was helping to boost EPS by pennies or even a nickel. That boost has gone away for now. I don't know if Intel will increase the buyback rate in 2014 if the company is not raising the dividend. As I've detailed in past articles, a large chunk of Intel's cash is going to capital expenditures right now.
Comparisons:
A lot of frustration from Intel investors comes from this lack of growth story the company is putting out there. Remember, Intel has reported two straight years of revenue declines, and two years of plunging earnings. Investors want a rebound, but Intel is not providing hope. I kept warning investors that Intel needed to stay out of Cisco Systems (NASDAQ:CSCO) territory. What do I mean by that? Well, look at the following table showing Intel's growth and valuation against some other top techs, including Microsoft (NASDAQ:MSFT), Qualcomm (NASDAQ:QCOM), and Apple.

*EPS growth and P/E are non-GAAP.
Intel's numbers are getting closer to that of Cisco each week. That's not a good thing. Apple's forecast has been cut a bit since its weak guidance, but Intel investors would probably kill for that amount of growth right now. If you are looking for growth in the chip space, Qualcomm is your best bet, even if you have to pay a bit more. Qualcomm's GAAP P/E is probably around 16, depending on what conversion you use. Right now, with Intel's results not being very strong, the company just doesn't deserve a high multiple. So I think Intel shares will probably remain stagnant in this 12-14 multiple area, around Apple/Microsoft for the time being. Sure, Intel has the highest yield right now, but 22.5 cents a quarter doesn't seem like much when the stock drops multiple dollars in a few weeks. Right now, if looking for a large cap tech investment from the names above, I'd go with Apple, Qualcomm, or Microsoft as my best bet.
Technical update:
In late 2013, Intel almost hit the dreaded "death cross", as the 50-day moving average almost dipped below the 200-day moving average. With shares rocketing higher into 2014, the moving averages separated a bit, and recently, the 50-day was about $1.10 above the 200-day. But with Intel coming back down, the 50-day has started to roll over, and the gap between the two is starting to narrow. If Intel shares can't hold the 200-day or stay close to it, I fear shares could remain pressured for a while. I'm not calling for the death cross to be hit anytime soon, but if shares remain stagnant I'll need to bring it back up in a month or so. A chart below shows the stock with the two moving averages.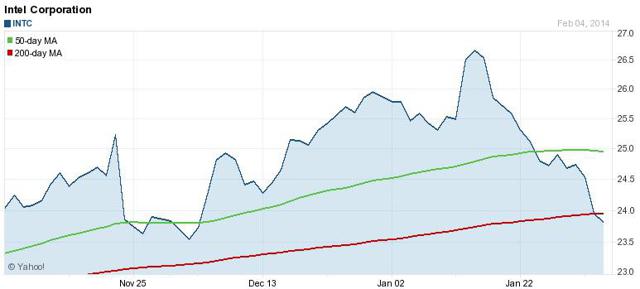 (Source: Yahoo! Finance)
Final thoughts:
Reality has set in for Intel investors, and shares have come down more than $3 from the 52-week high. 2014 does not look like it will be the turnaround year many had hoped for. The company did not raise its dividend, and the buyback rate has slowed to the point where the diluted share count is rising. An Intel analyst even warned investors on Tuesday that the company's tablet plan in 2014 might be more expensive than thought. Additionally, the analyst thinks Intel may never see the inside of the iPad, something I think would be a really big long-term negative for Intel. Remember, Apple sold more than 26 million iPads in its latest quarter.
I'm not pounding the table about an Intel short like I was at $27, but I think Intel remains stagnant or goes a little lower from here. I wouldn't be calling for a bottom until I saw some or all of the following come true:
2014 yearly revenue growth estimate average closer to 0%, maybe at 0.5% maximum. If the average estimate stays closer to 1%, another reiteration of the 2014 forecast will be seen as a third disappointment.
EPS estimate average closer to $1.80. I'd like to see estimates come down a few more pennies. While I think there is more room for a beat on the bottom line, Intel has missed EPS estimates in three of the past four quarters.
A stabilization of the 50-day moving average. Now that this moving average is in decline, it might hold back Intel shares for a few weeks/months. Once this levels off, I'd be much happier.
A little more cash. About half of Intel's cash position is located outside the US, unable to be used for dividends or buybacks. While Intel doesn't have any major debt due for a couple of years, I believe that the net US cash position is negative. I will confirm this once the 10-K is filed.
For the moment, I would consider Intel a continued short for another dollar or so, but I wouldn't be too crazy about it. If you're already sitting on some nice gains, taking profits wouldn't necessarily be a bad idea. If you want to keep shorting Intel, I would recommend some short of hedge. Every investor has their own preferred options strategy, so I won't recommend any single one. At the moment, Intel remains a short candidate, but I would not short the name without some sort of hedge. Intel is closer to bottoming, in my opinion, but the stock is not there yet.
Disclosure: I have no positions in any stocks mentioned, and no plans to initiate any positions within the next 72 hours. I wrote this article myself, and it expresses my own opinions. I am not receiving compensation for it (other than from Seeking Alpha). I have no business relationship with any company whose stock is mentioned in this article.
Additional disclosure: Investors are always reminded that before making any investment, you should do your own proper due diligence on any name directly or indirectly mentioned in this article. Investors should also consider seeking advice from a broker or financial adviser before making any investment decisions. Any material in this article should be considered general information, and not relied on as a formal investment recommendation.