Anyone who has been paying attention to current events knows that there has been record cold weather sweeping across the nation due to a polar vertex. This unusual weather has affected areas like Southern California, which is now experiencing a drought and a call to conserve water by the governor. But of course, it has also affected most of the rest of the country in a much different way, with record cold temperatures. Just look at some of these record temperatures that hit in the fall and expect to continue into winter.

(Source: Accuweather)
So what does this temperature mean for investors? There's almost always a way to profit off of short-term trends and events, and this one is no different. The cold weather has been blamed for weak jobs numbers that came out in January, though I doubt the validity of that argument. However, the cold weather has also led to more heating in homes. Many of the homes across our country are powered by natural gas, and so because of the weather, natural gas demand has increased. You don't have to take my word for it, see for yourself.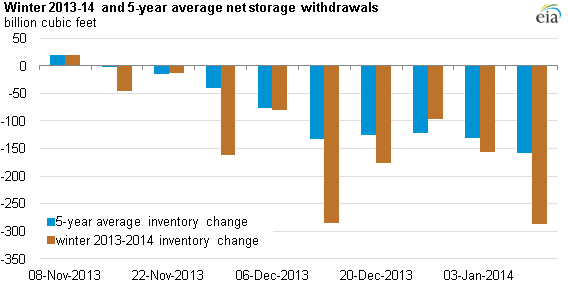 (Source: eia.gov)
From the government's website itself, they attribute the record increase to net storage withdrawals, and subsequently record natural gas demand and a spike in natural gas prices, to the record cold weather. You can see how this winter season compares to previous seasons with the following graph.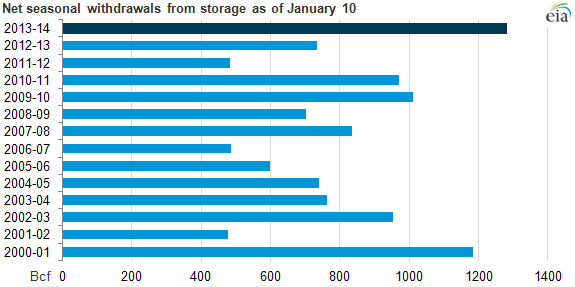 (Source: eia.gov)
It's very possible that the market hasn't priced in this change just yet. The market is always slow to trends, and will be slow to this one as well. Until we see the resulting increased earnings from the natural gas producers, most of Wall Street won't be aware of this.
This change in weather will seemingly benefit all of the major producers of natural gas. As demand for natural gas increases, the benefits to producers will include increased revenues and pressure for higher natural gas prices, which will further boost profits. Exxon Mobil (NYSE:XOM) is one of the leaders of this industry and will profit greatly if these trends hold. From their most recent annual report, XOM expects natural gas and oil output from North America to increase in the next 5 years. Management estimates this output to grow from 32% of productions to 35% of their total volumes, and I believe it could grow much more than that. As you'll see below, a combination of favorable short-term trends like weather and long-term trends like increased exporting, prices, and production could push the stock much higher from here.
How much could bullish natural gas prices affect XOM? Before I can answer that question, I must reveal the earnings breakdown of the company. XOM is a major natural gas producer, but is also heavily involved in crude oil production, petroleum, refining, and also has a chemical segment. Most recent production numbers look like the following.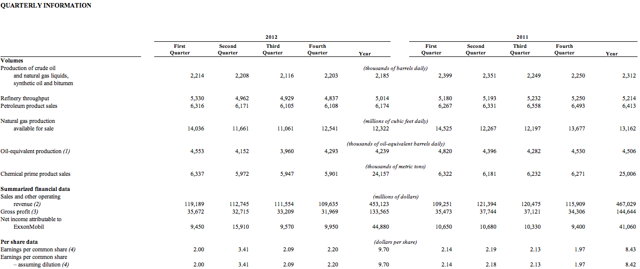 This production results in the following earnings breakdown.

(Source: SEC.gov)
As we can see, the earnings breakdown is highly diversified. In years of lacking crude oil sales, such as 2012, segments such as natural gas have done their part to pick up the slack. Seeing this diversification also helps us understand how much earnings can be affected by changes in commodity prices, specifically natural gas and crude oil prices. More specifically, management reports that a $1 change in the price of crude oil would result in an approximate after tax change of $350 million in upstream earnings. For natural gas, a $0.10 per kcf change would result in about $200 million in upstream earnings.
If my thesis holds, then we could very well see an increase in the price of natural gas. In fact, it isn't off base to think that the price could double from here based on the long 30-year history of natural gas prices shown below, which have ranged from about $3 to even $13. So if the price of natural gas increased by $1 from here, the resulting boost to earnings would be about $2 billion. With the current P/E ratio of 9.5 (calculated below with the latest annual report and current share price), the corresponding increase in market capitalization would be $19 billion, or an increase in $4 per share for XOM [from $92.16 to $96.16].
This initial share increase is actually quite conservative. The price of natural gas could very well increase by $3, or even $5. This would shoot the price of XOM to $104.16 and $112.16, respectively. Again these estimates are conservative when you consider that the P/E ratio of XOM in the past 21 years has been an average of 14.73. In this case, a $2 billion increase in earnings would account for a $29.46 billion increase in market capitalization. This would push the share price of XOM to $98.53 from $92.16. With an increase in natural gas price of $3, the corresponding share increase would be $19.11 to $111.27, and a $5 increase leading to a $31.85 appreciation to $124.01. As you can see, the possible upside is quite substantial for XOM.
Yet even these estimates are conservative because they don't account for growth in the other earnings segments which would naturally occur with or without a change in natural gas prices. The average growth in the past 3 years for the company has been 9.3%. The 3-year average for 2011 was 34.8%, and for 2010 was 58.0%. The future for XOM is bright without my natural gas estimates, and even brighter with them.
So why am I so confident in higher natural gas prices?
For starters, a short-term trend is not enough for me. While it should make for a small bump in the near future, I'd prefer to see a trend in long-term demand. This requires looking past the seasons and seasonal weather, and digging into some macroeconomics.
We've seen record supply in natural gas in the past several years due to rapid technological advancements, which quickly engulfed the market and greatly suppressed the price of natural gas. You see this when a sharp increase in supply overcomes any increases in demand. Once the price has fallen, we don't expect to see it rise until an increase in demand accompanies it. Now this is where it can get interesting. The natural gas boom in the United States has put some pressure on export regulations. With companies now pressuring the president to lift these bans, many experts expect this to be inevitable. The truth is, lifting these bans will benefit both parties twofold, giving more power to the president and unlocking vast profit opportunities for the companies involved. Of course, again don't take my word for it.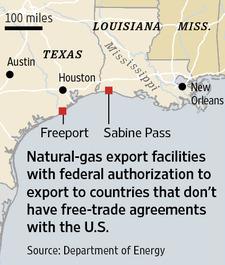 (Source: WSJ)
Just last year, the United States approved the $10 billion facility in Freeport. This is a huge step in the direction of broader natural gas exporting. Not only would the exports benefit the two parties above as I stated, but this would also provide the necessary boost to our economy and also keep the dollar strong. If this trend is really playing out like I anticipate, we should expect to see the price of natural gas trending in the same direction.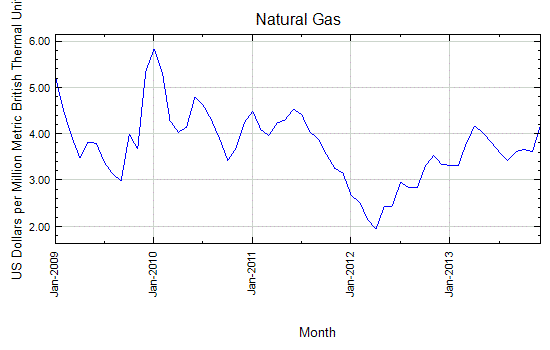 (Source: IndexMundi)
We see that after bottoming in early 2012, the price of natural gas is trending upwards again. Compare that to the 30-year history of natural gas prices, and you'll see that every major peak in natural gas prices was followed by a bottom and subsequent peak.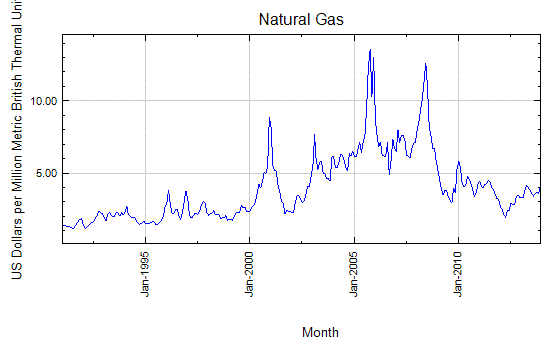 (Source: IndexMundi)
Of course, there are many factors involved with each peak and valley, and so we can't just use one as a basis for future expectations. But this outlook does help to show us that the price has been much higher than 10mmBtu before. Therefore, it's not ridiculous to assume that the price could easily double from here. If we are able to lift export regulations for natural gas, then we'd want to see increased demand from other countries. In other words, we want to know that there is enough demand around the world to fulfill our exports.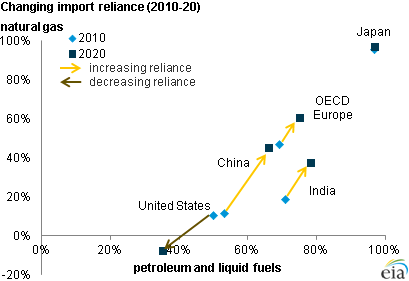 (Source: eia.gov)
This may be the most promising and telling graph of them all. You see the major developing economies of China and India expecting an increase in natural gas reliance. This is fantastic for natural gas producers in the United States! You see 3 major economies, China, India, and OECD Europe, increasing reliance, while at the same time the United States is decreasing reliance. This is not to say we don't have competition, so how does our country stack up against the other exporters? Again this is important to consider.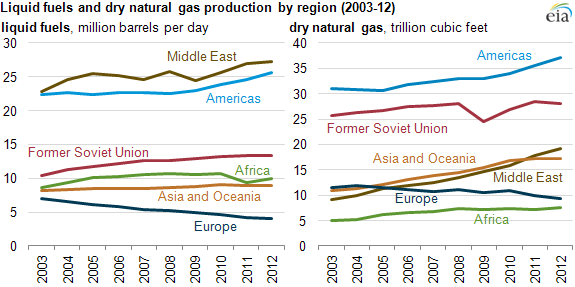 (Source: eia.gov)
You can see that we are the clear leader in natural gas production. (Note: The Americas is referring to both North and South America). Not only are we clear above the former Soviet Union and the Middle East in natural gas production, but production is trending up while production in Europe is trending downwards.
All signs are pointing in the same direction. It all supports my general thesis. The future for natural gas producers is extremely bullish. It gets even better. Since the oversupply of natural gas had flooded the market early and caused the price to fall, many of these natural gas producers are trading at very attractive valuations.
Being early to this trend helps investors twofold:
1. Take part in the profits early on
2. Natural gas companies are undervalued
Like the theme of the rest of my article, you don't have to take my word for it. The analysis that follows will quickly show you that these companies are undervalued, and why Exxon Mobil is the best positioned out of all them. Before settling on a natural gas company, it's important to consider the top players in the space.

(Source: ngsa.org)
Specifically, I want to focus on the top 3, who are all producing at least 2,000 MMcf/day for 2013. Southwestern Energy Co (NYSE:SWN) is the fastest grower of the group but doesn't pay a dividend. Others may want to chase that growth and that's fine, but not for me. I know that you can still get growth with a dividend and that's how I invest.
I ran my Value Trap Indicator for each of the three companies, Exxon Mobil, Chesapeake Energy (NYSE:CHK), Anadarko (NYSE:APC), to determine which one currently looks favorable. Keep in mind that if I am right about the natural gas trend, all 3 and even all 10 of the companies listed above could very well rise together. I am not trying to find the one that will rise the most, that is a fool's game and comes with substantial risk. Instead, I will find the one that is well positioned to rise but also has downside protection in case the trend doesn't play out correctly, hence my term "safe profits".
Note: The Value Trap Indicator is a number that reflects the current risk of a security. It looks at 7 important categories: P/E, P/B, P/S, P/C, Debt/Eq, EPS Growth, and Dividend Yield and Payout Ratio. It then assigns a number. 250 and below is a buy, 800 and above is a strong sell and possible value trap. All figures below are from the 2013 Annual Report, which has numbers from 2012.
3. Anadarko @ $80.69
Value Trap Indicator = 315.28.
On the surface, this company looks like the best play. It has grown in natural gas production from 2012-2013, and has very favorable valuations (P/B = 1.82, P/E = 23.05, EPS Growth = 188%). However, as I was running my Value Trap Indicator, I noticed something unfavorable. In the last 5 years, the company has had negative earnings twice. In fact the company had a negative year in 2011, which means that the strong EPS growth we see in 2012 is not really growth. Growing from a year of negative earnings is not the same as sustained growth, and it grossly inflates the growth numbers, making the growth seem higher than it really is. The 188% EPS growth doesn't accurately reflect real growth on the bottom line.
2. Chesapeake Energy @ $26.91
Value Trap Indicator = 880.71
This stock lost money in 2012. While the stock sure could rebound next year, that's a risk I'm not willing to take. I'd rather wait for better financial conditions or find a company with a more solid balance sheet. This kind of conservative investing allows me to still participate in market bull runs while avoiding stocks that are in trouble and could be very unpredictable. The stock is trading at a low price to book value, but the negative earnings signal that the margin of safety is not there.
1. Exxon Mobil @ $92.16
Value Trap Indicator = 195.43
Exxon is the #1 natural gas producer in the United States, and it's also in the most healthy financial condition. P/B is kind of high but the low P/E makes up for it. As I'll show below, the company is actually trading at historically low valuations, making it a great bargain. The EPS growth is smaller but also sustained and with a track record. The dividend is consistent and growing, something the other companies aren't doing. This is how we will truly compound our dollars. Debt to equity is hovering around 1 and reflects the strong balance sheet.
These numbers will change next month, March 2014, when these companies file their 2014 annual reports. It will be interesting to see how this could open up more opportunities for investments.
The final advantage with Exxon Mobil is that it is trading at valuations that are cheap relative to its average over the past 21 years (1992-2012). I ran these calculations so that you can see for yourself. [Again, current valuations are based on 2013 Annual Report figures and the current share price.]
P/B (1992-2012) = 2.91
P/B (Current) = 2.63
P/E (1992-2012) = 14.73
P/E (Current) = 9.5
P/S (1992-2012) = 1.08
P/S (Current) = 0.88
P/C (1992-2012) = 44.58
P/C (Current) = 44.51
Debt/Eq (1992-2012) = 1.1
Debt/Eq (Current) = 1.06
Like I said earlier, all signs point to a safe buy. With the recent tumbling of Apple's (NASDAQ:AAPL) stock and a probable increase in natural gas demand, I wouldn't be surprised to see XOM overtake AAPL as the #1 biggest U.S. company by market capitalization once again.
Disclosure: I have no positions in any stocks mentioned, but may initiate a long position in XOM over the next 72 hours. I wrote this article myself, and it expresses my own opinions. I am not receiving compensation for it (other than from Seeking Alpha). I have no business relationship with any company whose stock is mentioned in this article.