Bank of America's (NYSE:BAC) blowout quarter reported a couple of weeks ago sent the stock up and along with it, price target hikes from analysts. BAC is doing pretty much everything right these days and in this article, we'll take a look at one of the biggest costs on the income statement, the company's efficiency ratio. In doing so, we can see where BAC has been in terms of labor costs and where it could potentially go in the future, thereby offering clues to potential cost savings and increased profits down the road.
The efficiency ratio is a common metric in banking that shows what percentage of revenue a bank is spending on noninterest costs, the largest of which is labor. The efficiency ratio is important as a way to help investors understand how productive a bank's employees are at generating revenue as labor is usually the largest noninterest expense. BAC's efficiency ratio for the preceding ten years is below.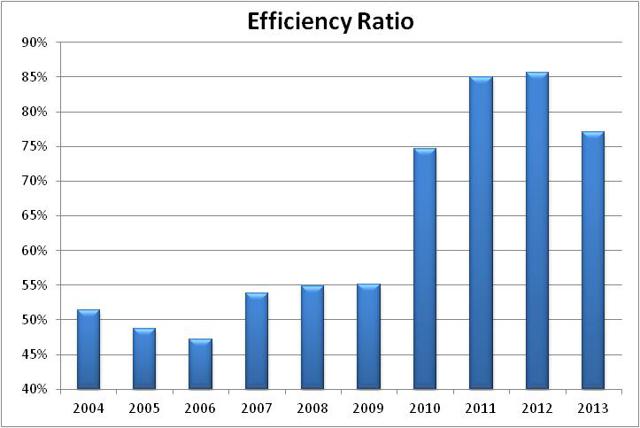 Click to enlarge
As you can see, prior to the crisis and the mega-mergers with Countrywide and Merrill Lynch, BAC was pretty steady at around 50% of revenues spent on its noninterest expenses. This is an excellent efficiency ratio for a bank and in particular, when you consider the size of BAC. However, we can see that during the financial crisis the ratio jumped to 55% and then in 2010, we see it skyrocket to 75% before hitting its high of 86% in 2012. The good news is that the ratio fell precipitously in 2013 but is still elevated at around 77%.
So what happened? Before taking on Countrywide and Merrill, BAC generally saw expenses and revenues increase commensurately. Thus, the ratio was pretty steady. However, the crisis and mergers brought with them simultaneous, enormous increases in expenses with decreasing revenue. This is a recipe for the ugly chart above and is a significant reason why BAC's results suffered so mightily during the crisis and why its shares ended up trading for $5.
For instance, 2008 saw total revenues of $73 billion. The next year the combined company including Countrywide and Merrill Lynch reaped $119 billion, which is why we see the chart above barely budge in 2009; the massive increase in revenue masked skyrocketing costs. However, 2010 saw the beginning of the problems at Countrywide and revenue dipped to $110 billion. The following year, BAC produced just $93 billion in total revenue but costs largely remained the same, which is why we see the efficiency ratio jump to a staggering 85%. With sales coming in at just $89 billion in 2013, BAC managed to reduce its efficiency ratio through its now-famous Project New BAC, cutting extraneous costs from its model in an effort to increase profitability on the revenue it has.
This is great news for shareholders as even though BAC's efficiency ratio has clearly gotten out of hand, it is improving and the outlook for continued improvement is very strong. While analysts expect flat revenue this year at around $90 billion, next year should bring a moderate increase and with BAC's leaner cost structure, should offer additional margin on that revenue. While only BAC knows exactly how much of the increased revenue will flow to the bottom line, the point is that BAC is showing tremendous earnings leverage and that will undoubtedly continue with increased revenue and still-lower costs.
So what does all of this mean in terms of earnings? If we assume that BAC can continue to optimize its cost structure at even a snail's pace, with the company's efficiency ratio coming in at 75% for 2014, that would mean an additional $1.8 billion in pre-tax earnings that would accrue to shareholders over 2013's results. You can see how BAC's rightsizing efforts can have enormous effects on the company's earnings; when you're talking about a revenue base of $90 billion it doesn't take much to make a material impact.
If we look forward to next year and assume that BAC can get to 70% on its $94 billion in revenue, BAC would see another $3.5 billion in pre-tax earnings due to the lower cost structure in comparison to 2013. The point is that BAC has an enormous amount of earnings leverage simply because it is reducing costs at a rapid rate. Looking years down the road the leverage could be enough to increase earnings in the mid single digits by itself irrespective of other changes in the business. And the best thing about cutting costs is that BAC doesn't need to add back in more labor to generate additional revenue the way a manufacturing operation does, for example; when additional revenue flows in, it has the ability to flow directly to pre-tax earnings.
BAC has done an outstanding job of cutting the unnecessary costs from its business model and while it isn't done yet, it is certainly making strides. Coupling these changes with the company's improving revenue outlook means that we should be seeing earnings increase at a much faster rate than revenue in the coming years and with that, the share price should do likewise. There are a lot of things for BAC shareholders to be excited about but don't overlook something as simple as removing costs from the model; the results can be astounding.
Disclosure: I am long BAC. I wrote this article myself, and it expresses my own opinions. I am not receiving compensation for it (other than from Seeking Alpha). I have no business relationship with any company whose stock is mentioned in this article.