Following the announcement of Apple's (NASDAQ:AAPL) deal with China Mobile (NYSE:CHL), the mobile gaming stock most likely to benefit, in my opinion, from a double-whammy of an additional 24 million iPhones held in the hands of gamers in China, of which, whose spending on gaming apps soared 247% (y-o-y) in 2013 is: Glu Mobile (NASDAQ:GLUU).
Sure, companies such as the multibillion-dollar Zynga (NASDAQ:ZNGA), Electronic Arts (NASDAQ:EA) and Activision Blizzard (NASDAQ:ATVI), among others, will benefit from the Apple/China Mobile deal as well, but Glu's relatively tiny $300 million cap and expected robust revenue growth could propel GLUU more like a penny stock on the way up from the addition of the Chinese market when compared with Glu's much larger brethren.
When I state "expected revenue growth," I'm referring to two primary issues which excite me about the potential of Glu.
I also expect Glu Mobile could reach $9 in 2015, but, first, the lead-up to my analysis.
Brief Rational For My Estimate
First and foremost, Glu's ability to pump out games, 14 games, on average, since December 2008, with a crew of less than 550 is quite remarkable in this business. The company has shown its steady internal production prowess, unlike, say, Zynga, whose reputation for abysmal returns on R&D and irregular releases are less than stellar (though, maybe, could change from the NaturalMotion acquisition).
Moreover, industry watchers estimate that Glu could launch as many as 34 games (see page 26, Q313 Earnings Call presentation) to China's 759 million China Mobile customers this year, constituting a full-frontal assault and potential explosion of Glu's revenue stream with just a single hit - which, by the way, appears to be in the bag already with the company's new sensation, Deer Hunter (DH14).
Though, slipping to no. 19 from a high of no. 5 app (highest grossing) at the Apple App Store in the United States, Deer Hunter shows promise in China in 2014, as Apple expands sales of its iPhones via China Mobile to 340 cities from only 16, presently.
Second, and the issue which needs expounding, is the projected 18.3% increase in Glu's revenue, estimated by 10 analysts surveyed by Yahoo.
That mean estimate doesn't jibe with the industry's expected growth rate of an average 56.5% per year for the next two years (to 2015), according to marketing firm, SuperData.
Rhetorically speaking: Why would Glu lag the growth rate of the industry?
So, I'm assessing, say, a percentage closer to 30%, as a compromise. The 10 analysts, surveyed by Yahoo Finance cannot accurately predict 18.3% revenue growth any more than I can assume 30% revenue growth for 2014 and 2015 (all else being equal); it's an assumption these analysts cannot make given the inherent unpredictability of any one game's revenue for the year.
Therefore, the revenue projection of the 10 analysts most likely came from Glu, itself, which stated in its Wedbush California Dreamin' Consumer Conference presentation materials, dated Dec. 10, 2103 (published before the Apple/China Mobile deal), "Estimated initial baseline total non-GAAP revenue growth rate of approximately 15% to 20% for 2014 from the full year 2013 guidance."
Glu added, "However, investors should bear in mind that this estimated growth reflects current estimates as Glu is in the early stages of its 2014 planning process."
Mystery solved. The estimate probably came from Glu.
Running the Numbers to Reach a $9 Stock
Given this fortuitous news of the Apple/China Mobile deal, let's run some hypothetical numbers for 2014 and 2015, including the newly-hatched China iPhone market.
If Apple is expected to sell 24 million iPhones in China through China Mobile, that's an increase of 24 million, or 11.5%, to the 208 million estimated (crudely extrapolated from 2013Q4 sales) to be sold units, globally, according to industry intelligence firm, MacRumors.
Since the roll-out of iPhones will take place during 2014, let's assume ½ of the 24 million users, or 12 million equivalent users, hold an iPhone during 2014.
If the mobile gaming apps market grew by 247% in 2013 from 2012 in China, let's cut the rate in half for 2014, or 123%, as a conservative estimate of growth in revenue in China from gaming apps estimate for 2014 (conservative, in that, China's game apps is a hot market still in its infancy).
Glu states in its Wedbush California Dreamin' Consumer Conference presentation materials, 64% of its revenue is derived from iPhone apps, with another 31% derived from Android apps.
So, to include China Mobile's market to Glu's top line, our revised revenue calculation can be estimated by the following formula:
Added 2014 Revenue from the Apple/China Mobile deal = 11.5% x ½ x 123% x 64% = 8.2%
Then, 8.2% + 18.3% (analysts estimate) = 26.5%, 2014 full-year guidance to the revenue growth rate.
In 2015, all else being equal, the Apple/China Mobile deal could reasonably be estimated to add 34.7% (26.5% + 8.2%) additional revenue from 2014's revenue, with the additional 8.2% coming from a full-year's potential revenue from the entire 24 million iPhone users.
To give a clearer picture of the impact of the Apple/China Mobile deal, I reconstructed 2014 guidance and added the possible impact to 2015 - the year when I think Glu could really become interesting to Wall Street.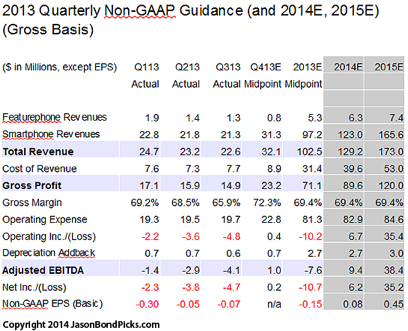 Conclusion
From the chart, I estimate $129.2 million and 173 million of revenue in years 2014 and 2015, respectively. For this exercise, Gross Margin was held steady, at 69.4%, and Operating Expenses were held to a small increase from 2013Q4's estimate.
Therefore, Adjusted EBITDA calculates to $9.4 million and $38 million for years 2014 and 2015, respectively. Net Income comes in at $6.2 million and $35.2 million, respectively, assuming "tax loss carryforwards" accrued and applied to 2014 and 2015 from previous quarters of losses (rough estimate).
Then, assuming no additional dilution of shareholders stock outstanding, Glu could earn 8 cents and 45 cents per share for years 2014 and 2015, respectively.
At a P/E multiple of 15-times, by 2015, investors could easily justify GLUU trading $6.75, with the potential of traders assessing a 20-times multiple, or $9, to the stock.
Those estimates, I believe, could turn out to be very conservative, indeed. If Glu can achieve those kinds of numbers from years of losses, multiples of more than 20-times could result, as many tech stocks already sell at much more than 20-times earnings.
Disclosure: I have no positions in any stocks mentioned, but may initiate a long position in GLUU over the next 72 hours. I wrote this article myself, and it expresses my own opinions. I am not receiving compensation for it (other than from Seeking Alpha). I have no business relationship with any company whose stock is mentioned in this article.