In my previous article on Philip Morris (NYSE:PM), I discussed the prospects of the e-cigarette business and also made an analysis of its shareholder and dividend yields. Although I had covered most aspects in the last article, this discussion on Lorillard (NYSE:LO) will be based on its capability to capitalize growth opportunities from the increasing market for e-cigarettes. In my opinion, all investors should maintain a portfolio with an appropriate mix of dividend champion stocks and growth stocks. Lorillard can be considered as a perfect example of both characteristics.

Source: ycharts.com
While Philip Morris, Altria (NYSE:MO) and Reynolds American (NYSE:RAI) are good companies for income investors, they fail to provide attractive capital returns. On the other hand, Lorillard outperformed the S&P 500 index and gave higher capital returns compared to its peers. If we also consider the Total Shareholder Return, which also includes the return in the form of dividends, it will stand at around 43% in 2013 for Lorillard, which is higher than Altria's 34.68%, Philip Morris's 12.9% and Reynolds American's 31.73%.
A closer look at the Financials
The TTM operating margin of Lorillard stands at 47.61% and its TTM profit margin stands at 24.59%, which gives a positive outlook on its bottom line. Also, its Debt/EBITDA ratio stands at around 1.49, somewhat equivalent to its long-term balance sheet leverage target of 1.5x. Moreover, the company's interest coverage ratio comes at around 12.40 times, which is quite satisfactory with respect to interest payments.
The frontrunner in the e-cigarette business
E-cigarettes are expected to decelerate the growth of the traditional cigarette market. This is the primary reason which prompted all the major tobacco players in the U.S. to take concrete steps to increase their presence in the e-cigarette business. Lorillard expects that its "Blu" e-cigarette will establish itself as the e-cigarette category leader, and estimates its share of the U.S. e-cigarette retail market to be 49%.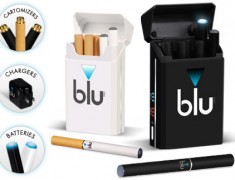 Source: smokelesscigarettebrands.com
It is expected that the e-cigarette business will display substantial fiscal growth in the coming year. E-cigarette sales in the United States grew at a rate of 115% each year between 2009 and 2012. Analysts also predict that e-cigarettes will own 15% to 50% of shares in the tobacco market within a decade. In monetary terms, this means that the e-cigarette industry will grow to be worth between $110 and $360 billion. Even the large investment banks, such as Citi, predict that e-cigarette sales will climb to $3 billion by 2015 and Wells Fargo predicts that its sales could reach $10 billion by 2017. The profit potential of e-cigarettes is very attractive, as Lorillard generates a 34% gross margin from the e-cigarette division, which is slightly lower than the 36% gross margin generated by its traditional cigarette division. Moreover, Lorillard believes the popularity of e-cigarettes will persist with improvements in technology. However, e-cigarettes have recently been facing a lot of legal hurdles.
Difficult road ahead for the company
So far, e-cigarettes have not been approved by FDA as a safe and effective product to quit smoking. It is also likely that the FDA will put regulations on e-cigarettes similar to those that currently apply to cigarettes, cigarette tobacco, roll-your-own tobacco and smokeless tobacco. The FDA can also put a ban on the advertising of e-cigarettes. At present, electronic companies have the liberty to advertise their products on television, in magazines and on the radio.
Recently, the FDA and researchers at the University of California, Riverside have found evidence of carcinogens and other toxic materials in the e-cigarettes' vapor. According to the FDA, vapor of an e-cigarette behaves similar to second-hand smoke, which extends the risk to children, who are more prone to develop diseases like asthma, eczema and allergies when they inhale the vapor. Anti-smoking activists expect that e-cigarettes will bring back the social acceptance of smoking, thus hindering the efforts which are leading to the elimination of tobacco use. Although Lorillard has expressed its view, arguing that e-cigarettes should be treated differently than traditional cigarettes, and that there should be a reasonable FDA regulation put on the product, it believes that the e-cigarette is the most promising harm-reducing product yet. Already the company is facing a possible menthol cigarette ban by the FDA, which could pose a problem for the company as 75% of its revenue comes from menthol cigarettes. As per a new FDA review, menthol cigarettes are more dangerous than regular cigarettes. The review does not suggest that menthol is toxic, but it says that the mint flavor, along with the menthol's ability to reduce the harshness of a cigarette, seems to make people more likely to start smoking and less likely to stop. These factors make menthol cigarettes more likely to pose a threat to public health. Any kind of ban on menthol cigarettes will affect Lorillard's "Newport" cigarette, which is one of the most popular menthol cigarette brands in the U.S.
What are competitors doing?
Despite legal troubles, the future of the e-cigarette seems promising for Lorillard, but it is expected to face more competition in this category; most of the big tobacco companies have already launched their own brands of e-cigarette. Philip Morris announced plans to spend $680 million in January 2014 to build two plants in Italy to develop lower-risk alternatives to traditional cigarettes. Altria is already making its presence felt with its "MarkTen" brand of e-cigarette. Moreover, the recent deal with Philip Morris will further help it to grow in the e-cigarette business. As the industry becomes more lucrative with e-cigarettes increasing in popularity, even more companies are expected to enter into the market.
E-cigarettes provides an opportunity for the traditional tobacco players to enter closely-controlled China, which is the world's largest consumer of cigarettes. This will give a new growth opportunity to Lorillard Inc's "Blu," Altria's "MarkTen," British American Tobacco's (BAT) "Vype" and Reynolds American's "Vuse" brands of e-cigarettes.
Final takeaway
Although it is not a market leader in the traditional cigarette business, Lorillard has a promising future with its e-cigarette initiatives. The impact of FDA restrictions can be observed in the coming months, but right now, despite providing fruitful capital returns, the stock's potential depends on these decisions. Financially, the company is doing fine; more clarity on its status will come after the earnings report of the company, which will be released on February 12, 2013 (fourth quarter).
Disclosure: I have no positions in any stocks mentioned, and no plans to initiate any positions within the next 72 hours. I wrote this article myself, and it expresses my own opinions. I am not receiving compensation for it (other than from Seeking Alpha). I have no business relationship with any company whose stock is mentioned in this article. Maverick Research is a team of research analysts, this article was written by one of our research analysts, who also proof reads the content.