Tailored oil designer, Solazyme (SZYM), surprised the market on January 31 as the company announced the launch of commercial operations at its first large-scale facility in Iowa. The press release sent the company's stock soaring 33% higher on more than seven times the average daily trading volume. Ending the day at $12.97, Solazyme's rapid rise resulted in the largest percentage increase experienced by any company on the market that day.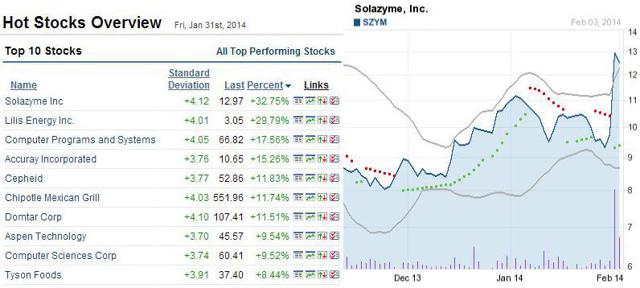 Click to enlarge
The key announcement provided Solazyme with multiple de-risking achievements on several fronts:
It proved the company could commercialize its tailored oil profiles.
It proved the company could manufacture multiple oils in a single facility with ease.
It proved the company could manufacture large quantities of oil.
It proved there is a market demand outside of the already announced supply agreements.
It proved the company could meet its construction objectives on time.
The Short Seller's Dilemma
Yet despite these achievements, many of these concepts should have been well-anticipated by those investors who have been following Solazyme for some time. After all, the imminent start at the Clinton, Iowa facility had been presented for many quarters now. Yet one factor that may have played a critical role stirring such a large market reaction lies in the outstanding short interest in the company.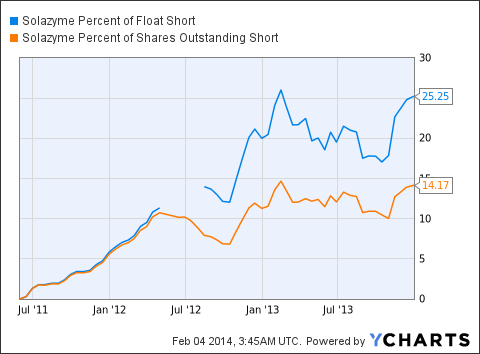 SZYM Percent of Float Short data by YCharts
For some time now, the short interest in Solazyme has only been growing as seen in the chart above. A tight share structure and a low public float has only compounded the current dilemma for the short seller. Since October 2013 to the latest reading in January 2014, the short interest rose 50% as seen in the graphic below.

Click to enlarge
Over this same time period, shares of Solazyme roughly traded between $8 and $12. With more than 3 million shares sold short during the period marked in blue, this suggested that Friday's unexpected jump in share price may have placed an increased burden on a significant percentage of the short traders. Many of these investors now face losses as the current price zipped past this range. This may have coerced some short-sellers to cover their shares and place additional pressure on the asking price.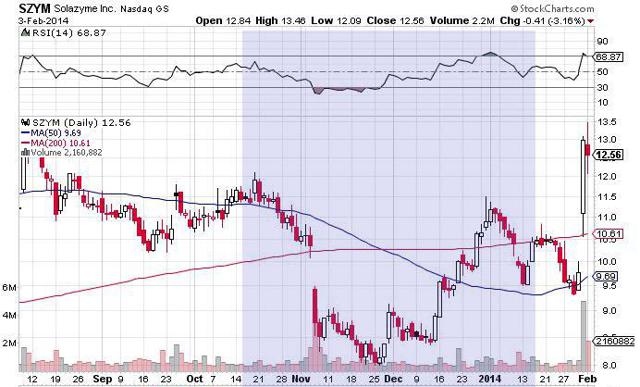 Click to enlarge
Unlocking Revenue Growth
The start-up at Clinton also signaled another reason for short sellers to cover their positions. The expansion of manufacturing capacity now allows for Solazyme to ramp-up its revenue. For some time now, Solazyme had been constrained to low-volume sales of its cosmetic brand and partnership revenue. With an increasing amount of capacity coming online and another facility in Brazil soon to follow, Solazyme appears poised for strong revenue growth.
The nameplate capacity for both the Clinton facility and the soon-to-be-finished Moema facility adds 120,000 metric tons [MT] of production capability. With a conservative average selling price estimate of $2000/MT, this can easily result in another $240 million within two years time. To date, a long-running justification of the short seller has been the lack of meaningful revenue growth for an otherwise developing company. Solazyme's total revenue for 2010, 2011, and 2012 come in at $38 million, $39 million, and $44 million respective.
The significant increase in revenue growth to come was not lost upon Raymond James analyst, Pavel Molchanov. Upon hearing of the latest news, he provided the following commentary on the company's outlook:
"While the ramp-up of production will certainly not be linear - as is always the case in industrial biotech - we anticipate utilization rising to 50% in 4Q14. This translates into a four-fold increase in total revenue from 3Q13 to year-end 2014, with product sales jumping by an even larger amount (7x). To be clear, Solazyme can get to positive cash flow at the corporate level (in 2015) even before full utilization at either Clinton or Moema."
Two Additional Thoughts
Solazyme now trades with a market capitalization of $856 million as of the last share price of $12.56 on February 3. Even after raising capital through convertible debt offering, Solazyme now trades at a lower market capitalization than at the time of its IPO in 2011. This is despite being in a significantly stronger market position now with several commercial facilities and multiple partnerships on both the upstream and downstream sides of the business. With $194 million in cash and short-term investments, Solazyme also retains enough working capital to become cash flow positive by 2015.
Having just talked to management in my latest visit found here, one reality that continues to astound me is the rather sharp disconnect between those who know the technology and those reading about it. For many interested investors, there remains a persistent fear of whether the technology can scale, a concept persistently explored in some independent articles. Yet the reality remains that much of the technology risk has long been tackled by Solazyme. It's no longer a question about scale as much as it is about managing operations. For Solazyme, the risk is more about the human factor - managing commitments and proving reliability.
Conclusion
Solazyme's significant rise on Friday served as a very atypical performance on the market for the loosely followed company. One large component of this rise is likely to rest in the significant short interest which has been growing in the company since its IPO in 2011. Ongoing losses may continue spur on a squeeze in the company's short-trading community. The sudden shake-up is likely to spur additional interest in the renewable oil company as well. Meager proof of such can be found in the Google Trend shown below:

Click to enlarge
For long-term investors, the company remains a buy-and-hold opportunity well beyond the start of commercial production. Solazyme can create tailored renewable oils, a disruptive technology which can introduce a new wave of innovation. Armed with the ability to quickly generate intellectual property, Solazyme's true value may yet be taken into full account. Such is the advantage of being first in a newly established industry.
Disclosure: I am long SZYM. I wrote this article myself, and it expresses my own opinions. I am not receiving compensation for it (other than from Seeking Alpha). I have no business relationship with any company whose stock is mentioned in this article.