Everyone knows General Electric (NYSE:GE), right? It is a mega cap industrial conglomerate. It is also the only original constituent of the Dow Jones Industrials Average that remains with it.
Jeffrey Immelt has been the company's CEO for over a decade. He appears to like his job. However, the stock has recently sold off pursuant to coming up short of a profit margin forecast that he reiterated on December 18th, and continues to decline with the overall market.
Amongst concerning data is the fact that the company's jet engine business, which has been viewed by many as strength in recent years, is included in the tepid divisions. Wind turbines are also causing scrutiny.
There are many variables at play. Investors have been focused on GE's IPO of the North American portion of its financing arm, GE Capital. It has been viewed as one of the positives.
Meanwhile, the average S&P 500 (NYSEARCA:SPY) dividend yield is currently just under 2%. General Electric investors are awarded a $0.22 quarterly payment so that their stock yields 3.61% at current prices. It is appropriate in light of the following chart showing underperformance over the long term (that does not included the compounding effects of reinvested GE dividends):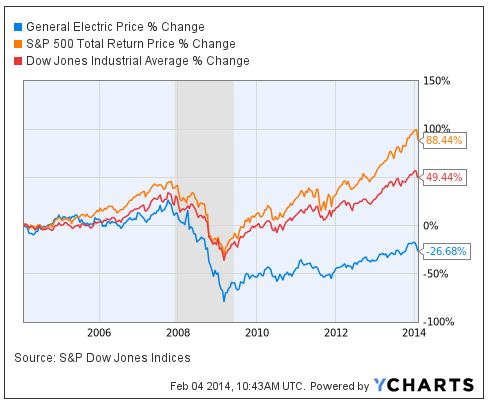 There is something of a correlation, however. It remains visible in a year to date graphic: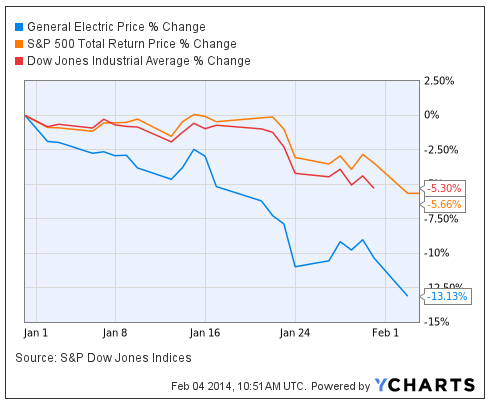 There are a handful of key considerations that have been attributed to the recent sell-off shown above (that might soon be described as a correction). The US Federal Reserve is in the process of tapering its quantitative easing programs, so low interest rates of recent years are anticipated to increase. While tapering would not be occurring without a sense that the economy is on stronger ground, this Friday's release of Nonfarm Payroll unemployment data is important. Uninspiring employment figures would not bode well for the market. Meanwhile, with easy money disappearing, there are several potentially-negative implications for emerging market economies. Like the rest of the S&P 500, GE does business around in the world and is affected by them.
There is also an issue about whether or not to raise the domestic debt ceiling that needs to be solved within approximately one month. Only time can tell if an auspicious resolution is to be achieved. Another contentious last minute round of meetings among President Obama, Speaker Boehner, Senator Harry Reid, and Vice President Biden could prove to once again be necessary.
It seems that GE can go lower. Its listed Beta is currently 1.22, so it has tended to be more volatile than the overall market (which might have been suspected in light of the above charts). The stock trades at 14.32x consensus 2014E earnings, a discount to the rest of the S&P 500; though, its five year growth rate of 8.48% indicates no screaming bargain.
On the other hand, the median analyst target is $29.50, indicating over 20% of potential upside.
However, with the stock having come up short of some of its leader's specified targets, and having underperformed the overall market for some time, it is making sense to me that its dividend currently amongst the more important metrics in support of it. YCharts has data that goes back decades, and we can see that historically GE's dividend yield has increased during recessions. While there is little talk of a potential recession, I am not sure that the market and this company have found a bottom. Income offered to investors might suggest that it is close.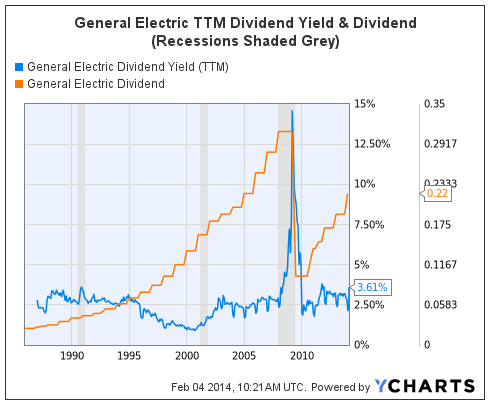 Once comfortable with the share price, there could be a remarkably lucrative way to benefit from its appreciation. Alan Knuckman of Trading Advantage has described a trade on Bloomberg that is similar to tactics he has used in the past on other stocks such as McDonald's (NYSE:MCD) and Exxon Mobil (NYSE:XOM). He buys a deep in the money call that should result in a nearly 1:1 gain with the price of the stock: it is as if he owns 100 shares but has spent far less money on them ($600 instead of roughly $2,500). What is remarkable in this instance is that a LEAP option that expires in January of 2016 can be bought at a price near its intrinsic value: next to nothing is spent on implied volatility, or even time. Further, though his trade utilizes a call at a $20 strike price, if the GE continues to depreciate, an $18 call could be obtained for nearly the same $600!
My own preference is to wait until after Friday's employment data. There is already plenty of concern about the overall market. A bad number might send it lower; and take industrials such as GE along. Another possibility is that shares could return to levels discussed by Knuckman days ago.
There is a challenging backdrop for stocks at the moment. Further, GE has recently disappointed investors, though IPO of its financing operations should play out favorably in the future. The stock's yield is about as high now as it has consistently been in decades; so something material is probably needed for it to climb over 3.75%, or the share price to be below $23.45. Downside support offered by the dividend only increases. Consequently, some may wish to consider substituting a call option for stock. Nearly $100 would be earned for each $1 appreciation of the share price. That kind of return in exchange for risking just over $600 could really be worth it.
Disclosure: I have no positions in any stocks mentioned, but may initiate a long position in GE, SPY over the next 72 hours. I wrote this article myself, and it expresses my own opinions. I am not receiving compensation for it (other than from Seeking Alpha). I have no business relationship with any company whose stock is mentioned in this article.
Additional disclosure: I may initiate a long position in an S&P 500 Total Return ETF over the next 72 hours.