Changing Economic Conditions
Emerging markets have been in turmoil since the Federal Reserve began scaling back its monetary stimulus. An economic slowdown in China has also contributed to the crisis. Previously, the Fed's policies had helped to keep interest rates low in much of the world. Now, as the Fed begins to unwind its bond-buying stimulus program, emerging-market countries are facing rising borrowing costs and capital outflows.
As capital heads for the exits, emerging-market countries are facing downward pressure on the value of their currencies. Central banks in Turkey, India, and South Africa have raised rates, seeking to halt declines in their currencies. In January, according to Bloomberg, the Argentine peso fell 15 percent.
The Argentine currency has recovered, along with rebounds by the South African rand and the Turkish lira on Tuesday. But worries remain over the value of the peso and other emerging-market currencies. Meanwhile, raw-materials exporting countries accustomed to strong growth in China are facing weaker demand for commodities. The annual growth rate in China is now averaging 7-8 percent compared to 9-11 percent a few years ago.
Next Steps at the Fed
Undeterred by the recent sell-off in emerging markets, the Fed announced on January 30 that it would continue to wind down its bond-buying stimulus program. The Fed's policy was designed to hold down long-term interest rates and stimulate borrowing, spending, and investment.
The Fed is reducing bond purchases incrementally. The Fed stated that it would reduce its purchases to $65 billion in February compared to $75 billion the previous month. This indicates a trend of $10 billion fewer purchases each month, since the first reduction was also by $10 billion-from $85 to $75 billion, which was announced last December and implemented in January.
In 2013, the S&P 500 market index advanced 30 percent. However, as the economic outlook improves in the U.S., emerging-market woes are weighing on investor sentiment. Worries remain that an emerging market sell-off could affect the rest of the world.
According to Bloomberg, emerging markets now account for 40 percent of global gross domestic product, up from 18 percent two decades ago. In rare instances, the Fed has taken policy actions to shield the U.S. economy from foreign contagion, such as a crisis that occurred in 1998 when Russia defaulted on its sovereign-debt payments.
Select Countries Exposed to the Emerging Markets Crisis
According to a report issued by the International Monetary Fund, Australia is one of the countries most exposed to the slowdown in China. Last fall, the IMF cut its growth forecast for Australia. Mining is one of the country's largest sectors. Australia is a major supplier of raw materials used in China and other emerging-market countries. The largest Exchange-Traded Fund tracking Australia, the iShares MSCI Australia ETF (NYSE: EWA), is down about 13 percent over the past 12 months. See chart below.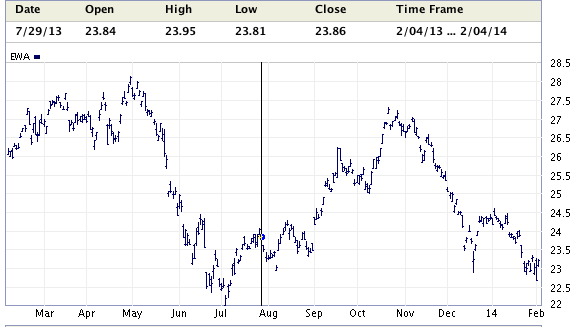 (Source: online.wsj.com)
Canada is another country exposed to the emerging-market crisis and the slowdown in China. Due to the country's abundance of natural resources, Canada is sometimes considered an indirect position on commodities markets in general. Like Australia, Canada is a major producer of raw materials that fuel growth in China and other industrialized emerging-market nations. The iShares MSCI Canada ETF (NYSE: EWC) is down approximately 4.5 percent over the past 12 months. While not as obvious a decline as the EWA, the chart below serves to illustrate EWC struggles.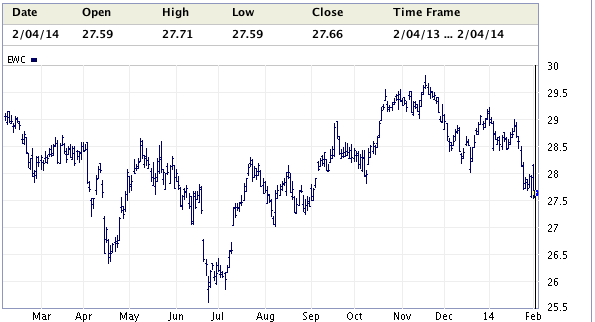 (Source: online.wsj.com)
For Internationally Focused Investors:
Despite modest recovery in many emerging markets, investors with stakes in the Canadian and Australian ETFs should continue to be cautious in 2014. As the EWA and EWC could reflect longer term decreases in emerging markets, stemming from China's economic slowdown and the policy of the US Federal Reserve--both of which are likely to have multi-year impacts--these ETFs may weaken.
Disclosure: I have no positions in any stocks mentioned, and no plans to initiate any positions within the next 72 hours. I wrote this article myself, and it expresses my own opinions. I am not receiving compensation for it (other than from Seeking Alpha). I have no business relationship with any company whose stock is mentioned in this article.