On Wednesday, February 11th, the 25-day quiet period on underwriter research, following the January 17 IPO of EP Energy Corp (NYSE:EPE) will expire, allowing the IPO underwriters to release positive research reports on the oil and natural gas exploration and production firm.
The result will likely be at least a temporary increase in the price of EPE shares. EPE's disappointing IPO saw a pricing of only $20 per share--far below the expected range of $23-$27 per share. The stock has since diminished further (see chart below), falling as low as $17.06 per share; EPE closed at $17.13 on February 4th.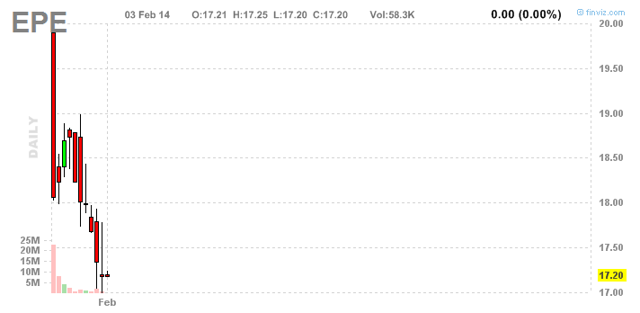 (Source)
The lengthy roster of EPE's IPO underwriters include J.P. Morgan Securities, Credit Suisse Securities, Barclays Capital, Goldman Sachs, BBVA Securities, BMO Capital Markets, BofA Merrill Lynch, Capital One Securities, SMBC Nikko Securities America, CIBC World Markets, Citigroup Global Markets, Deutsche Bank Securities, Evercore Group, ING Financial Markets, Tudor, Pickering, Holt & Co Securities, Jefferies, Lebenthal & Co, Scotia Capital Markets, Mizuho Securities, Morgan Stanley, Nomura Securities International, RBC Capital Markets, SG Americas Securities, Stephens Inc., SunTrust Robinson Humphrey Inc., TD Securities, Topeka Capital Markets, UBS Investment Bank, and Wells Fargo Securities.
These influential firms will seek to turn the tide with a release of positive information on EPE into the market, with the expiration of the quiet period.
The results of recent academic studies and those of our own research over the past two years have provided empirical evidence of a correlation between the number and visibility of a firm's IPO underwriters and a rise in the price of shares at the conclusion of the underwriter quiet period. EPE should therefore be well-served by its immense list of underwriters on February 11. The rise in price should generally begin to appear several days in advance of the actual quiet period expiration-as savvy investors realize that positive research reports are forthcoming and often purchase shares beforehand. This early buy-up leads pressures share prices upward pressure well before the date of the expiration.
Business
EPE is an independent exploration and production firm, focused on developing unconventional onshore natural gas and oil sources in the U.S. The firm is currently prioritizing the development of its low-risk drilling inventory in the Eagle Ford Shale, the Wolfcamp Shale in the Permian Basin, the Altamont field in the Uinta Basin, and the Haynesville Shale. EPE has acquired contiguous leaseholds in each of these core areas, which total 441,000 net acres. The firm has uncovered some 5200 drilling locations within these four areas. The firm attributes proved reserves to 916 of these locations, which would equate to 24 years of drilling inventory assuming current rates. EPE had proven reserves of 513 MMBoe as of September 30, 2013, and has maintained an average net daily production of 88,149 Boe/d for the three months ended on the same date.
EPE faces significant competition for equipment, personnel, and leaseholds. Major competitors include Anadarko Petroleum Corporation (NYSE:APC), ConocoPhillips (NYSE:COP), Apache Corporation (NYSE:APA), Exxon Mobil Corporation (NYSE:XOM), and Shell Oil.
Management
Chairman, President, and CEO Brent J. Smolik has been with EP Energy and its predecessor since 2006. He previously served as President of ConocoPhillips Canada as well as President of Burlington Resources Canada. He is a member of the boards of America's Natural Gas Alliance and the American Exploration and Production Council.
Conclusion
EPE's IPO flop came as a surprise. The firm is well established in its field and has posted significant profits. We also believe that the firm's management team, led by Mr. Smolik, is well-seasoned and more than capable of driving EPE to continued success. That said, the market certainly has not taken to EPE thus far, leaving us somewhat cautious; it may be best to treat the forthcoming quiet period expiration as a short opportunity rather than a chance to buy EPE for the long term.
Disclosure: I am long EPE. I wrote this article myself, and it expresses my own opinions. I am not receiving compensation for it (other than from Seeking Alpha). I have no business relationship with any company whose stock is mentioned in this article.