Monday saw the worst rout in the market since early summer. Particularly hard hit were U.S. based small caps as the Russell 2000 significantly underperformed the S&P 500.
One small cap that did not participate in the decline and actually posted a small gain for the day was an E & P concern named Warren Resources (NASDAQ:WRES). It is also up in Tuesday's trading. This continues some significant outperformance by the company over the past few weeks (See Chart). I still see upside as investors come around to the company's value story.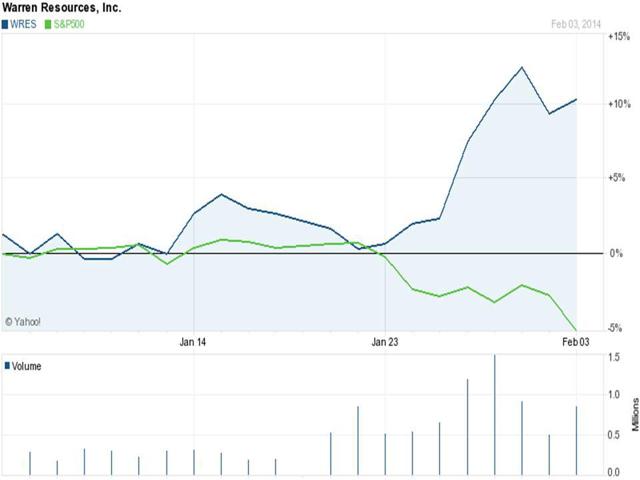 Click to enlarge
Chart Source: Yahoo! Finance
Company Overview:
Warren Resources is an independent energy company engaged in oil and natural gas production. The company focuses primarily on its waterflood oil recovery programs and horizontal drilling in the Wilmington field within the Los Angeles Basin of California and on the exploration and development of coalbed methane properties located in the Rocky Mountain region.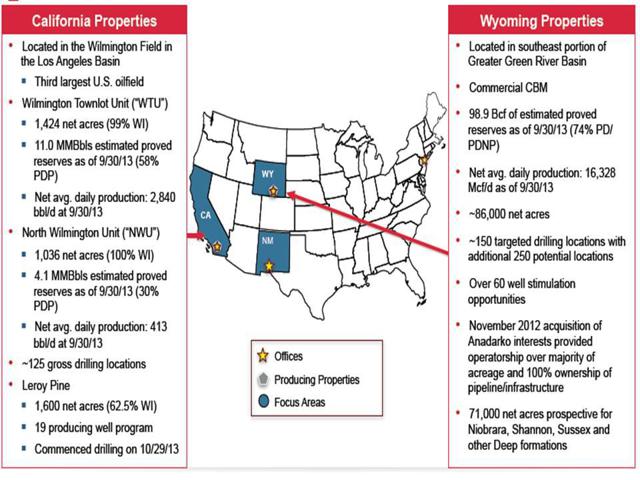 Click to enlarge
Slide source: Investor presentation from company website
Earnings Story:
One of the reasons I think this energy concern can move higher is that earnings are on a nice growth trajectory (See Chart).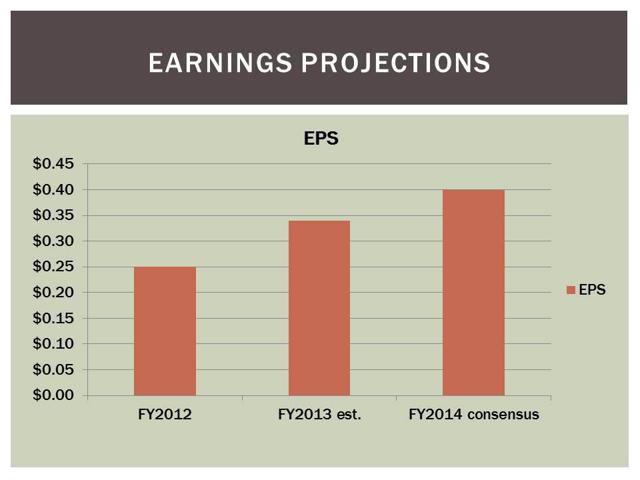 Click to enlarge
Chart Source: Yahoo! Finance
In addition, the consensus earnings estimate for the next two quarters and for FY2014 overall have moved up nicely over the past month. Warren Resources has blown through bottom line earnings expectations for each of the last two quarters. The recent spike in natural gas prices (~50% of current production) could also be a nice tailwind if it leads to natural gas price levels moving to a higher range on a longer term basis.
Summary:
Warren Resources receives scant coverage from analysts. Surprisingly it is covered by Zacks which has its strongest rating "Strong Buy" on the shares as they are one of their favorite plays in the small cap E&P space.
Earnings are tracking to post a better than 25% year over year gain in FY2013. Another 15% increase is projected by analysts in FY2014. Even with the stock's recent surge the shares go for under 9x forward earnings, a 40% discount to the overall market multiple. WRES also sells for a five year projected PEG of right at 1 (.99) and under 4x trailing operating cash flow. BUY
Disclosure: I am long WRES. I wrote this article myself, and it expresses my own opinions. I am not receiving compensation for it (other than from Seeking Alpha). I have no business relationship with any company whose stock is mentioned in this article.