Social media stocks Yelp (NYSE:YELP) and Pandora (NYSE:P) both report on Wednesday. Why write about both of these companies together?
1. They're both part of the litany of social media stocks that are, in my opinion, commanding much higher valuation than they're wroth.
2. They're both companies that I've had short positions in. I closed my Yelp short yesterday for gains because I didn't feel like dealing with the heartburn of a binary event. Pandora, I remain short via vanilla puts.
Yelp has been on a hell of a run since its IPO and it has more than tripled in the last year alone. In the last six months, Yelp is up nearly 50%.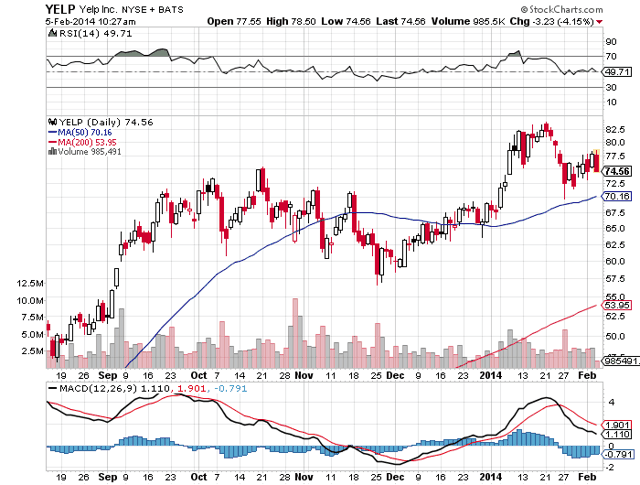 The company, as well as Twitter (NYSE:TWTR) and other social media stocks, got a lift from the recent positive earnings reported by Facebook (NASDAQ:FB).
Analysts are going to be looking for EPS of -$0.03, an increase of $0.03 from last year. Revenues are expected to come in at $67.22 million, a 63.3% increase from last year.
(source - Yahoo Finance!)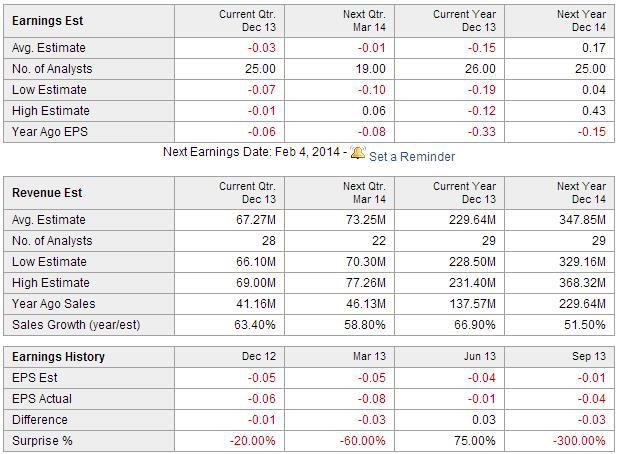 Yelp makes a majority of its money from businesses that want to promote through the website. Last quarter, Yelp grew these ad revenues 80%. Yelp's advertising model has been compared to Facebook's and bulls on the company are expecting positive results based on the same success that Facebook had monetizing advertising.
Investors are also going to be looking for insight from Yelp as to who they plan on growing internationally, and then monetizing these markets. Additionally, innovation in advertising is also sought from bulls on the company.
Bears like me have argued that the company's valuation is too far out of whack, and that Yelp is a prime candidate to eventually be swallowed by Google reviews.
Pandora has also fared extremely well over the last twelve months, with the market placing a value of over $6 billion on the streaming music provider. After hitting lows of barely under $10 in 2013, the company has nearly quadrupled. In the last six months, the company has rewarded investors handsomely as well, to the tune of almost 70%. Pandora, has been a winner - so far.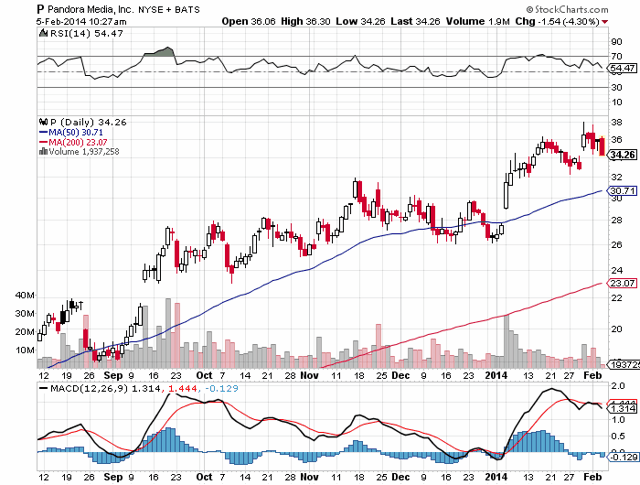 The company is expected to report earnings ex-items (non-GAAP) of $0.04-$0.08 on revenue of $196 million for the full quarter.
(source - Yahoo Finance!)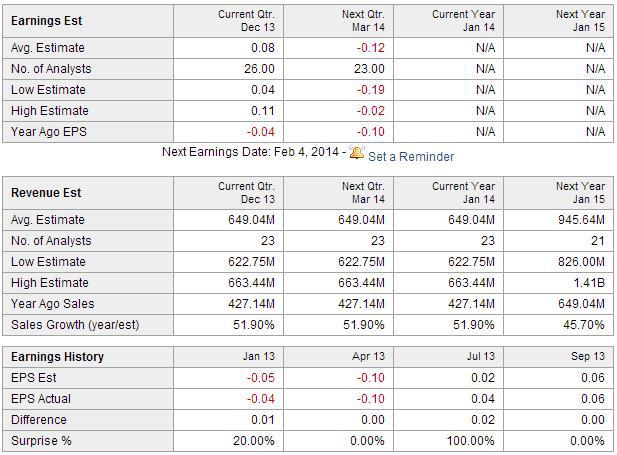 Investors will also have the magnifying glass on mobile with Pandora - looking for improvement in monetizing its mobile platform.
Active listeners have continued to grow over the past year, even in the face of Apple's iTunes Radio - investors will expect this to translate directly to revenue growth. Knowing that active listener growth continues to inch forward will make the guidance on this call the most important part, in this investor's opinion. How will the company innovate and grow in the coming year?
At the end of the day, bulls on Pandora are going to be looking for another small nudge in the direction of profitability.
There has been increased competition for Pandora - Google's (NASDAQ:GOOG) Play Music and Spotify, to name two. This quarter also serves as the first full quarter going up against Apple's iTunes Radio, which is packaged with every Mac, iPhone, and iPad that Apple (NASDAQ:AAPL) sells.
Bears like myself are going to be looking for the potential effects of the relationship between the two companies. I continue to worry about Pandora's long term prospects trying to compete with Google, Apple, and Sirius (NASDAQ:SIRI).
Conclusion
Social media stocks like these are not where I want to get caught in the midst of a macro market correction, like we seem to be seeing over the past two weeks. Companies with massive valuations like Yelp and Pandora are prime targets for people to pull their money out of when the market gets skittish.
Additionally, with the economy potentially starting to slow, there's going to be a tall task ahead for these companies to continue to grow at the rate they are expected to by the markets. I would advise investors to take caution in buying these names at these levels in the midst of this market. I'm bearish long term on both of these names, and wish investors the best of luck going forward.
Disclosure: If the market continues to rocket downward today and take P with it, I could close my puts before earnings this afternoon. I also may hold through earnings. I am short P. I wrote this article myself, and it expresses my own opinions. I am not receiving compensation for it (other than from Seeking Alpha). I have no business relationship with any company whose stock is mentioned in this article.